Diagram of an Entrepreneur
Teaching individuals to become not only more enterprising but businessmen as well is beyond the capabilities of an academic business school.
Bill Gates. Mary Kay. Richard Branson. Thomas Edison. Debbi Fields. None of these successful entrepreneurs ever graduated from college, nor did they pursue formal education in business or entrepreneurship. Yet from Microsoft to Virgin to Mrs. Fields, they redefined what it takes to turn good ideas into lucrative businesses.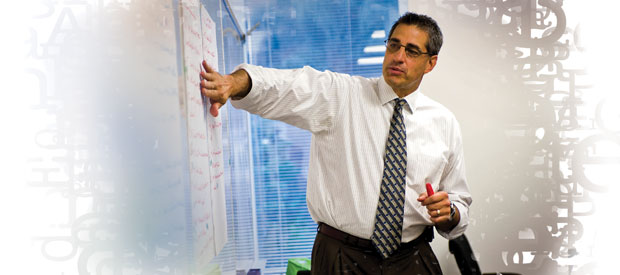 During the last 10 years new business incorporations averaged 600,000 per year in the United States, notes entrepreneurship researcher Donald F. Kuratko. "Entrepreneurship," he says, "is arguably the most potent economic force the world has ever experienced."
But building a new business from the ground up is not without risk, and with the explosion in entrepreneurial activity has come a similar increase in the field of entrepreneurship education. The Chronicle of Higher Education and the Ewing Marion Kauffman Foundation report that the number of colleges and universities that offer courses related to entrepreneurship has grown from 250 in 1985 to approximately 2,000 today.
With so many famously successful entrepreneurs being also famously self-taught, the question remains: how do you teach entrepreneurship? Do you start with Ingenuity 101? Follow with Guts Development? Pepper in perseverance workshops? Swedish scholar Bengt Johannison contends, ". . . to teach individuals to become not only more enterprising but businessmen as well . . . is an undertaking that in both time and scope is beyond the capabilities of an academic business school."
Faculty at the Graziadio School of Business and Management disagree. In Fall 2009 MBA students in Pepperdine's full-time and fully employed programs will have the opportunity to avail themselves of a newly designed entrepreneurship concentration, which attempts to cultivate the skills of entrepreneurship—which many insist are inborn, not taught.
---
ENTREPRENEURSHIP

"I never perfected an invention that I did not think about in terms of the service it might give others... I find out what the world needs, then I proceed to invent."—Thomas Edison
-- Early-stage entrepreneurial activity is most prevalent in the age group of individuals 25 to 34 years old.
-- Thailand has the highest percentage of overall entrepreneurial activity, with 47.4 percent of the population ages 18 to 64 engaged in setting up or running their own businesses. Peru is close behind with 39 percent.
The United States has 14.1 percent.
-- In a study conducted on new businesses with any employees in the United States, two-thirds survived at least two years, and about half survive a minimum of four years.
Source: Global Entrepreneurship Monitor 2007 Executive Report
Pepperdine University itself was founded by an entrepreneur, George Pepperdine, who began his highly successful company, Western Auto Supply, with an initial investment of $5 in 1909. In 1969 the University established a school of business and management, later endowed by yet another entrepreneur, George L. Graziadio. Prior to cofounding the Imperial Bank, a financial institution that catered to the needs of start-up businesses, he developed more than 100 shopping centers in 21 states.

"Entrepreneurial spirit is the legacy of both University founder George Pepperdine and the business school's namesake George Graziadio," says Linda Livingstone, dean of the Graziadio School, which celebrates its 40th anniversary this year. "The new entrepreneurship concentration represents an investment in the school's future in its distinctive leadership."
The program is directed by Larry Cox, associate professor of entrepreneurship, who was hired in August 2008 to help design the program based on his 20 years of professional and personal research. Cox got his first taste of entrepreneurship when he started his own business after attending college at the University of Nebraska. He went on to serve as director of the Nebraska Business Development Center, consulting with hundreds of wouldbe entrepreneurs while he earned his doctorate. Following his love of research Cox became a director at the Kauffman Foundation in Kansas City, Missouri, before he went on to direct and teach at the Entrepreneurship Center at the University of Wisconsin-Madison and the top 10-ranked Entrepreneurship Center at Ball State University.
When Cox is asked, "Can entrepreneurship be taught?" He answers, "Yes," but qualifies, "parts of it. I can teach you to be more creative. There are skills, tools, and processes that go along with it." The ingenuity, he says, comes from the creative process; the perseverance comes from having a passion for the problem; the guts come from knowing that your idea is a good one through market feasibility testing.
"Traditionally, for the last 20 years or so, entrepreneurship education has been built around the business plan," says Cox, who taught this plan-centric method for 18 years before he formulated what he considers a better way. "What I found was, students were writing really good plans about really bad ideas," he says.
Pepperdine's new program is novel in that it centers on the belief that entrepreneurship is about creativity—a person coming up with an innovative idea, frequently for a market that does not exist. "We take students back to the first step," he pauses, "the genesis of an idea."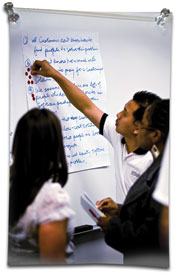 Unlike most programs, students in the new Pepperdine program aren't expected to come to class with a business venture in mind. "Other business schools start with courses focused on market feasibility or business planning," explains Livingstone.
"Often the student's underlying business idea is not fully examined until late in the curriculum or they settle on a business idea that assumes profitability, but is neither personally meaningful nor well-conceived."
Using a system of creative problem solving, Cox shows students how to come up with many ideas, then narrow them down, reframe the best idea, test its market feasibility, make modifications, and if necessary, kill the idea. It's really an idea laboratory designed to catalyze economic opportunity that reflects personal values.
"We're saying to students, the starting point for any business is just having a good problem to solve, so, got any problems? Then we try to find a creative solution to those problems."
Students are encouraged to explore causes and problems they're passionate about. For example, Cox had a student last year with an interest in art therapy, Laurie Lunsford, who wanted to do something to help elderly people. Believe it or not, her idea came out of a class discussion about tap dancing.
"I asked a class of 50 undergraduates, 'Does anyone have something that they're really passionate about?' And a student raised her hand and said, 'I'm passionate about tap dancing.'"
The problem she posed was that there weren't enough venues to practice. Cox, determined to show his students that any problem could translate into a business, put it through the system, creating an idea map. One node of the map asked, "How might we change the technology of tap dancing?"
"When we got to that thought, Laurie, who was auditing the class and was sitting in the back row, lit up like a firefly," recalls Cox. "She said, 'I've got it! Put the taps on your hands.'"
Cox thought it was an unusual idea, but wrote it down and moved on. The following week, Lunsford came into class with a prototype made out of little coasters that go under chairs and bottle caps connected by strips of aluminum. Much to the dismay of the rest of the class, the conversation about tap dancing continued, exploring the potential markets. "The one that she wanted to pursue was retired people. These are the people who really like tap dancing."
The business that burgeoned from this discussion is called "Dancing Hands," and owner Lunsford has finetuned the prototype, and created a workbook and CD for use in retirement homes all over the country where senior citizens—many of whom are faced with disabilities and limitations—learn how to tap dance with their hands.
"They are reliving something from the past and they love it," explains Cox. "Now they have tap-dancing groups. They use them instead of bells in choirs. I don't know that the company will ever be Google, but she's just having a great time."
Lunsford's product is something she never expected would come out of her participation in the entrepreneurship class. "I'm an art teacher, I write music, I do a lot of creative things, and I went into the class with the idea of wanting to stir some creative juices and find something that would make a good business," she says. Now, introducing her product to seniors is one of her favorite things to do.
"It's not work to me; it fires me up," Lunsford says. "The tapping sessions are like drum circles. The seniors get in a circle, interact, socialize, and just dance from the rhythm within them. I have a saying: 'Do what's in you,' and these came out of me."
Cox gives examples of business ideas that have sprung out of other passions, like a method to recycle computer and auto plastics, swizzle sticks that detect date rape drugs, and an interactive planning tool for weddings and events.
"It's impossible without passion," he explains. "If it's a problem that you really care about solving, and you think that you have a really good solution that no one else has, then your confidence goes way up. Your willingness to risk goes up."
Confidence is one thing that Cox has identified in his research as a common trait among successful entrepreneurs. He compares Ross Perot and Bill Gates. "Personality-wise, they're not the same at all," he says. "What we've seen is, they share a state of mind—there is a level of confidence that has to be there."
Thus, in terms of "ingredients" of a successful entrepreneur, Cox says, "It's a combination of things. There's something about the people themselves and their passion and commitment and ability. And there is something to the process; you do need a plan. But if you really want to start at the beginning, it's a person who comes up with an idea."
And it's the ideas that he loves to nurture. "I'm an idea person and I love it when students begin to use their imaginations as they did when they were children," he says, noting that Pepperdine's bold new program is not unlike a new business venture. "This is a unique program, in that I don't know of anybody else who teaches creativity as part of the curriculum."
Fortunately for Cox, who is in the business of teaching business, entrepreneurship is not going anywhere. "Globally, about one in every 12 people is starting a business at any point in time," he says, noting that, while a formal education is not a requirement, it is a great asset in this highly competitive environment. "Almost every seasoned entrepreneur I run into says that they wish a program like ours had been around when they were starting out, the reason being, it cuts down on the learning curve and it greatly enhances the chances of success," he says. "That's the whole purpose, to give our students a head start and to reduce the likelihood that they'll make a fatal mistake."