Handing Off a Legacy
GPC All-American quarterback Ed Hyduke passes Waves pride on to basketball star Greg Barlow.
"We were playing Loyola, and Loyola was our archrival," says Ed Hyduke, drumming his GPC '51 class ring on the table. "Still is," adds Greg Barlow ('08), sitting across from him, hanging on his every word. "I hate Loyola." "Well, the week before, five or six of our starters were kicked off the team," Hyduke says, setting the scene. "Now mind you, this Loyola team had 11 guys go into professional football." "Oh man, that hurts," Barlow says. "It was an overflow crowd at the old Gilmore Stadium in Los Angeles, and you know, even though all these guys were gone, it just seemed that the team came together that day," Hyduke notes, recalling the game in stark detail. "It was 7-7. They scored, missed the point. I went into the huddle, looked up and saw the defense, and I said to myself, 'The middle of that field is going to be wide open.' So I said to Terry Bell—he was one of our excellent players from Texas—I said, 'Terry, go out and break over the middle and I'm going to hit you with a bomb.' 70-yard pass andd run. We kicked the point and we won the game 14-13." "Woooow," says Barlow, sitting back in his chair and letting the story sink in.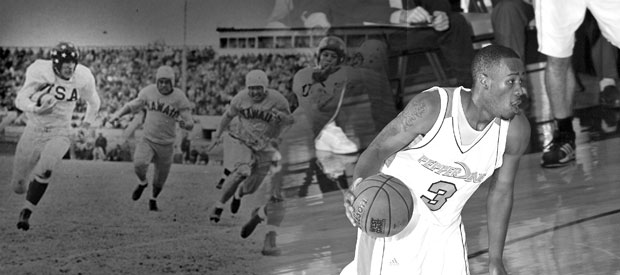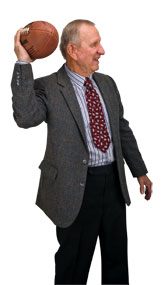 Hyduke was an All-American quarterback for Pepperdine, back when it was George Pepperdine College, and when Pepperdine not only had a football team, it had just won a national championship. Convinced to come to Pepperdine by Darwin Horn ('49), another former Waves "grid great," Hyduke walked onto the campus in south Los Angeles in 1947, a handsome young veteran of 21 years with a wife, a son, and two years in World War II under his belt. He's now a handsome veteran of 82.
Barlow, now 23, came to Pepperdine for a different sport: basketball. The Las Vegas native was in junior college when he first laid eyes on campus. It had long since moved from 79th and Vermont to the beachside bluffs of Malibu. The football team was ancient history, having been eliminated in 1961. The enrollment was five times what it was when Hyduke attended, and the University had grown to include four graduate schools.
"I passed by Pepperdine, and I was like "Oh man. Look at this!" And I thought to myself, if I ever get a scholarship here, I'm coming. No doubt about it," Barlow recalls. A year later, the basketball coaches were handing him a scholarship and a Waves uniform. "It was something like a dream come true."
Hyduke and Barlow attended Pepperdine in two different places, two different eras, and had two very different experiences, yet the unlikely pair has forged a unique friendship rooted in the many things they share in common: a love of competition, pride in their alma mater, and, of course, a distaste for rival team LMU.
"It's wild to think that Pepperdine wasn't even here in Malibu just 30 years ago," Barlow says. "That's why I love listening to his stories."
The two met when Barlow was in his third year at Pepperdine, considered a fifth-year senior thanks to his two years in junior college. With four classes to finish, he had no financial aid left. That's when he learned about the fifth-year senior scholarship that Hyduke started with his fellow former football players.
"I started this program of giving scholarships to individuals who are in need of a little help, individuals who had a semester or maybe a little more to go to graduate," Hyduke says, explaining that the committee consists of Horn and fellow Pepperdine football legends Harry Nelson ('50), Rich Raymond ('56), and Gordon Weisenburger ('55). "I wanted to do something so the University never forgets that we had a football program, and it was a good one. And because I know that athletes nowadays put in a lot of time, and sometimes you just can't take 16 units."
Barlow is the 19th recipient of the award, and the 19th to successfully graduate. "Growing up, I wanted to go to college and finish it at a major university. And, thanks to Ed, that's what I did," he says of his May 2008 graduation.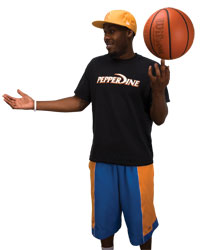 After flipping his tassle, Barlow became the youth and family director at the YMCA in Pacific Palisades, where he was named Employee of the Year in 2008. He has come to think of Hyduke as a trusted advisor and friend. Get these two in a room together, and they can swap stories for hours.
"Whenever the team traveled, we always would fly," Hyduke tells his young protégé. "We went up to Brigham Young, to Portland, to Arizona State. That was kind of an impressive thing for a young fella."
Hyduke was a local hero for his exceptional ability to throw a pass that could find a receiver like a heat-seeking missile. A reporter for the Graphic once wrote, "He loved to pass—to toss the pigskin around until his opponents got dizzy." During his senior year in 1950 Hyduke was named All-American among the best quarterbacks in the nation. He also represented Pepperdine as a member of the U.S. national team. "It was thrilling," he says.
Barlow's dream of playing professional basketball did not end with graduation. "This summer I'm gonna be trying out to play pro ball over in Spain," he says. "Basketball is what I love to do and it's something that I'm very good at and passionate about. If I can do it, why not try it?"
Barlow says that Hyduke's support, both financially and emotionally, has played a big role in his ability to believe in himself. "It's really special to me. It lets me know that I'm doing something right."
Hyduke, who was a physical education teacher and football coach for 25 years after he left Pepperdine, has had a similar impact on many of his students and athletes. And when it comes to resurrecting a football program at Pepperdine, Hyduke has that same "never-give-up attitude" that he preaches to his young athletes. "Somebody said to me, 'They'll never have football here again,' and I said, 'You know something, never is a long time. Never say never, because you never know.'"