The Boom Factor
What images spring to mind at the mention of "baby boomers?" Executives? Yoga teachers? Botox? All of the above?
Media expert Nancy Shonka Padberg turns the spotlight on top issues facing the baby boomer generation.
The multifaceted baby boomer group comprises 78 million people living in the United States today. They fall between the "Silent Generation" (the children of the Great Depression) and Generation X. Born between 1946 and 1964, baby boomers are the healthiest, wealthiest, most educated, and prosperous generation thus far, plucked right from the pages of American history.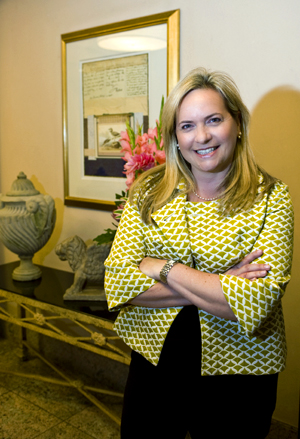 Boomers saw the U.S. change from a manufacturing economy to a knowledge economy. They saw the formation of the Interstate Highway System, enabling their families to "pack up the station wagon" and travel like never before. They were able to leave their hometowns and go to college. They embraced technology, as they saw the number of television sets grow from 4 to 50 million from 1950 to 1960.
"In the industrial age, it was all about product, price, place, and promotion," says Nancy Shonka Padberg (MBA '03), founder of Best Boomer Towns, Inc., and Navigate Boomer Media, LLC. "The manufacturers pushed the product to the customer. You could get your Ford in black or black. In the knowledge age, it is all about consumers, cost, convenience, and communication. The consumer is in charge. And I would argue that the boomer consumer is in charge."
Even as they age, baby boomers still control 70 percent of the total net worth in the U.S. They spend an average of $3 trillion dollars per year and an additional $7 billion online. They purchase 41 percent of new cars and shell out for 80 percent of luxury travel.
Padberg, a former Fortune 500 executive, first discovered the baby boomer market as vice president at The Phelps Group, where she worked on campaigns for Fairmont Hotels, PETCO, and Whole Foods Market. "All these companies have research on their clientele," she explains, "and the research was astounding. Specifically, with PETCO, we found that baby boomers and empty-nesters spent the most on their pets."
As part of the team developing TV, print, and radio campaigns, Padberg strove to help advertisers understand and reach the boomer audience. She asked her clients, "How do we connect with boomers emotionally? It was easy with animals. We really had some terrific commercials for PETCO."
Seeking to start her own marketing firm and realizing that with knowledge comes opportunity, Padberg went back to school, earning her MBA from the Graziadio School of Business and Management of Pepperdine University, where she "saw all the pieces come together." In marketing class, she again studied the demographics of boomers. She also learned the two biggest takeaways for a startup: have a clear point of differentiation and develop a healthy culture.
Parlaying her knowledge from school and her career, the Iowa native developed a business plan for Best Boomer Towns, Inc., which launched in 2005. The Web site serves as a destination for boomers to find and exchange information on the best 21 locations in the U.S. to relocate or retire.
Recognizing additional needs in the marketplace, Padberg brought together nine media colleagues, including Pepperdine alumnus Kyle Murphy (BSM '04, MBA '05), and launched Navigate Boomer Media, LLC in Fall 2009. Navigate allows time-starved media buyers and marketers to buy display advertising on 10, 15, or 20 Web sites at a time. Launched in 2009 with 50 sites, the company now represents 119 sites with over 112 million unique visitors per month.
"Boomers spend an average of 15 hours per week online," says Padberg of her decision to create online businesses. "Print and radio can't say they have their audience for 15 hours per week. The largest segment of the population is coming through and embracing new technology like never before. In fact, the fastest growing segment on Facebook in the last year has been women 50-plus."
Not even one year later, Navigate Boomer Media has emerged as the No. 1 online boomer ad network in the U.S. They represent boomer-focused Web sites such as vibrantnation.com, grandparents.com, and silverplanet.com, and publish original content for Web sites, blogs, social networking communities, and streaming radio. The business is now expanding into Canada and Southeast Asia.
While the young company continues to grow, Padberg observes, "We're not a Fortune 500 company, we're not corporate. We wear quite a few hats. We're nimble and can make quick decisions. We know that we have the right media with the right target audience, at the right time."