Medical Mission
Seaver College students help heal the sick, serve the poor, and find their way at the Mission at Natuvu Creek in Fiji.
On a warm, spring day at the Mission at Natuvu Creek, a 12-year-old Fijian girl placed a pair of tape-bound glasses on her head, opened her eyes, and saw the world for the first time. She had lived on Fiji's paradisical island Vanua Levu her entire life, but had never really seen the waves crashing along the shore or the tiny lizards scuttling across her path because her family couldn't afford glasses.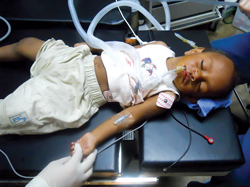 Her reaction to this new vision was instantaneous. "She burst into tears," remembers sports medicine major Taylor Johns, who helped craft the glasses for her unusual prescription. "She had gone from seeing nothing but blurs and distorted shapes to being able to successfully count our fingers and see our faces."
This May, Johns and 24 of his Seaver College peers volunteered at the nonprofit Mission clinic, where seasoned medical professionals—all fellow volunteers offering their services for weeks or months at a time—teach and train in a hands-on fashion.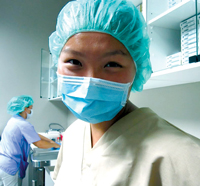 Accompanied by Laurie Nelson, associate professor of sports medicine, the pre-med and pre-dental students assisted wherever they were needed for three weeks. While Fijian communities enjoy the luxury of fine weather, golden beaches, and scenic mountain views, they have very limited access to modern medicine and dentistry. Heidi Bruce, a biology major who assisted the clinic's anesthesiologist, remembers meeting several men who had lived with hernias since their youngest years. "They had to live with that pain their entire lives," she says. "I can't imagine what that must have been like."
Dentist and Pepperdine regent Marta Tooma and her ophthalmologist husband Thomas founded the Mission at Natuvu Creek 10 years ago, after Marta visited Fiji on a dental outreach program with the Dream Machine Foundation. "I saw the great need for dentistry in this paradise setting, where every village had tremendous numbers of people in pain and with abscesses," Tooma recalls.
Today, the outpatient clinic offers a range of services to the communities, free of charge, based almost entirely on what ailments the current crop of volunteers are qualified to treat. At various times in the last few years they have performed plastic surgeries on cleft lips and palates, cataract operations, tooth extractions, and a host of general surgeries.
Knowing the inadequacies of Fijian health care, Tooma anticipated the difference a free clinic could make to the people of Vanua Levu. She wasn't prepared, however, for the impact the work would have on the students, who helped treat patients suffering from conditions that are usually treated quickly and efficiently in the United States.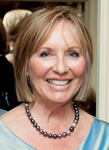 Marta Tooma
"This has been a revelation for me about what this mission means—I was not counting on how this would change the lives of the people who serve here," Tooma says. "Students find it most valuable in helping to choose their professional niche in medicine, whether it's surgery, ophthalmology, or dentistry."
Sports medicine major Sandra Nnodim wanted to give dentistry a trial run while serving abroad. During the second week of the trip, she and two of her peers shadowed Tooma. "It was such a joy to actually feel like I was making a difference as we assisted in setting up equipment, injections, and tooth extractions," Nnodim says.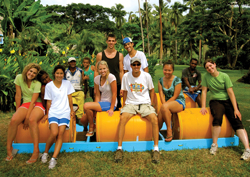 "I'm very proud of the work we did in Fiji, where there is such need for medical care and health facilities," agrees Kaitlin Donohue, also a sports medicine major. "I have always loved traveling, but have never had the opportunity to travel with a purpose, and I wanted to do something useful and rewarding."
"The experience only fueled my desire to practice medicine," adds Johns, who participated in the Pepperdine Project Serve medical trip to the Dominican Republic this spring, and the International Programs Honduras Medical Mission last year.
While all eyes were on the doctors, dentists, and volunteers at the community's most advanced, and free, clinic, Johns notes that the clinic staff and interning students were warmly welcomed as part of the community. The students all maintain that what they learned, achieved, and gave to the community as medical interns was surpassed by what they learned from the people of Vanua Levu about joy and gratitude for the simple things.
Johns remembers the 12-year-old girl, as the glasses he and his teammates crafted changed her world from a blurred mass of colors and shapes to a vision of happy clarity. "For us, it was what we came to do—it was our job—but for her it was life changing," he says. "Never have I felt such joy as when I watched her put those glasses on."