Pepperdine Appoints Four New Members to the Board of Regents
Pepperdine Magazine is the feature magazine for Pepperdine University and its growing community of alumni, students, faculty, staff, and friends.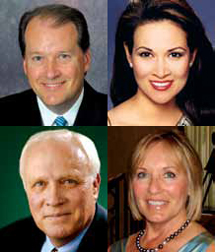 Pepperdine University has announced four new additions to its 40-member Board of Regents, the governing board of the University. Mark A. Kirk, Bui Simon, Harold Smethills, and Marta B. Tooma (clockwise from upper left) have all accepted the role of helping to shape the direction of the University.
"Pepperdine has benefitted greatly over the years from the collective wisdom, will, and generosity of our regents," says Pepperdine president Andrew K. Benton.