Pepperdine Hosts Exhibition of Rare and Historical Bibles
Pepperdine Magazine is the feature magazine for Pepperdine University and its growing community of alumni, students, faculty, staff, and friends.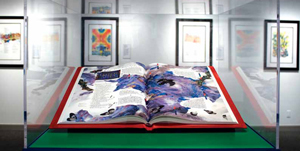 The Special Collections and University Archives of Pepperdine Libraries hosted a display of rare Bibles during the Bible Lectures in May. The exhibition included a volume of the Saint John's Bible, a first edition of the Geneva Bible from 1560, the first Bible printed in a European language in America from 1743, leaves from medieval manuscript Bibles, and several other notable Bibles.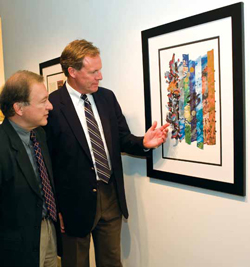 Pepperdine Libraries also partnered with the Frederick R. Weisman Museum of Art to host a special exhibit of the Saint John's Bible Heritage Edition, in addition to the volume on display in Payson Library. Created by expert artists and calligraphers, the Saint John's Bible is the first illuminated, handwritten Bible of monumental size to be commissioned by a Benedictine monastery in more than 500 years. One volume from the Heritage Edition was on display along with framed art representing the other volumes.
The reproduction is one of only 299 copies of the original Saint John's Bible that will ever be produced. The first was presented to Pope Benedict XVI at the Vatican in April 2008. The reproduction has involved the finest printing experts and binders in the world to ensure faithful representation of the original Bible. Each page and illumination has been scrupulously compared to its original counterpart to guarantee accurate reproduction.