Pepperdine Hosts International A Cappella Symposium
Pepperdine Magazine is the feature magazine for Pepperdine University and its growing community of alumni, students, faculty, staff, and friends.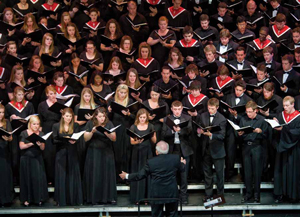 Pepperdine's international symposium of sacred a cappella music, The Ascending Voice II, took place in Malibu in May, featuring a variety of lectures and workshops, and daily concerts with a lineup that included performances by the internationally renowned Boys and Girls Choir of Harlem Alumni Ensemble; Chanticleer, a Grammy Award-winning male a cappella ensemble; and acclaimed choral directors Robert Page and Alice Parker.
"The Ascending Voice is Pepperdine University's celebration of this rare and best form of human art," says provost Darryl Tippens, who organized the symposium with N. Lincoln Hanks, associate professor of music.
The sophomore event drew singers, choral directors, music directors, and scholars of music, theology, liturgy, and history from throughout the U.S. and from abroad, with participants representing many denominational backgrounds including Reformed, Catholic, Mennonite, Church of Christ, Eastern Orthodox, and Armenian churches.
The variety of music showcased included Renaissance-era classical selections, early American hymnody, psalmody, Sacred Harp, gospel, and spirituals. Performances featured the works of such diverse composers as Bach, Salieri, Palestrina, William Byrd, Charles Ives, and Thomas Tallis.