Pepperdine Remembers Art Linkletter and Flora L. Thornton
Pepperdine Magazine is the feature magazine for Pepperdine University and its growing community of alumni, students, faculty, staff, and friends.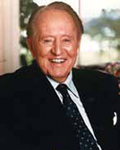 The Pepperdine community lost two dear friends this spring: Art Linkletter, a much loved and admired figure at the University for nearly four decades, and Flora L. Thornton, a longtime friend, benefactor, and life member of the Board of Regents.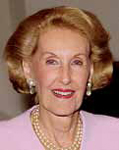 One of America's most beloved radio and TV personalities, Linkletter joined Pepperdine's Board of Regents in 1984, was awarded an honorary Doctor of Laws degree in 1978, and joined fellow comedian Bill Cosby in presenting the 1998 Seaver College commencement address.
"Art and his wife Lois have been among Pepperdine's closest and dearest friends," said Pepperdine president Andrew K. Benton. "They've demonstrated a love for our students and this University that is powerful and enduring. He will be missed greatly."
Flora L. Thornton was namesake of the Flora L. Thornton Opera Program at Pepperdine and the first recipient of the University's inaugural John Raitt Legacy Award for outstanding contributions to the arts. She was instrumental in building the Charles B. Thornton Administrative Center, named for her late husband, and the Howard A. White Center, named for Pepperdine's fifth president.
"Pepperdine has truly lost a great friend," said President Benton. "The good she accomplished here, memorialized well beyond the places that bear the Thornton name, will carry on as we endeavor to live up to her high ideals."