Peter Fretheim Receives Inaugural Waves of Service Award
Pepperdine Magazine is the feature magazine for Pepperdine University and its growing community of alumni, students, faculty, staff, and friends.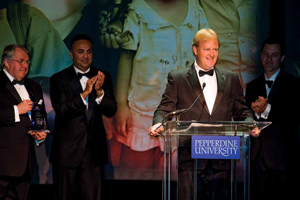 Seaver College alumnus Peter Fretheim ('86) has been named the inaugural recipient of Pepperdine's Waves of Service Award for his work serving the poor and needy in Nigeria. Fretheim accepted the award at the 34th annual Pepperdine Associates dinner, which addressed the theme "Answering the Call" to serve.
Through his nonprofit organization Go Nigeria, Fretheim has for the past 11 years helped orphans, street children, victims of leprosy, widows, and the impoverished in that African nation obtain food, clothing, medical treatment, jobs and, more than anything, hope for the future.
"We don't own much, but we are among the richest people on earth," says Fretheim, who lives with his wife and four children in Nigeria. "We have the privilege of serving these wonderful people…making an impact and an investment that will last for eternity."
President Benton praises Fretheim as "one of thousands of Pepperdine alumni who have been prepared and equipped to answer the call to serve. Through the work of this one, we celebrate the fulfillment of George Pepperdine's dream that the alumni of his college would create ever-widening waves of service and goodwill throughout the world."
The Waves of Service movement celebrates, supports, and connects Pepperdine alumni committed to volunteerism and careers of service worldwide. Developed by the Alumni Leadership Council at the encouragement of President Benton, Waves of Service began to flow in 2009 with the unwritten motto, "serve where you are." Today, Pepperdine graduates are fulfilling Mr. Pepperdine's founding vision around the globe.
Visit magazine.pepperdine.edu/service-award to watch Peter Fretheim accept the inaugural Waves of Service Award, with an introduction by President Benton. Visitwww.pepperdine.edu/waves-of-service to learn more.