Songs of Summer
Singers, pianists, and composers gather at Pepperdine for its annual celebration of the art song.
Each year as the days grow long and hot, music lovers reach for sunblock and flip-flops and flock to places with names like Aspen and Ravinia. As the festival season kicks off nationwide, lovers of art song come to the Pepperdine campus in Malibu to see and hear the best artists and teachers of this specialized vocal art at a tradition known as SongFest.


Pepperdine has been hosting SongFest's annual summer program of artist training and performance on the Malibu campus since 2003. (SongFest should not be confused with Songfest—little "f"—the Seaver College undergrad talent contest held in the spring.) Started in 1996 by then University of California music professors Rosemary Hyler and John Hall, Hyler envisioned a summertime extended study program of art song, convening mature, seasoned performers and students alike, as opposed to the young-learner music camp models that accompany the major music festivals.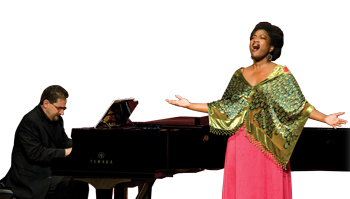 Art song, despite its esoteric-sounding name, is an extremely accessible art form, assures SongFest director Hyler. Simply defined, an art song is a vocal composition performed by one singer with piano accompaniment. "It's about the words first. A composer takes a great poem, which can be in any language, to create a work that the musicians interpret. It's a lot like acting." The works chosen for study and performance range widely across the centuries, from arias excerpted from Bach sacred cantatas, to works inspired by recent poetry written by living composers.

Every summer, SongFest takes over Pepperdine's music facilities in June, filling the days and nights of the approximately 90 participants with master classes, workshops, rehearsals, and public performances. "On a typical day the younger students have a movement class at 8 AM, then at 9 AM. everyone attends a joint class. We then all break off into different sessions in the afternoon; workshops, rehearsals—we may have three to four master classes each day."

Admittance to the program is through auditions held around the world, and competition can be rigorous. The experience of SongFest participants varies widely, falling into four tracks. The primary program is the Professional track, which attracts early-career vocalists and pianists actively pursuing performance careers. The program has developed a Young Artists track for undergrads, as well as an Internship track for high school-age students, and a Mentorship track for voice teachers.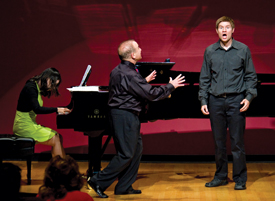 Bass-baritone, Seaver music alumnus, and Fulbright Scholar Keith Colclough ('08) is a two-time participant at SongFest. "It really was a life-changing and transforming experience, " he says. "It was transforming because exposure to such varied and wonderful repertoire inexorably changes a young singers perspective, taste, and knowledge."

Colclough notes that the artistic approach to the art song repertoire is quite different in that "the setting is much more intimate whether in the size of the venue or merely the nature of the performance. The singer and pianist have no costumes, sets, or lighting to create atmosphere and drama, but must rely solely on the music and upon the singers acting, which is in general more subtle than in an operatic performance. In short, imagination plays a much greater role in art song."

Unique to SongFest is its continuing practice of involving working American composers; in many cases, they have written and premiered new works for and in collaboration with SongFest. A regular fixture on the SongFest faculty is renowned song and opera composer John Musto (Volpone), as well as composers John Harbison and Jake Heggie. What is SongFest's attraction for composers? Says Hyler, "Composers come here because these young professional singers are eager to learn new and difficult music."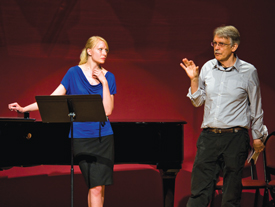 The Pepperdine-SongFest connection originally came about through happenstance, when its original location was double-booked. Today, seven years later, the University shares faculty members with SongFest, associate professor of music Melanie Emelio, and professor Henry Price, who was an observer at SongFest's earliest session. In addition to Keith Colclough, several Seaver College music graduates who have gone on to careers or advanced study are also SongFest alumni, including soprano Jessica Rivera ('96), baritone Danny Armstrong ('06), and mezzo-soprano Lauren Ruhl ('08).

Although first a training symposium for gifted singers, SongFest welcomes the Pepperdine community and general public to its free evening concerts and other opportunities. Indeed, Alice Starr, wife of former School of Law dean Ken Starr, once wandered into a rehearsal by mistake, stayed to listen, and eventually joined the board of directors.

As Hyler maintains, these connections through art song are inevitable. "Songs are a personal and intimate means of communicating what we crave in our lives: love and a sense of belonging."

Q&A with Pepperdine and SongFest alumnus Keith Colclough (pdf)

Listen to Colclough sing (mp3)