The Campaign for Pepperdine Launches at 35th Annual Pepperdine Associates Dinner
Pepperdine Magazine is the feature magazine for Pepperdine University and its growing community of alumni, students, faculty, staff, and friends.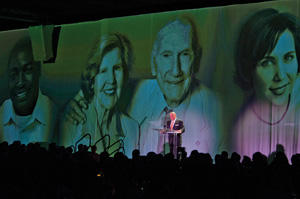 "I am a Wave, and my life has been changed" echoed through the L.A. Live ballroom May 14 as 950 guests caught the vision of the Campaign for Pepperdine: Changing Lives. From Seaver College sophomore Francis Lubuulwa and his stirring Ugandan drum beat, to opera star Jessica Rivera ('96), offering the Lord's Prayer in song, the campaign's public launch dramatized the University's quest "to impact the lives of students who will, in turn, transform the world."
The night was called "Pepperdine Live," theme of the 35th annual Associates banquet. Along with celebrity emcees—Touched by an Angel star Roma Downey and her Emmy-winning Survivor producer-husband Mark Burnett—the program showcased Waves whose lives have been changed by their Pepperdine experience. President Andy Benton described the largest campaign in Pepperdine's nearly 75-year history. "We intend to raise $450 million,"Benton explained. "Just as important, we will embolden and enable those who change for good the lives of those who matter most—our students." He shared four aspirations: advancing knowledge through scholarship; honoring the University's heritage of faith; building community; and respecting diversity and global understanding.
Goals include $82 million for student support, $170 million for academic priorities, $150 million in campus and facility enhancements, and $48 million in annual giving.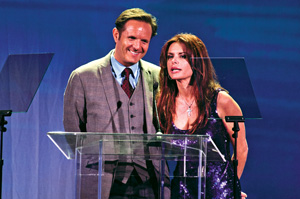 The audience heard from campaign chairs and Pepperdine regents Marylyn Warren ('58) and Ambassador Glen Holden, who led a 125-member volunteer committee. Warren, who met her husband and e-Harmony cofounder Neil Clark Warren on the Los Angeles campus, expressed excitement about the campaign's impact. "Through new scholarships, chairs, a comprehensive events center, and a transformed library, we will ensure an unparalleled college experience for all students."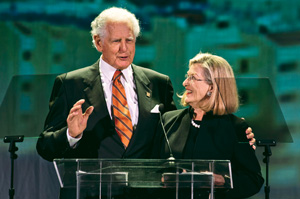 Warren and Holden announced that more than $250 million of the $450 million goal has been raised, with two major gifts leading the way. Herbert and the late Elinor Nootbaar (pictured above) have fully endowed the law school's Nootbaar Institute on Law, Religion, and Ethics. Gifts from Terry and Sharon Mullin have created Mullin Town Square, an inviting gathering place at the center of the Malibu campus.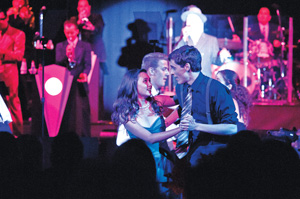 Acknowledging the challenge of launching a campaign in a stressed economy, Benton was optimistic. "To help Pepperdine remain within reach of top students through need- and merit-based financial aid, we seek $50 million for scholarships and fellowships and $10 million for student loan forgiveness," he said. Endowed teaching chairs and professorships are other urgent priorities.
The campaign will also enhance the 40-year-old Malibu campus. Goals include a 5,000-seat event and athletic center, a 458-bed residence hall for Seaver juniors, and renovations of the School of Law building and Payson Library.
"We are the Campaign for Pepperdine," Benton enthused. "Our success will be assured through the confidence and support of all who believe in the unlimited potential of the students we educate." The revival swing band Big Bad Voodoo Daddy brought the crowd to its feet as the dinner concluded. A lively alumni after-party commenced and in one special evening, L.A. Live became Pepperdine Live in downtown Los Angeles.