Center for the Arts Presents Multi-Award-Winning Composer Marvin Hamlisch
Pepperdine Magazine is the feature magazine for Pepperdine University and its growing community of alumni, students, faculty, staff, and friends.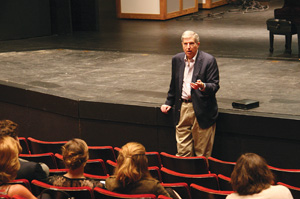 Multi-award-winning composer, conductor, and pianist Marvin Hamlisch taught a master class to Pepperdine students and performed a concert in Smothers Theatre in April as part of the President's Choice Series at the Center for the Arts. Hamlisch has garnered Oscars, Grammys, Emmys, a Tony, Golden Globes, and even a Pulitzer Prize for his compositions over the course of an extraordinary career.
A new season at the Center for the Arts begins in September. Visit arts.pepperdine.edu for the full performance calendar.