Contagious Giving
Since founding the Karachi Relief trust in Pakistan in 2007 to provide relief following natural disasters, Khayam Husain (MBA '90) has witnessed the transformative power of community.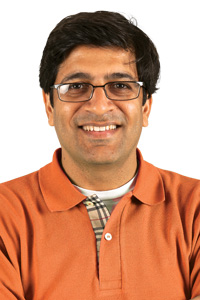 In the past six years Pakistan has been hit time and again by Mother Nature, its people suffering disasters that have claimed the lives of thousands and left even more homeless. When Cyclone Yemyin devastated Pakistan in 2007 while its people were still trying to recover from a level-7 earthquake that killed more than 70,000 people in 2005, Khayam Husain (MBA '90) knew he had to do something on the ground to help survivors recover and thrive.
"Yemyin was a tipping point," he remembers. "The momentum was there to start doing the relief work ourselves, and so we got into rehabilitation."
By "we," Husain is referring to the Karachi Relief Trust (KRT)—the nonprofit organization he founded following Cyclone Yemyin to unite communities of volunteers in times of crisis to help others survive and recover from calamity. The organization's motto is, "Together Each of Us Can Make a Difference," and so far, they've not had any shortage of need: torrential rains and floods followed in the wake of the cyclone, leaving 2.5 million people homeless; a 6.4-level earthquake destroyed 20 villages in 2008; and flooding left a fifth of the country underwater last year.
Ironically, Husain says, the biggest danger to survivors of a natural disaster—flooding included—is a lack of drinking water. "In Pakistan I can tell you that most fatalities end up happening because of unclean drinking water and sanitation," he explains.
With a business degree from the Graziadio School of Business and Management, an undergraduate degree from the University of Houston, and nearly two decades as former managing director and now CEO of the Automobile Corporation of Pakistan— his late father's business—Husain runs KRT with a business savvy that enables victims to help themselves, hiring people in survivors camps to work for wages alongside unpaid urban volunteers to bake, tailor clothes, and build homes for the community.
KRT founders host an appreciation dinner for volunteers in Karachi, October 2010. L-R: Adnan Asdar, Husain, Tania Fatmi (former coordinator), Tariq Mian, Shams Raf. He also builds relationships with sponsors who deliver food, clothing, medicine, and equipment, and partnered KRT with the Swiss water filtration company LifeStraw® to deliver "20,000 very-low-priced water filters that don't need changing and don't need any power," he says.
In addition, Husain used his Pepperdine connections (he was a founding member of the Malibu Group, a consulting group of MBA students at the Graziadio School) to partner with an Austrian disaster management company that donated enough money to rebuild an entire village. Currently, KRT has a number of camps set up in the province of Sindh and is building approximately 2,500 homes for villages displaced by recent flooding, a figure Husain calls a "drop in the ocean" considering the vast numbers of people affected. But the important thing to Husain is that volunteers are uniting to make any difference they can.
"We're enabling urban people like myself to help less fortunate people who have lost everything, and once you are involved you realize there is so much you can do," he notes. "Warren Buffet once said he 'won the ovarian lottery,' and I feel the same way—I'm very fortunate to be given this opportunity to give." He adds that he has strength to handle physically and emotionally draining relief work because of this sense of gratitude, as well as from his personal faith. "If you don't have faith, you can't do anything. We also have a lot of faith in what we're doing."
Beyond giving to the immediate needs of disaster victims, Husain has a wider perspective of KRT's mission as having a long-term effect on the communities. Having studied for a number of years in the U.S. before returning to a moderate Pakistan in the early 1990s with his wife, a UC Berkeley graduate, he hopes that KRT might help to relieve some of the recent tensions that have cropped up in certain communities.
"There is a crisis of intolerance in our country, and while most of what we do is infrastructure and construction of homes, we do realize that we need to pass along a basic education about tolerance," he says. "When we're rebuilding a village, we have a certain degree of leverage to ask them what they can do for us. We tell them we need them to send their children to school, particularly the female children, and we get a commitment from them to do that."
Traveling around his country appealing to both potential volunteers and donors, Husain has already witnessed the impact KRT has had in its four short years, inspiring what he calls "contagious giving." He remembers a presentation in Karachi, Pakistan's largest city and financial center in Sindh, after which he met a woman who was moved but had no money to give. She was wearing two gold bangles.
"She just removed the bangles and said, 'Son, I want you to build homes with these.' Those bangles were given to her at her wedding, but she was ready to part with them. She said, 'Life goes on, but to give life and help build a home—there is power there.'"
Support for Japan
In the wake of the devastating earthquake and tsunami that struck Japan in March, members of the Pepperdine community rallied to aid the wounded nation. President Benton and students across the University answered the call of Jim Batten, chancellor of the Ibaraki Christian Education Community, enabling the purchase of food, water, and essential resources for the school. MBA students also came together to raise funds at the Graziadio School's annual Global Village event, and the University Church of Christ provided support to Japan's Mito Church of Christ.
Waves of Service
The waves of service movement celebrates, supports, and connects Pepperdine alumni committed to volunteerism and careers of service worldwide. Learn more about alumni like Khayam Husain and how you can get involved: www.pepperdine.edu/waves-of-service