Eyes on the Prize
Pepperdine Magazine is the feature magazine for Pepperdine University and its growing community of alumni, students, faculty, staff, and friends.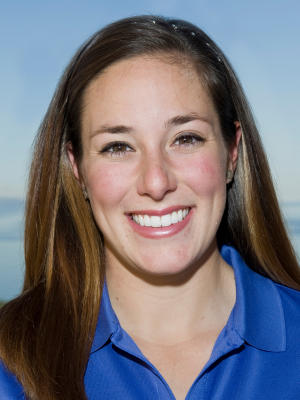 Taylore Karle ('11) never wanted to play golf. At age 10, she was more interested in perfecting her form in gymnastics and basketball, while her brother Austyn ('11) sharpened his swing in their hometown of Dallas, Texas. After moving to Scottsdale, Arizona, at 13 to pursue Austyn's burgeoning golf career, Taylore spent her days watching him play on the range. Bored, she decided to pick up a club and take a swing and has been playing ever since.
Throughout her four years on Pepperdine's women's golf team, she has made the top-10 twice; had one of the lowest stroke averages of all time; appeared in all 10 tournaments and all 30 rounds; was named to the All-WCC first team every year in a row; and made team captain, all the while managing to make the dean's list her senior year.
While most college golf players abandon their college graduation goals at 18 in lieu of playing in amateur tournaments, Taylore's first priority was scoring high marks in the classroom by being a serious and dedicated student. Fortunately, balancing a successful collegiate athletic career with the demands of a rigorous academic curriculum for four years was a feat that the recent graduate perfected to a tee.
Was golf a big part of your childhood?
A very big part, because I grew up in Dallas and it was a way of making friends. My brother Austyn also played and it was a lot of hard work. It took a lot of practice and a lot of lessons were learned playing and being outside in the heat. It built mental toughness at a young age. That helped me in the classroom for sure, to be able to balance the two.
How did you find the time to balance your school and athletic life?
It was definitely hard, but I had become very self-disciplined in high school to get my schoolwork done so I could get to Pepperdine one year early. I graduated high school when I was 16 and came to Pepperdine when I was 17. That made my freshman year seem simpler, because I had teachers, I had help, tutors, and a lot of opportunities to study. The harder part was balancing the school and the golf and the workouts and the traveling and everything else while facing unexpected social situations.
When did you realize you wanted to play golf professionally?
The stereotype is that if you play college golf, you're trying to strengthen your amateur career. A lot of girls will drop out of college to go pro at 18, but I've been on that track since I was a freshman in high school when I first thought of becoming a professional golfer. I played in four LPGA events and one US Open before coming to college. You can still play in pro events in college, but you have to remain amateur to keep your scholarship.
What is the most unique aspect of being on a college sports team?
I would say a combination of time management and being able to be cordial with a lot of different personalities in various environments, which is what college is. I was the only American on my freshman team. Just being able to converse with so many different ethnicities and learning from one another. Also being on a golf team in itself is difficult, because golf is a very individual sport and you don't travel, work out, sleep, or eat with the team like in other college sports teams.
What was your most difficult experience as part of the team?
I am a team player that doesn't mind getting to the course early and leaving late. It was difficult for some people to understand that I was such an independent player and knew what worked for me and knew what I needed to do to get better. That's what I sacrificed to be on the team and be a leader on the team. I've had to be around people who didn't feel the same way, so being a team player, being the captain of the team, being a leader–I had to adapt to that and find other ways to still get what I needed as far as practice time, workouts, and even sleep.
What did you take away from it?
It helped me open up my mind and my opinions to become better in golf and academics. It built character. This last year I shared my advice with the freshmen on the team and some took it and some thought I was crazy and did what they wanted to do. Most of them took it, and at the end of the year, they gave me this great gift–I didn't expect anything, but I really felt like I helped the team.
Can you think of some memorable experiences that you've had throughout your athletic career?
Of course, every time we won as a team was memorable, but I feel like the best times we had was when we had our guards down at a team dinner. Individually, the most memorable time for me was winning when I was the last person in the group coming in and the whole group was waiting for our team on the last green. I also had family and friends present when I won in California. My victory was shared but it was also my own.
What has been the best advice you've received as an aspiring golfer?
Coach Sacki, my assistant coach, told me that one of my biggest strengths is that I'm a scrambler. She said people who have this can play pro golf and people who don't can't. We became very close, so that, to me, was a confidence builder and very important advice, because I view her not only as an assistant coach but also a friend.
What do you plan on doing after graduation? Will you still be playing golf?
I came to Pepperdine as a sports medicine major and felt like that was my true passion, but I didn't have enough time to pursue that because of golf, so I changed my major to advertising. Along the way, I found that I was pretty good at it and would definitely like to do it at some point down the line, but my fitness has become my top priority. I am golfing everyday. I definitely see myself playing professional golf. I have been traveling quite a bit playing in tournaments and Q School so I can get my LPGA tour card. Since I've graduated, I feel like I have so much time on my hands to pursue my goals and dreams.