A Fine Balance
A husband-and-wife team of Seaver studio art alumni finds a middle ground between their creative passions and entrepreneurial pursuits.
The double lives of Joshua ( '07) and Hilary ('06) Dildine began the day of their engagement in July 2008. Both independently successful fine artists with extensive portfolios and exhibited works, the couple put their heads together to come up with do-it- yourself options for their impending nuptials. They hatched the idea of creating original keepsake artwork that only two artists would think of when planning a wedding: a handdrawn, personalized fingerprint tree that they used as a guestbook at their reception. "We wanted something that was really personal and collaborative," says Hilary of their motivation. "It was a nice visual representation of the day," she recalls; the piece of art now hangs in their dining room at home.
Bleu de Toi Fingerprint Tree Guestbook
Inspired by the local buzz around their inventive idea and Hilary's Pepperdine study abroad experience in France, the pair launched Bleu de Toi, "crazy for you", and posted a few of their drawings on handmade marketplace Etsy.com. They sold out by the end of the day and have continued on the same track since March 2010. "There is something really neat about having something that has been touched by all of the people special enough to share their special day with," explains Hilary of the company's popularity. "We started a new trend in the wedding industry," Joshua adds, "and it has grown like wildfire."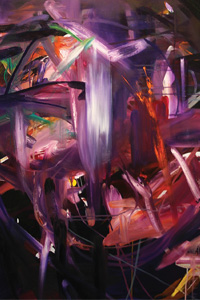 Joshua Dildine, Sweet Dreams, Sweeter Tomorrow, 2010, acrylic and oil on linen, 48" X 36"
The couple now splits their time between creating the expressive art of their training and the commercial art that largely provides their livelihood. Joshua, who received his master of fine arts degree from Claremont Graduate University, runs a thriving studio art practice in Pomona; teaches beginning, intermediate, and advanced painting in Santa Ana; and regularly shows his artwork in galleries around Los Angeles, where he is professionally represented. His abstract paintings emerge from a three-step process; as Joshua explains, "I first build a structure on the canvas, then destroy it, then rebuild it, so that there's a birth, death, and resurrection within each piece." As conceptual as his paintings seem, he insists, "they're very much rooted in representation," where family portraits or magazine ads are used as models for his compositions.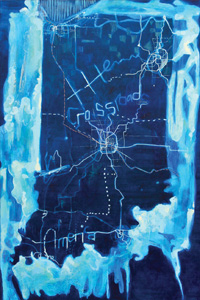 Hilary Dildine, Crossroads of America, 2008, oil on canvas with cotton yarn, 72" X 48"
After graduating from Seaver College and moving cross-country for graduate school, Hilary became fascinated with maps,particularly of the United States. "I had a great experience traveling abroad with Pepperdine twice and felt like I knew Europe better than I knew my own country," she says. Now she creates a series of globes based on places that she has traveled to or plans on visiting. "All of my artwork deals with a sense of journey, a sense of place, and places from memory," she explains.
Though representational in construction, the finished paintings appear abstract and feature open-ended qualities. As the Dildines continue to immerse themselves in both branches of the art world, they view their manufactured products as a blend between the creative and commercial. "We conceived the trees and are constantly creating new designs that people might want to purchase," maintains Hilary. "We wouldn't be able to do them if we didn't have artistic rendering skills. There's definitely an art in trying to create what the client wants."
Dating back to her days as a graduate student at the Savannah College of Art and Design, Hilary understood the reality of her dual identity as an artist: "a side of you that makes wonderful, creative, interesting, thoughtful fine art, and the other side of you that has to make a living." Today she and Joshua consider themselves lucky to be able to create fine art while pursuing their entrepreneurial venture at the same time. "Since we run this company, there isn't a sense of desperation. We have been able to find a way to make a living and do something that is creatively touching a lot of people's lives," she says.