International Justice Mission Founder Gary Haugen Teaches Human Rights Seminar Course
Pepperdine Magazine is the feature magazine for Pepperdine University and its growing community of alumni, students, faculty, staff, and friends.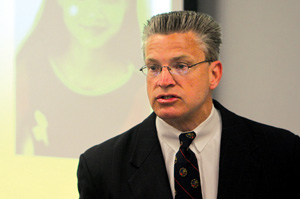 Gary Haugen, the founder, president, and CEO of human rights agency International Justice Mission (IJM), joined the School of Law faculty in April to teach a seminar titled "Human Rights and the Rule of Law in the Developing World." The course was an in-depth exploration into the enforcement of human rights with a particular emphasis on working with local government agencies and communities to provide effective access to justice.
His course at Pepperdine built on the relationship forged between the two institutions when the School of Law became the first in the country to establish a student chapter of IJM. Haugen also visited the Malibu campus in 2009 to present the commencement speech at the law school graduation.
"Gary Haugen is a true giant in addressing global justice issues," says Naomi Goodno, associate professor of law. "He has a clear vision and a contagious passion for justice." Adds Bryan Pereboom, president of the law school's student chapter of IJM, "We are humbled and challenged to learn from someone living so completely on mission for Jesus."
Haugen's extensive experience in the fields of human rights and rule of law dates back to his work at the U.S. Department of Justice and the United Nations, during which time he investigated the 1994 Rwandan genocide. He founded IJM in 1997 as a nonprofit agency to rescue victims of violence, sexual exploitation, slavery, and oppression worldwide.