Pepperdine and NCAA Recognize Outstanding Scholar-Athletes
Pepperdine Magazine is the feature magazine for Pepperdine University and its growing community of alumni, students, faculty, staff, and friends.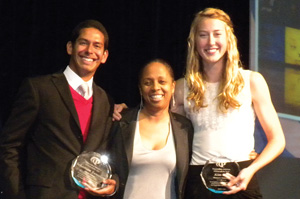 Both Pepperdine University and the NCAA recognized outstanding achievement this spring from Waves student-athletes.
Student-athletes, coaches, and staff members gathered at Firestone Fieldhouse in April to celebrate Pepperdine's fourth annual Student-Athlete Honors Dinner. Wave of the Year awards went to two-time winner Tyler Jaynes ('11), men's volleyball; Martine de Gannes ('11), women's golf; and Myriah Stockman, a junior on the women's soccer team. The Wave of the Year award honors student-athletes for outstanding contributions in spirit and service to the athletics program and the University community.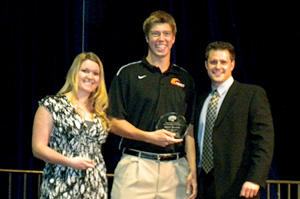 Awards also went to Scholar-Athletes of the Year Matt Brown, a junior on men's water polo, and Jessell Owens ('11) of women's swimming and diving; as well as Athletes of the Year Sebastian Fanselow, a sophomore on the men's tennis team, and Kim Hill, junior on women's volleyball.
In addition, the Pepperdine men's golf and men's volleyball teams were honored in May by the NCAA through its public recognition awards for Division I athletic teams with outstanding Academic Progress Rate (APR) scores. The awards acknowledge those teams in the top 10 percent of all squads in their respective sports and are part of a broad Division I academic reform effort. The men's volleyball team, under the direction of Marv Dunphy, received the award for the third-straight year and the fourth time overall. This is the second time that the men's golf program, coached by John Geiberger, has received the NCAA's APR award.
"It's a credit to our outstanding student-athletes and coaches in the sports of men's golf and men's volleyball that they have been able to attain this type of award from the NCAA," says Pepperdine director of athletics Steve Potts. "All of our coaches and academic support staff work hard to make sure that our student-athletes progress toward graduation and make the most of their academic experience, and we both thank and congratulate these two programs for their exceptional efforts."
Read more on the Pepperdine Athletics website »