Pepperdine Remembers Matt Fong
Pepperdine Magazine is the feature magazine for Pepperdine University and its growing community of alumni, students, faculty, staff, and friends.
Matthew Fong (MBA '82), member of the Pepperdine University Board of Regents and former California state treasurer, passed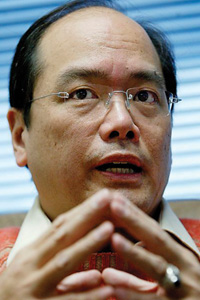 away June 1 after a long battle with cancer. He was 57.
"Matt was among the most courageous people I have ever known," said President Benton. "He approached everything in life with enthusiasm, tremendous energy, intellect, and integrity. He was a great friend and will be deeply missed by all of us who were fortunate to know him."
Fong was the adopted son of former Democratic California secretary of state March Fong Eu. He earned his bachelor's degree at the United States Air Force Academy, MBA from Pepperdine University, and JD from Southwestern University School of Law in Los Angeles. Following graduation from the U.S. Air Force Academy he served his country on active duty for five years and continued in the USAF Reserves where he held the rank of Lieutenant Colonel.
In 1991 California governor Pete Wilson appointed Fong to the State Board of Equalization where he served as vice chair from 1990 to 1994. He was elected state treasurer for a four year term beginning in January 1995. Fong was president of the Strategic Advisory Group, an institutional investment advisory firm, and served "of counsel" with the Los Angeles based law firm of Sheppard, Mullin, Richter & Hampton. He was active in politics and was a cochair for the George W. Bush for President campaign in California.
Joining the Pepperdine University Board of Regents in 1993, he served on several different committees of the board, the most recent of which was the investment committee.