Around the World in 18 Games
Globetrotting alumnus Harry Nelson (50) tracks his record-breaking attendance at the Olympic Games.
In the summer of 1932, at the end of the Depression, two young boys from Huntington Park, California, built a little track for high jumping, pole-vaulting, and discus in the vacant lot next to their house. They were inspired by the only thing anyone could talk about that summer: something called the "Olympics," which was going to take place in Los Angeles.

"We stood at the corner of Van Ness and Slauson and watched the marathon runners go by," Harry Nelson remembers. "Then we went down to the marina in Long Beach, where the rowers went by. And somehow, I still don't know how, my mother got us tickets to the L.A. Coliseum equestrian event. That was how it all got started, but it didn't go any further for years."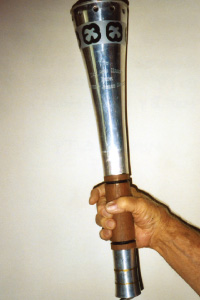 Nelson holds the Olympic torch which delivered the flame from Greece to Mexico in 1968.

"It" is Nelson's enduring relationship with the Olympic games, a relationship that has seen him attend 17 summer Olympics between 1932 and 2008, with the 2012 London games raising the total to 18. It's not that he is the world's greatest athletics nut; instead he calls himself a "nosy" person and following the Olympics has been his way of exploring the world.

Nelson first satisfied his yearning to travel as a junior at George Pepperdine College when his high school friend Uan broached the idea of saving up to attend the 1948 games in London, tempting him with the promise of cheap accommodation through another friend. "Here I am, at school, getting $51 a month on the GI Bill—that's not much money," he points out. "But I said okay and decided if I sold my car I could go. So I sold my '39 Chevy to my uncle for $600, and that paved the way for me to go."

They stayed in the home of a woman called Mrs. Kelly; in the evenings they would sit out in the narrow street in the entertainment district and Uan, a professional trumpet player for MGM studios, would perform for the local residents. The entire experience lit the fire in him that had been stoked in 1932.

"I figured it was a large world with a lot of places to see that are different from what I knew growing up in that little town of Huntington Park, and being nosy I figured I'd like to see as much as possible," he reminisces. "I got to thinking that since the games are four years apart and in different parts of the world, I should be able to put enough dimes away to be able to accomplish what I wanted to do. And ever since, every four years I go."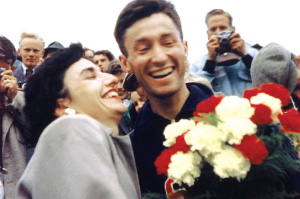 American Horace Ashenfelfter, Gold Medal winner, 3000-meter steeplechase, Helsinki, 1952, with his wife

Between the 1948 games and the 1952 games in Helsinki, Finland, he literally put away his dimes and any other change he collected in a mason jar inside a closet, methodically saving up about half of his ticket. In the meantime, he finished up his degree in physical education from Pepperdine, with a minor in music and history, and graduated in 1950.

He had played on Pepperdine's championship-winning football team before becoming a student activities advisor at USC, but his first love at the Olympics was track and relay. A member of the track team at Huntington Park High, it's a passion that dates back to his days watching the marathon runners in the 1932 Olympics and one that was rewarded at a cocktail party during the 1956 Olympics in Melbourne.

"There was one guy that a lot of people were talking to, so I was curious and got closer to find out. It was Jesse Owens," he remembers. The legendary American track champion—who won four Gold Medals at the 1936 Berlin Olympics, including one for the 4 x 100-meter relay—appeared weary from prolonged attention, but Nelson couldn't resist introducing himself. "I apologized for bothering him, and then told him that one of the guys on the relay team, Foy Draper, was from my high school. We had a nice conversation after that."

Besides traveling the world and meeting celebrities—including sitting a few rows ahead of Bing Crosby during the 1960 Rome games—Nelson's life has been enriched by the Olympics in other ways. While staying in Finland for the 1952 Helsinki games, he was able to reconnect with his ancestral homeland on a visit to Stockholm, Sweden. And after marrying his wife Dee in 1955, the newlyweds honeymooned at the 1956 games in Melbourne, Australia. The couple stayed with a host family called the Robinsons, who showed them the city, traveled to the Olympic village with the Nelsons to meet with U.S. Olympians from USC, and served them breakfast in bed each morning. At the end of the trip, Nelson tried to pay Mr. Robinson as per their prearranged agreement, but he wouldn't hear of it.

"It turned out that during the war, he was in the Australian Air Force and was treated so well in New York during training that this was his way of giving back," says Nelson, who also served with the U.S. military during World War II.

The heartfelt gesture of kinship on the other side of the world from someone who had been a stranger just two weeks earlier confirmed Nelson's suspicions that the Olympics can be a means of turning international strangers or countries into friends or allies.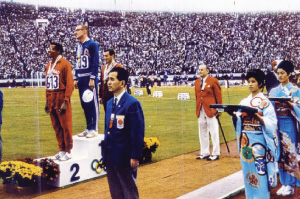 Larrabee on the winners podium in Tokyo, Japan

Of course, sometimes they're a great means of strengthening patriotism too, he says, drawing on one of his favorite memories from the 1964 Tokyo games. His friend Uan was with him again, and they both lamented that, to save time, the national anthems of Gold Medal winners had been cut down to just the first eight measures, replacing the tradition of playing the whole first verse and chorus. When Nelson's friend from USC, Mike Larrabee, won Gold for the 400-meter sprint, Uan took out his trumpet to keep the U.S. national anthem going. "Everybody in our row started singing along," Nelson recalls.

During the 2000 Athens games he witnessed the unfortunate flip side of patriotism, when the crowd booed at the start of a race in which their representatives were banned from participating after failing to show up for the mandatory drug tests. "It put a sour taste in my mouth, because the Olympics started there in Athens…it was so contrary to the spirit of the event."

As the Olympics have grown over the decades, Nelson has seen and experienced the difference firsthand. During the 1932 Los Angeles games, there were 37 countries represented by 1,328 competitors; by the 2000 games in Sydney, those numbers had risen to 200 countries and 10,649 competitors. On a more personal level, when he and Dee took their two children, a son and daughter, to the Montreal games in 1976, they had 36 event tickets between the four of them totaling $825. This year, the couple has just two tickets for a total of $689.

Now 90 years old, Nelson has no plans of slowing down. He authored a book, titled Following the Flame, to chronicle his Olympic-inspired journeys; he and his wife are also working through an independent list of travel destinations compiled in 1986; and he will be giving a talk to visitors at Pepperdine's London House this summer during the 2012 London games.

He is also due to receive an updated award from the Guinness Book of World Records, which honored him in 2008 for the most summer olympics attended—then 17. Nelson will display the new award for his record-breaking attendance at 18 Olympics in his Southern Californian home, proudly mounted next to the front door.

"I've been lucky because the good Lord decided for some reason that I wasn't going to die at age two," he says, referencing a close call he had with kidney disease in infancy. "I was just thinking that if we'd taken all that money we spent on our travels and put it into something, we'd be much richer. But I don't care about that. We've had a good time and throughout the years, going to the Olympics has been a great way to see the world."