go + do: Daring to Change the World One Story at a Time
Daring to change the world one story at a time.
The God Given Child —This is my favorite photo I've ever taken. When I visited Northern Uganda on this trip, the war with the LRA had recently ended and the wounds, both physical and emotional, still ran deep. Children, particularly, took it hard. Many were conscripted as child soldiers, abducted, and raped. I was sitting on a bus in Northern Uganda and the sun lit up this bright red wall with the words "God Given" painted on it. Sitting on the bus, I wanted so badly for a child to walk in front of it. No one did, and the shadow on the wall started to creep toward the wording. Then, just as the shadow touched "God Given," the boy in the blue sat down. The photo reminds me how each child is important, created by God, and has so much potential.
Words and photos by Jay Milbrandt
Excerpt reprinted with permission of the publisher: Tyndale House Publishers, Inc., Carol Stream, Illinois, 2012

It's Not About Changing the World?

"Well, I'd like to talk to you about what I'm going to do after graduation," Brady the revolutionary says as he drops his bag on the floor and plops down onto the couch my office at Pepperdine. With his signature Vietnam-era army jacket and unkempt beard, he might feel more at ease in a dimly lit coffee shop than in my office. He looks like the leader of a guerrilla army.

"I've really been thinking about it a lot, and I feel a need to leave the country for a while."

Brady is one of those guys that when he tells me he's been thinking, I know he's been thinking. He's a philosopher at heart, though he didn't realize it until he was too deep into another major.

"Great. Tell me more." I spin around in my desk chair, turning my attention from e-mail to Brady. "why do you feel like this is what you want to do?"

"I think I'd like to work somewhere really outside my comfort zone—maybe India. I've been drawn to India, or the former Yugoslavia. I feel like I've always lived really comfortably, and I need to challenge myself."

As we talk further, I get the sense that this personal crisis is more about challenging his faith. Brady intellectualizes faith to the point where all roads converge. He's come to that place where there's a strong argument and an intelligent, respected thinker behind nearly every theological position. It's at this point where Brady's faith needs to go for a ride to see what it really means to him personally.

I see a little bit of myself in Brady. He reminds me of what I went through in law school. Brady grew up in a solid Christian family, attended church regularly, and got into an excellent undergrad program at Pepperdine. Below the surface, Brady is at the same inner tipping point that I was: he's in the desert, facing both a crisis of self and a crisis of faith. He needs something to truly challenge him and challenge his faith. Though he's nearing the end of his formal education, Brady can feel that he still has something more to learn.

Are You Trying to Change the World?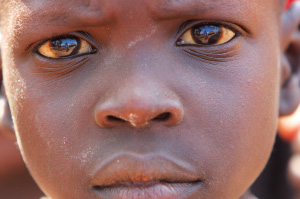 When it comes to our desire to go and do, the first thing we must realize is that it's not about changing the world. Instead, it's about changing ourselves. And the great thing is that if we allow God to change us, then along the way, he allows us to change the lives of those we encounter. It always starts with us— with God working in us.

When I first got involved with global justice work, people often accused me of wanting to change the world. I never said it myself; it always came from other people. Whenever I heard it, no matter how I heard it, the phrase always troubled me. I found the comments deprecating or exaggerated, portraying me as either a naive young idealist or as someone who has accomplished something really significant. I was neither. I wasn't trying to save old trees by sitting high in their branches to confound loggers. Nor was I doing anything that could ever nominate me for a Nobel Peace Prize. I simply did what I thought should be done when I looked at the world.

I believe that the old cliché actually holds us back. At times, I tried to simply accept the phrase and use it, but I couldn't. It felt arrogant. It wasn't me. If I ever did try to change the world, I knew I would either completely fail, become a cynic who continually complained that nothing would ever change, or I'd get so caught up in an obscure project that I'd one day be found leading a cult of indigenous tribal people in the jungle, like Kurtz in Heart of Darkness.

On the other end of the spectrum, it's easy to get caught up in the idea that we have to accomplish something of extreme significance. and we believe that this is fulfilled only by some momentous, sweeping action. We celebrate human achievement to a degree where anything less seems devoid of purpose. We might ask, "If no one celebrates what we're doing, are we doing anything worthwhile?"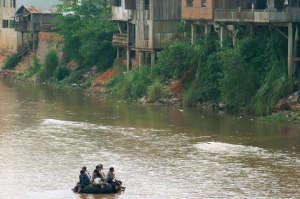 Brady the revolutionary never mentioned fixing any global problem or saving anyone's life. For that matter, he never mentioned anything external. Brady talked only about changing himself. he wanted to serve an organization that helped people and maybe make the world a better place through his time there. If there was a revolution that Brady was leading, it was his own personal one.

Brady's revolution mirrored my own. That moment in the auditorium was about nothing more than me. It certainly had nothing to do with changing the world. Rather, it was a crisis of self and faith. I wanted to challenge myself. I had realized two things about myself: first, I was living a pretty comfortable life, and second, it's a big world out there. When these two understandings finally collided, I found myself in crisis.

For each person, the solution to this crisis is a personal revolution.

It's a Lifestyle, Not a Mission

To go and do is within reach of everyone. You don't need special words to say. You don't need to be "called" or hear a supernatural voice telling you to go. I never heard one. I didn't go because of a calling, nor did I have any secret password. I just thought it would be a good experience for me. I would get a cultural education, I would learn how to volunteer my time, and it would be an adventure.

On a flight across the United states, I sat next to a man who struck up a conversation with me. He asked what I did—I was a student at the time— followed by the usual questions. What was I studying? What did I want to do? At that point, I wanted to work abroad as a lawyer for a particular human rights organization. The man was familiar with the organization and its work—his church donated money to the cause.

At the end of our conversation, a grin broke across the man's face. He sat back, sighed, and said, "I really hope you can go be one of those missionaries."

I cringed. Those what? Everything inside me ground to a halt. Amissionary?! Did I hear that right? I wanted to be a global justice lawyer, not a missionary.

And I sat back to think. Why was I reacting so strongly? Missions work is a noble calling—so what caused my response?

The more I thought about it, the more I realized that we've created a two-camp system. If you want to go and do, you must cross from the everyone-else camp into the missionary camp. Unfortunately, this barrier keeps people like me from going because we don't feel that we fit the missionary mold. We didn't receive a call from God to the mission field. We just want to do something good and explore the world. We don't have special training or seminary degrees. We're just ordinary people who want to bring whatever skills we have to the table and show God's love through our actions—taking whatever opportunity he brings our way.

Last year at Pepperdine, a number of undergraduate seniors left for China after receiving their diplomas. They didn't go as missionaries, they went as teachers. They wanted to be present in Chinese communities, offering to teach English and help build the education system. Teaching became a vehicle for modeling Jesus' love and a platform to share the gospel—if necessary, with words. They wanted not only to bring a practical skill that would allow them to make a tangible difference in people's lives but also to use their lives as tools for spreading the message of Jesus in a closed country. These graduates saw "go and do" not as a mission, but as a lifestyle.

I've participated in various missions trips over the years, the most recent a home-building trip to Mexico with my church. Although I have no construction skills, it was refreshing to build something. There's something deeply satisfying—even soulful—about creating things and working with your hands. You see results. You gain a sense of accomplishment, to the extent that it feels even more fulfilling than intellectual work.

Between lifting rafters, I thought about what a bizarre experience it must be for the family we were helping. All of a sudden, this group of americans had come rolling into their neighborhood in nice cars, lugging cameras and power tools. It was a frenzy. The street was taken over and pretty soon word spread that we were there. Local trinket peddlers showed up to sell maracas and ponchos. By noon the next day, the house was done. From foundation to finished in little more than 24 hours. We didn't know the names of the people who would live there or anything about them. It was like a random act of kindness.

But is that what we really want? A lifestyle is not a series of random acts, but a strategic, long-term relationship with kindness. It's intentional. It's being willing to "go and do" whatever needs to be done whenever it needs to be done. I want the lifestyle.


Jay Milbrandt is the director of the Global Justice Program and associate director of the Nootbaar Institute on Law, Religion, and Ethics at Pepperdine University School of Law. You can connect with Jay on his blog jaymilbrandt.com or on Twitter@jaymilbrandt.