Heritage in Harmony
Six Seaver students carry on the 17-year tradition of Pepperdines acclaimed a capella group Won by One.
At a Church of Christ high school youth conference last year, a fan gave a handmade sign to each of the six members of Won by One. It read simply, "I want to be like you someday." The sentiment struck a chord with Seaver sophomore and current Won by One alto singer Cassie Thomas, who witnessed the group for the first time a decade ago as an audience member. She remembers feeling a similar sense of admiration for Pepperdine's traveling a cappella performers with a mission of bringing their audiences closer to God.

"I decided from then on that I wanted to audition," recalls Thomas, who now joins freshman Nuriel Garrett, sophomores Rmani Crawford and Jamie Howard, and recent graduates Devin Darnell ('12) and Kate Pauley ('12) in the ensemble. "Growing up there were times when it took listening to Won by One to really put me back on track and it has always been my go-to when things are really happy and really exciting," she continues. "I'm always turning to Won by One, even still. I know what the music does for people on a personal level, so to be part of that is very encouraging."

Each member tells of a similar "light bulb" moment when they first heard of Won by One and how they set out to be part of the group that has been an integral part of Pepperdine tradition since 1995. Pauley's family housed the touring group on several occasions when they passed through her Dallas hometown and Howard was so moved by the song, "Go Light your World," that it convinced him to apply to Pepperdine and audition to be in the group.

Garrett, who had already planned to attend Pepperdine, "thought it would be a great opportunity for me to exercise my voice, grow as a singer, and also serve God." Crawford, a New york native, and Darnell, who was raised in east Tennessee, had never heard of the ensemble, but both became interested in joining when they were first introduced to the idea.
---
Launched in the fall of 1995 as a joint effort between the University's Church Relations and Admissions Office to recruit Christian students to Pepperdine, Won by One was originally helmed by Jerry Rushford, outgoing director of Church Relations, and Randy Gill, former choral director of the music division and later assistant director of Church Relations. In the fall of 1997, as Gill headed to Nashville to lead worship at Woodmont Hills Church of Christ, he suggested to then vice president Andy Benton that School of Public Policy graduate student Alan Beard ('94, MPP '99), who studied vocal music at Seaver College, fill in for him until a replacement was found. Now, 30 semesters later, Beard is still director of Won by One and executive producer, along with Jeremy Johnson ('02), of the group's last 15 albums.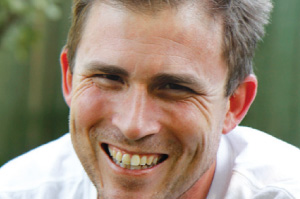 Alan Beard

"There's a purity of their message that doesn't change year-to-year," reflects Beard. "That allows them to carry that really strong, simple message of Pepperdine—that this is a place of purpose, service, and leadership and that we want great, Christian students to come to Pepperdine and become what they can become."
Each summer the group sets out on the road for a two-month-long tour of churches and youth events across the country. Equipped with commercial driver's licenses, every member gets behind the wheel of a 15-passenger van in which many Won by One memories have been made throughout the years. For Thomas, who will embark on her first-ever tour with the group, she looks forward to "hearing the funny tour stories, getting to experience what two months on the road is like," and staying with the host families the others insist, "you just have to meet."

"Not many people road-trip anymore," says Beard, "but these guys really do, every summer, road-trip. It's road-tripping with a purpose—they know where they're going and they keep moving, but they have these interesting stories about the random people they meet and places they stay and meals they have at favorite little restaurants. Meals, experiences, and cities—they get to see it all."

Woven throughout their tour is the very fabric of their experience: performance. Having practiced their repertoire over the course of the year, the group hardly rehearses, save for a brief warm-up just before getting on stage and filling the venue with songs of praise and worship (a cappella is a distinctive feature of Church of Christ worship, in particular). After each performance, the group passes out recordings and receives fans who praise the positive influence that the group members have on Christian youth.
---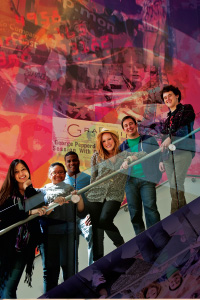 L-R: Thomas, Garrett, Crawford, Pauley, Darnell, Howard

While Won by One is acclaimed nationwide for singing the gospel to devout, energetic crowds, their genre-crossing contemporary sound speaks to both spiritual and secular audiences in all stages of life.

Sometimes fans contact the group days, weeks, or months after hearing them perform, expressing the impact their music had on the darkest days of their lives. "A lot of times we get emails or Facebook messages that say, 'We heard your song and it really spoke to us,'" Darnell remarks. "That always strikes me, because our songs impact people in ways we don't even realize."

The bass singer recalls a particular message sent by a female fan thinking of ending her life. "She said she was listening to Internet radio and Won by One came on," he recounts. "It completely turned her around or at least made her start to turn around. We're doing what we do and it's a lot of fun, but sometimes we don't realize the true impact that it has."

Beyond the group's outward influence, it is the personal growth they experience that makes it especially worth it. "Though we are purposed to recruit students to come to Pepperdine and we are purposed to sing songs, we're put into situations where we can connect spiritually with people we've never met," says Crawford. "It's so cool to meet believers all around the country and to see how different people go about worshiping. To me, that's what makes it really worth it: getting to sing songs to people who have real problems, who are in real-life situations where one song is able to impact them. That's what I think Won by One is best at being: a bridge between humans on a spiritual plane."

Personally, Howard sees his contribution to the group as an act of service to a higher power. "We have fun times and very serious moments," he says. "Each week we come and practice, but really it's a form of worship and I love receiving that foundation from God and giving back my musical capabilities that He has given me through Won by One."

To Beard, the group has fulfilled the ultimate, dual mission of being ministers of the Gospel while introducing people to the University's myriad offerings. "I think what Won by One has to keep trying to do is be committed to the thing that they have found themselves to do," he asserts. "To do it with all their might, to be as good as they possibly can be, to be as pure with their message as they can be, and to know that, in loving each other and Pepperdine and sharing that love with others, people will know we're a Christian place.