Meet the Olympians: Gary Sato
Pepperdine Magazine is the feature magazine for Pepperdine University and its growing community of alumni, students, faculty, staff, and friends.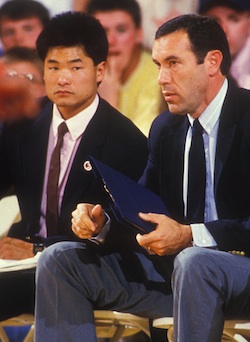 Gary Sato ('78) will return to the Olympic Games for the third time as an assistant coach for the U.S. men's volleyball team, following his turns as assistant coach to the Gold Medal-winning 1988 team with head coach Marv Dunphy and the Bronze Medal-winning 1992 team.
The alumnus, who is the former head women's volleyball coach (1979-82) and assistant men's volleyball coach for the Waves (1978-05, intermittent), played for the Waves as a student in 1978, when he graduated with a bachelor's of science in kinesiology.
In 2011, Sato was named to the Santa Monica College Hall of Fame, as a former Santa Monica College student, from where he earned his associate's degree.
He went on to become a doctor of chiropractic from the Southern California University of Health Sciences in 1992, and currently runs his own practice, Sato Chiropractic, in Santa Monica, California.
Follow his progress, along with player Sean Rooney ('05) and the U.S. National Team from Sunday, July 29 against Serbia, followed by a Tuesday, July 31 match against Germany.