Meet the Olympians: Miranda Ayim
Pepperdine Magazine is the feature magazine for Pepperdine University and its growing community of alumni, students, faculty, staff, and friends.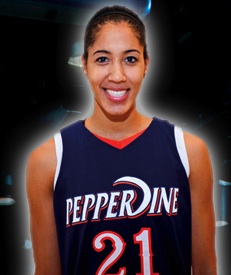 Former Wave Miranda Ayim ('10) will join the Canadian Senior Women's National Team in their first Olympic showing since the 2000 Sydney games.
Ayim had one of the top careers in Pepperdine from 2006-10, setting the school career record for blocked shots with 182 and finishing eighth in career scoring (1,377) and rebounding (735). She was a three-time All-WCC selection on the court, and was equally impressive in the classroom, becoming the first Waves women's basketball player to be a three-time WCC All-Academic selection.

In a Summer 2010 Pepperdine Magazine article, titled "Courtside Communication," discussed the hard word she puts in to her career on and off the court, as well as the honor of being named the nation's top scholar-athlete in Division I-AAA women's basketball by the Division I-AAA Athletics Directors Association in April 2010.

"The things that help me to succeed on the court—having a positive attitude, working hard, and striving to be the best—help me off the court in many aspects of my life, one of those being academics," Ayim said, adding that the award was "definitely a huge honor."

The award followed an impressive career at Pepperdine in which the 6'3″ player became the first Pepperdine women's basketball player to be named three times to the WCC All-Academic first team. She also won the Pepperdine Athletics Female Scholar of the Year and Female Athlete of the Year awards, and was named a first team Arthur Ashe, Jr. Sports Scholar. Yet despite a list of distinguishing accomplishments, she claims something altogether different as the highlight of her career at Pepperdine. "I hope this isn't cliché, but I've always valued the relationships I've had over the years with my teammates and others," she said. "Those connections are what make great moments on the court meaningful."

Follow Ayim's progress on the Canadian Senior Women's National Team beginning Saturday, July 28, against Russia.