Meet the Olympians: Sean Rooney
Pepperdine Magazine is the feature magazine for Pepperdine University and its growing community of alumni, students, faculty, staff, and friends.
Sean Rooney ('05) will make his second appearance in the Olympics this summer following a Gold Medal-winning performance in the 2008 Beijing games with the U.S. National Team.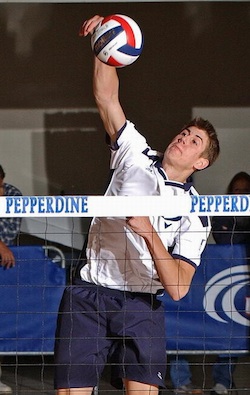 The 6'9" outside hitter was born in Wheaton, Illinois, and competed in the 1999 Junior Olympics, and with the AAU National championship teams in 2000 and 2001; he was named the MVP in 2001. He led his high school team to the state championship and was named the 2001 Illinoi State Co-Player of the Year for his efforts.

Becoming an integral part the Waves team in his freshman year in 2001, Rooney became a four-time American Volleyball Coaches Association (AVCA) All-American and was the 2005 AVCA National Player of the Year for Pepperdine. In addition, he was a four-time All-American and three times on the first team. He helped lead the Waves to win the NCAA Men's Volleyball Championship in 2005, defeating the UCLA Bruins and named MVP of the Final Four.

Going professional after graduating in 2005 with a degree in business administration, Rooney placed fifth three times in the AVP beach volleyball tour from 2004-06. He relocated to South Korea in 2006-07, where he led the Hyundai Capital Skywalkers to two consecutive Korean League titles and was named MVP for his work. In the years since he was played for the Russian teams Dinamo-Yantar and Fakel Novy, and the Italian team Acqua Paradiso Monza Brianza.

Follow his progress with the U.S. National Team in the London games, beginning Sunday, July 29 against Serbia, followed by a Tuesday, July 31 match against Germany.