Meet the Olympians: Terry Schroeder
Pepperdine Magazine is the feature magazine for Pepperdine University and its growing community of alumni, students, faculty, staff, and friends.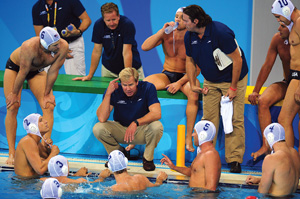 Terry Schroeder ('81) is perhaps Pepperdine's most prolific Olympian. As a highly regarded water polo player, he competed in three Olympic games—1984, 1988, and 1992—winning Silver twice. The 2012 games will mark his second turn as head coach of the U.S. National Team, before he returns to Pepperdine in January 2013 as head coach of the Waves team following a seven-year hiatus.

His first go at leading the national team actually began in 2005. At the time, the squad was under the radar and ranked ninth in the world. By the time Schroeder had coached them through the end of the Olympics, they had won Silver.

As a Waves coach for 20 years, Schroeder saw the men's water polo team through numerous championships, including an NCAA national championship victory against local rival USC in 1997 that went down in Pepperdine history. The win earned Schroeder the 1997 National Coach of the Year award, and he was the Mountain Pacific Sports Federation Coach of the Year in 1989, 1997, and 1998.

After graduating from Pepperdine— where he became and remains the University's all-time leading goal scorer—as a student-athlete with All-American honors, Schroeder played for the U.S. National Team for 16 years. Representing his country, he was the team's captain from 1983 to 1992 and won two of the eight Silver Medals awarded to Pepperdine alumni at previous Olympics, one in 1984 and a second in 1988.

Schroeder was inducted into the International Swimming Hall of Fame in 2005, the U.S. Water Polo Hall of Fame in 1998, and the Pepperdine Athletics Hall of Fame in 1985.