National Champions
The Waves women's sand volleyball team wins two history-making titles in its inaugural year.
One after another, the headlines announced their victories throughout the season, with "dominate," "roll past," and "defeat," blaring triumphantly from the pages. Of the 17 games they played this spring, the women's Waves sand volleyball team came out undefeated in the first year of its inception as an emerging NCAA Division I sport for women, making history in the meantime with an April 28 victory in Gulf Shores, Alabama. There, on the sandy beaches of the South, the Waves won the first-ever AVCA Collegiate Sand Volleyball National Championship, the first national title ever captured by a women's team at Pepperdine.</p


We knew we had the opportunity to be the first at something," enthuses head coach Nina Matthies, who has been leading the women's Waves volleyball team for the last 30 years. "Winning the national championship for the first time was something that we've been gearing towards all year long. That's why we've been practicing. It's amazing just to be in the top 20, but this victory was very important to the girls personally and as part of Pepperdine."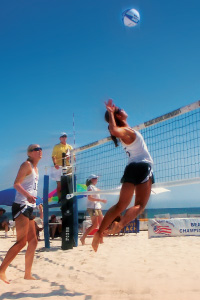 After defeating Long Beach State in the finals, 5-0, Pepperdine's four All- Americans concluded the AVCA Collegiate Sand National Championship with the pairs tournament, where junior Caitlin Racich and freshman Summer Ross came up with a giant come-from-behind effort in the finals to capture the first-ever national pairs title.

Racich, Pepperdine's first-ever recipient of a sand volleyball scholarship, chose to forego playing indoor in order to focus on sand volleyball, and 16 of the 18 players on Matthies' 2011 indoor roster ended up playing sand volleyball in the spring.

Though the inaugural team rose to the top just two months after first beginning to compete, this victory has been years in the making since the Sand Committee of the AVCA DI Head Coaches Committee was formed seven years ago.

In January 2010 the NCAA officially added sand volleyball to its list of emerging Division I sports for women beginning in the 2011-2012 school year. In order for sand volleyball to become a Division I NCAA sport, 40 schools are required to sponsor the sport in its first year. This year 18 schools, including Pepperdine, committed to sponsorship, with an expectation of at least 10 more signing on in the next year.

"Pepperdine has always been supportive of the idea of us being a part of this once it began with the understanding that we would be pretty good at it!" recalls Matthies, a committee member. Staying true to their commitment, the team toppled every opponent with which it competed.

"To win was fantastic," maintains Matthies, adding that hard work and recruiting great student-athletes led to the team's two victories. "I saw them all grow as players because this is the first year we've done this. We started off with a blank slate and have something to go on next year. We have a fantastic group of competitors who are good teammates and great young women. They work hard together and understand what it takes to be winners."
---
Q&A with Pairs Champions Summer Ross and Caitlin Racich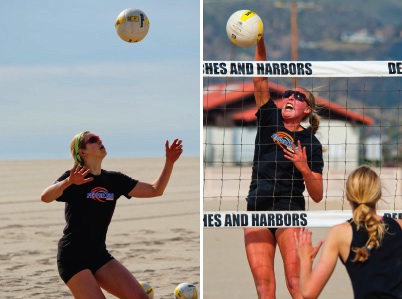 Ross (L) and Racich (R)

What was the first thought that went through your mind when you knew you had won the AVCA Championship?

Summer: It was so awesome to take the first title. It felt like all of our hard work that season had paid off. My first reaction when we finally won was to immediately hug Caitlin because I was just really happy! I think the team championship was more exciting to win and when we finished, we ran into a giant team hug. We had had a lot of tough drills, early morning practices with assistant coach David and coach Marcio. But there was no pressure; we just wanted to play volleyball.

Caitlin: So many great thoughts were rushing through my mind when the team won. It all happened so fast because of the dual-match setup. Our four pairs that finished were waiting for the last game to end, then we all stormed the court and celebrated. It was such a special moment that I've always dreamed of and will treasure forever. My first thought when winning the pairs championship was: "We did it!" It has been a long road of years of training, hard work, and dedication to the sport and it feels great to have come out on top!

What did the victory mean to you as an athlete?

Caitlin: This victory means so much. The best part about it is that we were able to share it with our teammates, coaches, friends, families, and trainers. Our team accomplished what we did this season with all of the incredible support from so many people at Pepperdine and in Malibu. I am so thankful for everyone who helped make it happen.

Summer: It definitely makes me want to play more. You experience such a good feeling after winning that you just want to win more.

What was the highlight of the season?

Caitlin: Looking back, the whole journey was incredible and being able to represent Pepperdine on the sand in the inaugural sand volleyball season was a true blessing. Some specific highlights and great memories were with the team, like early morning practices when we couldn't feel our feet because the sand was iced over, getting blown off the beach with the crazy weather at the USC tournament, traveling to the east Coast to play, the many "firsts" the season brought (first home games at Zuma, etc.), and definitely the championship tournament in Alabama.

Summer: The AVCA tournament in Gulf Shores, Alabama. The best part of the championship game was Caitlin's last serve at the end, the ace, which was the last point and the highlight of the match. It was really strong and to see it go down was the best.

What do you think about Pepperdine's addition of the sport?

Summer: I was so happy they did it. I think it's definitely going to be a great sport for everyone in the future. It'll make everyone better by developing all-around skills.

Caitlin: I am still ecstatic about the addition of sand volleyball to Pepperdine athletics and to the NCAA as a whole. I believe sand volleyball is going to continue to grow and be a very successful collegiate sport in future years. It enables girls to compete and represent their schools and transition into sand careers after college if they want to.

How is the team dynamic?

Summer: Everyone loves each other a lot. It's great that we don't have to see any of the seniors leave; that they can come back to play. I think the dynamic is the way it is because of Pepperdine's Christian foundation.

Caitlin: We have a great team dynamic within our entire squad, as well as great chemistry between partnerships. We all get along and balance each other out on the court, which I believe is a crucial aspect to sand volleyball. Partnerships are a huge determining factor to the success of teams on the sand.

Can you see yourself playing after college?

Caitlin: Yes, my goal is to play professional beach volleyball.

Summer: I'd love to keep playing as long as possible. I think it would be fun to play beach because it's my passion. If I had the opportunity to play indoor I would definitely jump at that chance, too.

When did you first become interested in volleyball?

Caitlin: I played every sport imaginable when I was young, but I started volleyball because one of my best friends in fifth grade begged me to try out for a club team with her. That sparked my interest and love for the game. I have always had a true love for beach volleyball and it started at East Beach in Santa Barbara, California.

Summer: I played my first beach tournament at 12 years old, and have been playing ever since. I've been playing with my dad and brother volleyball alumnus Chase Ross ('11) for a while, so they always give me tips. My mom also played with the Women's Professional Volleyball Association. Seeing my whole family compete made me want to, and when we're all together at the beach, it can't get any better.

What about Pepperdine sand volleyball do you most look forward to?

Summer: I look forward to playing as much as possible. I just think it's really fun at Pepperdine and I can't wait to learn more from the coaches and have some more great cross-country trips.

Caitlin: I look forward to each new season and everything it brings. I am also excited to see the success of collegiate sand volleyball in years to come. I love being able to compete and represent Pepperdine with my teammates and look forward to my future years on the sand!
---
A retrospective look at Nina Matthies' 30 years at the helm of Waves women's volleyball.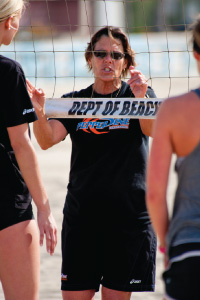 Matthies

1977 Matthies begins her coaching career under former UCLA coach Andy Banachowski and spends six years there as an assistant coach before moving to Malibu.

1983 Matthies is hired as head coach of Pepperdine's women's indoor volleyball team, becoming the third head coach in program history.

1984 Matthies leads Pepperdine to its third-ever NCAA Tournament appearance.

1985 The WCC begins sponsoring women's volleyball.

1985 Matthies leads the Waves to the first of nine undefeated WCC schedules (1985, 1987, 1989, 1990, 1991, 1999, 2001, 2002, and 2003), setting the tone for what would become a recurring theme in WCC history.

1986 Pepperdine achieves a record run of 41 straight home conference victories that lasts until the 1992 season.

1986 Matthies spearheads a successful effort to create the Women's Professional Volleyball Association (WPVA), an organization that laid the groundwork for the dramatically enhanced national visibility of the women's beach tour.

1992 Matthies retires from the Women's Professional League after 139 career starts on the beach, 43 titles, and 93 podium finishes.

1995 Matthies is inducted into the WPVA's Hall of Fame.

1997 Matthies is honored as one of the WPVA's "20 Legends of Beach Volleyball" at a ceremony at UCLA.

1998 Following a 19-11 record in the regular season, Matthies and the Waves top host Michigan State, 3-2 and sweep North Carolina in the second round to earn the school's first trip to the NCAA Regional Semifinals.

2000 Matthies founds Nina Matthies Volleyball Camps, providing campers with a well-rounded volleyball experience.

2003 The Waves post 27 wins, the most by a Matthies-led team, including a record 25 straight, reaching their highest in-season ranking in the AVCA poll at No. 4. The team earns the program's first No. 1 regional seed for the NCAA Tournament.

2004 Matthies is named to the 75th Anniversary All-Era Team byUSA Volleyball.Volleyball Magazine names Matthies one of the "Most Influential People in the First 100 years of Volleyball."

2008 Matthies' 10th player, middle blocker Kim Hill, receives the Freshman of the Year accolade.

2009 Matthies-led team wins milestone 500th victory against Seattle.

2010 NCAA adds sand volleyball to its list of emerging Division I sports for women.

2011 Pepperdine's Department of Athletics adds women's sand volleyball as an intercollegiate sport under Matthies' direction.

2012 Sand volleyball begins competition in March and runs until May.

2012 On April 28, the Waves win the first-ever AVCA Collegiate Sand Volleyball National Championship under Matthies' direction, defeating Long Beach State in the finals, 5-0.