Pepperdine Hosts Third Triennial Parkening International Guitar Competition
Pepperdine Magazine is the feature magazine for Pepperdine University and its growing community of alumni, students, faculty, staff, and friends.
The triennial Parkening International Guitar Competition, which took place May 29 to June 2 at Pepperdine's Smothers Theatre, once again captured the attention of the classical music world. Now in its third installment, this year's competition, generously supported by Roberta and Howard Ahmanson and Juanita and Manny Del Arroz, attracted 15 standout competitors representing 10 countries to vie for the world's largest prize purse among guitar competitions.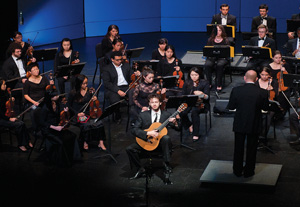 Winners of the main event included Petrit Ceku of Croatia, who took the Gold Medal with his performance of Joaquin Rodrigo's Concierto de Aranjuez during the final round. He received the $30,000 Jack Marshall Prize in addition to his medal. Rafael Aguirre of Spain received the Silver Medal, and the Bronze Medal was awarded to Florian Larousse of France. The three finalists were selected from a pool of 15 highly accomplished contestants.
Judging the competition were Dave Grusin, film composer and jazz artist; Costa Pilavachi, senior vice president of Universal Music Group and one of the judges at the 2009 Parkening Competition; David Russell, guitar virtuoso; Julie Smith, classical project manager for the Recording Academy (presenter of the Grammy Awards); and Jim Svejda, Classical KUSC radio host and producer.
In addition to the Parkening International Guitar Competition, Pepperdine presented the Parkening young Guitarist Competition for guitarists ages 17 and younger on Tuesday and Wednesday, May 29 and 30. First Place went to Alec Holcomb, 17, USA; Second Place to Noah Kim, 16, USA; Third Place to Jennifer Kim, 13, USA. Fourth- and fifth-place finishes went respectively to Sean Keegan, 15, USA, and Ashwin Krishna, 14, USA.
Learn more about the triennial Parkening International Guitar Competition on the Center for the Arts website.