Pepperdine Libraries Hosts Author Maxine Hong Kingston
Pepperdine Magazine is the feature magazine for Pepperdine University and its growing community of alumni, students, faculty, staff, and friends.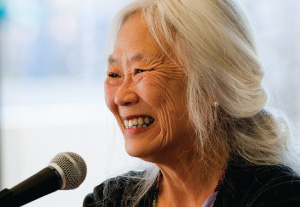 Acclaimed writer Maxine Hong Kingston, author of The Woman Warrior and China Men, discussed her memoir,I Love a Broad Margin to My Life, on April 16 in the Kresge Reading Room of Payson Library. She was joined by her husband, actor Earl Kingston, who read selections from the book.

"Maxine Hong Kingston provided the perfect capstone to Pepperdine University Libraries' 'year of Diversity' speaker series," comments dean of Libraries Mark Roosa. "She drew from her very personal writings about coming of age and the Chinese American experience; about surviving the Berkeley fire that destroyed a manuscript she had been writing for two years; and concluded by reading a piece that was a salute to Pepperdine and the Malibu community: an essay on surfing. She was thoughtful, funny, and inspiring—just as her books are."

Kingston is Professor Emeritus at UC Berkeley and won the National Book Critics Circle Award for The Woman Warrior and the National Book Award forChina Men. TheNew York TimesBook Review calledTripmaster Monkey "a dazzling leap of imaginative sympathy and narrative magic," and John Leonard inHarper's Magazine wrote ofThe Fifth Book of Peace, "Kingston is a lotus, a flowering of divine intellect."