School of Public Policy Students Renovate Community Park
Pepperdine Magazine is the feature magazine for Pepperdine University and its growing community of alumni, students, faculty, staff, and friends.
Students at the School of Public Policy (SPP) recently spent weeks planning and executing a project to revamp the Martin Luther King, Jr. Recreation Center in downtown Los Angeles as part of adjunct professor Elan Melamid's class, Regional Policies: Children, Families, and Communities.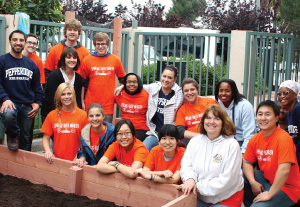 This March, the group worked in conjunction with SPP assistant dean for administration Sheryl Covey, one of the project's masterminds, to transform the park by sprucing up the library and neighboring charter school, building a vegetable garden, and conducting a general evaluation of the project as a whole.
"There's a lovely library and recreation center and open fields, but it was not considered safe to bring children, which was disappointing," Melamid lamented. "The more people use the park, safety will improve. So we just identified some of the problems."
The group spent weeks mapping out the design for the garden and partnered with the Malibu-based nonprofit A Chance for Children, which donated money to purchase lumber and soil. In one day, the group installed the vegetable garden and posted signs around the park to warn potential troublemakers of video cameras in operation.
"This was one of the ways that we can show policy makers and future policy makers that we are physically doing something to make policies happen. Policy is not just about writing language, but making ideas successful through community participation."