Forging a New PATH
Staff members at the Graziadio School of Business and Management volunteer their time and resources to serve the homeless population of West L.A.
It was 2006 when Soledad Gonzalez, a now financial aid advisor at the Graziadio School of Business and Management, encountered the ever-present possibility of homelessness for the first time close to home.
She witnessed a friend struggle with the precariousness of sudden unemployment—a problem that has only increased in number since that time. "During the recession, especially, I think it's been heightened—that homelessness can really happen to anyone," she says.
Her friend's struggle with a real chance of homelessness inspired her to begin volunteering with PATH (People Assisting the Homeless), which temporarily provides homes to prescreened, sober job-hunters who have fallen on hard times.
"Even more recently I had a different friend stay here, just for a short period, thankfully," she says.
In 2008 Graziadio School dean Linda Livingstone released a new vision for the school with the Distinctive Leadership 2015 strategic plan. Associate dean Gabriella Soroldoni challenged her staff to select an initiative from the new vision that they felt most passionate about fulfilling. They chose "Cultivate Community," a call to leadership through community engagement and service, so Gonzalez suggested PATH.
"We need places like this. Sharing the experience with Graziadio has been a big blessing," says Gonzalez.
Since a partnership formed between the Graziadio School and PATH in 2009, small groups of staff members have visited the West Los Angeles-based facility once or twice a month to provide dinner for the shelter's 30-plus residents. It's an experience that has united the school's staff in a spirit of service.
"More than 50 percent of Graziadio staff and upper administrators have served at PATH in one way or another. It's important work," states Darrell Eriksen, director of admission at the Graziadio School. "It's a chance to rub elbows with colleagues outside of work in a strictly service role."
"It's a great bonding experience that fulfills the soul," agrees Whitney Deutsch (BSM '09, MBA '12).
Deutsch is an alumnus who crossed over from Graziadio student to staff member and is now assistant director of the Fully Employed Programs for the business school. She was a team leader of the first wave of PATH volunteers in 2009. "Part of the reason I chose Pepperdine as a school was because of its mission; working here, I really wanted us to have the opportunity to give back in a unique way."
She notes that the Graziadio School's human resources department funded a grant of $5,000, which they budgeted to $100 a meal, allowing staff members to participate without having to pay out of pocket. In the earliest days of service, the Graziadio staff would shop at Costco for meals before forming partnerships with restaurants near the Graziadio's West L.A. campus, such as Star Chicken and Rubio's; both restaurants have since donated entire meals at either a great discount or no cost. These dinners have been organized by dedicated staff volunteers like Nora Guerrero, Sharon Davis, and Murzi Kay (BSM '82).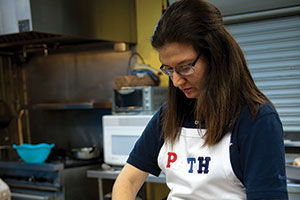 "We started with serving the dinners, and as we got going we began to notice that there were other ways we could support PATH, which included donating professional work attire." Deutsch recalls. The group organized a successful clothing drive at the business school across all four Southern California locations, collecting an assortment of professional outfits for the job-seeking residents. They also hosted a toy drive for children who reside at other PATH facilities—PATH in West L.A. only houses single adults—as well as a toiletry drive, a canned-food drive, and a candy-gram drive that raised $700 for PATH.
"Once we realized what was possible, we started thinking about the various ways we could get more Graziadio staff and faculty involved. Some staff members were not able to physically travel to PATH, but we wanted to create a way for them to give back and contribute as well," says Deutsch.
"We started meeting with the PATH administration to ask what else they need," continues Eriksen. He has been involved from the start as an advisor, and regularly straps on an apron to serve food to the residents at PATH. "Because we're a business school we have ready-made job-finding expertise; we realized we can deliver IT workshops and help people design their resumes."
By January 2010 Graziadio staff had begun a resume-reviewing program and twice-monthly visits to PATH to provide computer skills training to its residents.
"It's a small lab with just 10 computers; we provide a beginners class and an intermediate class. Some of the residents have never used a computer before, while some are very proficient, having degrees and years of professional work on their resumes," notes Michael Stamper, Graziadio director of technology services.
"Now, you're not going to become a computer expert in 90 minutes, twice a month," he concedes. "The main thing we try to do is give them confidence that the time and effort will pay off, and that they need to know the basics to interview."
Finally, the service group realized that they had one more major tool at their disposal: access to financial experts. Joetta Forsyth, practitioner faculty at the Graziadio School, stepped to the plate and designed an eight-week seminar series of financial workshops on basics such as budgeting, managing a checking account, and coping with financial stress. Her class soon became a requirement for the PATH residents, giving her the chance to interact with everyone there. She noticed that most of the residents are hardworking, "normal" people who have fallen on hard times.
"I was surprised by how financially sophisticated many were; many had functioned normally for years before something went very wrong, such as spousal loss or a costly illness," says Forsyth. "The more I got to know them, the more sympathy I've learned and I've become dedicated to doing this class. It's something I won't stop doing—I'm hooked!"
Many of Graziadio's staff members concur with Forsyth on this—that serving together, outside of work, is a richly rewarding experience that bonds them together with a common purpose as colleagues and humanitarians.
"I've been personally blessed with so many things in my life and the opportunity to give back and be a part of such an extraordinary community- service effort as a staff member was so rewarding," Deutsch reflects. "One of my favorite things about this service project was working as a team to discover the various ways the business school could give back and contribute to an organization we believe in. After serving at PATH, I always left feeling that I was the one being helped."
---
The Waves of Service movement celebrates, supports, and connects Pepperdine alumni committed to volunteerism and careers of service worldwide. Learn more about how you can get involved at Waves of Service website.