Baseball Without Borders
Harnessing a lifelong love of the sport and a devotion to his heritage, School of Public Policy alumnus Luke Salas reveals the reality of Cuba through the camera lens.
Luke Salas ('07, MPP '10) was always meant to become a baseball player. While many parents worried about milestones like crawling or talking, the Salases were concerned whether their budding athlete, whose earliest childhood memory was of "pitching" rocks in his backyard, would be a lefty or righty. At the age of five, when the youngster broke his right elbow falling off of a jungle gym, his grandparents' first question was: "Is it his throwing arm?"

The first-generation Cuban American was bound for baseball, the adopted national sport of the island country from where his family hailed. A dream he had at the age of 11 confirmed what he always knew to be true.

"I had robbed Ken Griffey Jr., my favorite player, of a home run," Salas recalls. "I can still remember it. I woke up and knew I wanted to become a professional baseball player. That same morning, on the way to school with my dad, I shared the dream with him and made my declaration that I was going to be a professional baseball player. He promised to me that he would do everything in his power to help support me in achieving my dream."

An accomplished athlete in his youth, the high school letterwinner brought his remarkable record to Pepperdine in 2003, where he made an impressive debut as a rookie on the Waves baseball team and concluded his four-year collegiate career in 2007 as a top hitter.

Following college, Salas entered Major League Baseball as an outfielder for the Texas Rangers and, by the end of his professional baseball career, he realized that graduate school offered a meeting point for his passions.

"Public policy was a chance to not only grow, but also expand who I am as a person and really challenge conventional ways of thinking," he explains. At the School of Public Policy, Salas studied the turbulent political history and current situation of his homeland and drew his own questions about Cuban- American relations. "I saw baseball as just another form of policy in Cuba, as a form of diplomacy. You play to your strengths, and there are two things I know really well: baseball and Cuba."

After graduating in 2010, Salas became interested in the Cuban baseball system and set out to learn more about how he could play on the national team. He quickly found that no foreigner had played in the Cuban National Series since 1961, when Fidel Castro took power.

"I recognized the cultural importance of baseball and how it could be used as a bridge to not only connect the people of Cuba, but also what it could represent politically," Salas says. "I knew in that moment that this could be something much bigger than just me playing baseball."

It was then that he harnessed a lifelong love of the sport and devotion to his heritage to show the reality of Cuba through the lens of baseball.

"As soon as I saw the potential of this experience, I thought, 'We have to document this. This has to be a film,'" he recalls. "I recognize the power that entertainment and media have in spreading messages and connecting people."

Salas' inspiration for The Cuban Dream remained rooted in uniting the people of both countries and believing that a common good, in this case baseball, could be used to help bring them closer than what politics has attempted for so long. That these political and cultural strides could be made by Cuban-Americans spoke volumes.

"Baseball has always been more than just a game in Cuba," he continues, "and that's what made it so special. Here are two countries, 90 miles apart, that both share the same national pastime, yet they don't talk politically."

Baseball was first introduced to Cuba in the late 1800s by the U.S. Navy and Marines docked at the Guantanamo port. The sport caught the attention of the locals who were looking for any opportunity to express their disdain for the Spanish crown, of which Cuba was a colony. While the Spaniards made efforts to impart their own cultural activities like bullfighting, Cuba resisted by adopting the American sport.

"Spain did not want to lose Cuba to the United States," Salas explains.

Later, in the midst of political strife between Cuba and the United States during the early 1900s, baseball became a tool in the conflict. The Cuban national team was on par competitively with the American national team, and when it became clear that Cuba and the United States were growing apart, baseball games became the only times when the two countries would accept that they had to coexist.

The Cuban Dream documents Salas' attempts to penetrate the Cuban baseball system, and chronicles his family's reunion with the relatives they hadn't seen since leaving Cuba in the '60s.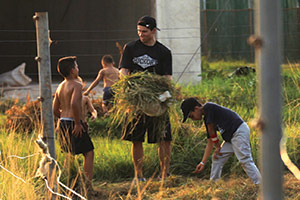 Cleanup day on the youth team's practice field

The film is a family affair that utilized the expertise of Salas' brothers Scott ('12) and Jake ('12), the director and associate producer, respectively. Codirected by former classmate Chelsie Corbett ('12), The Cuban Dream also raises awareness of the athletic talent that exists in the censored country.

During shooting, the team discovered the complicated restrictions placed on baseball players of Cuban nationality. "In order for a Cuban ballplayer to technically be allowed to sign a professional baseball contract in the United States or any other country, they have to defect Cuba and become citizens of that country," Salas explains. "They have to step foot onto the U.S. and be granted a green card. Once they're granted a green card, a visa, or a work permit, they are then allowed to sign a contract with a professional baseball team here in the United States."

The U.S. embargo of Cuba also prohibits American organizations or American- affiliated companies from hiring employees with Cuban citizenship.

For the first time since 1961, following a recent massive policy shift in Cuba, Cuban baseball players are now allowed to sign professional contracts and still retain their citizenship. However, what many athletes don't realize is that in order for them to become professional athletes and sign international contracts, they must play in the Cuban National League season between November and June—dates that directly coincide with the American Major League Baseball season, making it impossible to participate in both leagues.

Salas' attempts to enter the Cuban national league as an American were not easy. He and the crew frequently traveled to the island between 2011 and 2012 to cultivate relationships with the citizens and policymakers, and to get a sense of the political climate. Due to the country's concerns about filming, the team shot The Cuban Dream "guerrilla style," which forced them to exercise their creativity in capturing certain shots, while employing caution at all times.

Using DSLR cameras gave them a layer of protection, as the equipment appeared to be the same type used for still photography. "It's not like Cuba wasn't aware of us wanting to film. We mentioned our desire to film in every discussion we had down there," says Salas. However, authorities in Cuba were under the impression that filming would only take place once Salas was cleared to play baseball, the results of which are revealed in the film.

"We did have one run-in with the Ministry of the Interior FBI, which led to us being followed during our time there," he recalls. "Having that in the back of your mind is always a bit disconcerting, but experiencing that only helped all of us understand what it is like to live in that system."

"It was in our time down there that we really started recognizing the story that is TheCubanDream."

Once there, Salas saw that pure talent and a love for the game were the only qualifications needed to join the players on the field.

"At the end of the day, they wanted to win. And if I was an asset that could help the team win, they wanted me to play. I think that was what it came down to in baseball circles," says Salas. "The people who I was trying to play with and for didn't care where I was from. All they cared about was, 'Can you play?' Baseball's baseball."

Things were moving in the right direction. Salas trained with the team in San Antonio, a town just outside Havana. But, as he wrote on TheCubanDream blog, "The bureaucracy of Cuba is something that can never be predicted. Things became political and the issue of me being a good enough baseball player slowly faded in the rearview mirror. In my 16 months of working and spending time in Cuba I feel that now, more than ever, I understand the 'many faces' of Cuba and the challenges that system imposes on its people."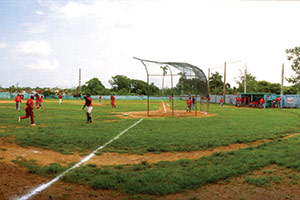 The San Antonio team's home field

Ultimately, the challenges Salas faced trying to play baseball in Cuba became a testimony to the daily struggles that exist for Cuban citizens.

"It's a system built on fear," he explains. "By the end of our time down there, we could definitely see it. It's very, very real."

"There's a romantic perception of Cuba—and it's there, don't get me wrong, it exists. It exists for all the foreigners, it exists for all the tourists, it exists for all the people who have money. But for the people that have to live there day-to-day, which we challenged ourselves to do, it's not the case. It's probably the biggest shock, the massive discrepancy that takes place."

The filmmakers made a calculated choice in letting the camera do the talking. Contrasted with images of trash-littered neighborhoods and dilapidated buildings were the pastel colors of the suburbs and the ominous beauty of deserted streets. They also captured the reality of life in Cuba, inviting citizens to share their daily experiences and struggles.

"I went in with an open mind," says Salas. "I wanted to find the truth from my eyes, from my perspective, and what we saw was that the powers that be in Cuba live a very special life."

It soon became clear the true power of the embargo and how its intentions were being used and manipulated in Cuba to serve the purposes of the regime.

"The sad fact of the matter is that the people who are in policy, the people who are making policy decisions and enforcing the policy decisions in Cuba have never been to the island," he continues. "They've never been there and they've never seen it. I was getting a first-hand glimpse into something that is not only very rare, but very special.

Through the film, Salas hopes to challenge audiences not only as people, but also as Americans to find a way to help future generations of Cubans discover their voice. While baseball and politics go hand-in- hand in Cuba, he maintains that the love for the game is what ultimately transcends bureaucracy and connects people.

"I think that's what policy was really created for: to help individuals pursue their goals and their dreams and their freedoms in the system, and to have the opportunity to do so."

So, what does the "Cuban Dream" mean to Salas?

"Freedom. The ability to wake up and pursue a dream and to have the autonomy to be a true individual. To travel the world, to own your own business, to be a Major League Baseball player... whatever it is, they should have the freedom to pursue that personal choice."

"Sometimes policy complicates things, but seeing the bonds formed just through baseball proves that possibility can be created. And once there is possibility, anything can happen, anything can flourish."

Watch the trailer forThe Cuban Dream.