Breaking the Silence
Seaver music composition students experience the unique opportunity to contribute to film history.
In the 14-minute-long The School Teacher and the Waif, silent screen star Mary Pickford plays a wild, untamed girl who scoffs at conforming to society's standards. Not one of the crowd, she escapes school and befriends a devious character she meets on the street who promises her a life of excitement, just before her caring schoolteacher arrives and chases him away.

Various representations of the waif character, first brought to life by Pickford in 1912, went on to appear in many films in her repertoire over the next 15 years.

When "talkies" emerged in the late 1920s, most silent films, even ones featuring Pickford's legendary performances, became less popular and have remained largely unseen for the last century.

This year, thanks to a grant from the Mary Pickford Foundation, Pepperdine music composition students were given the unique opportunity to reintroduce the imagery of Pickford's silent films to modern audiences in a way more relevant to a new generation. Composing for the Pickford Ensemble, a select chamber ensemble comprised entirely of Pepperdine students, three student composers spent the school year developing an effective music score for the live players that supports the visual drama of a silent Pickford film of their choosing.

This April the Mary Pickford Foundation Music Project culminated with a grand conclusion of the students' hard work throughout the year: "Up Against the Screen," a live instrumental accompaniment of the films projected onto a screen at an outdoor venue on the Malibu campus.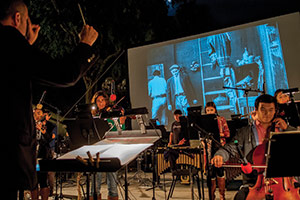 The student instrumentalists benefited from the valuable discipline of performing along with another linear artistic medium such as silent film, which requires the performer to be constantly "on and present" at every moment. The multimedia experience provided a rare opportunity for the young musicians to prepare for and present their original work in a professional capacity.

To Andy Gladbach, a junior composition student, the project is a pathway to fulfilling a professional goal he set out to pursue at the age of six. As one of three composition students tasked with scoring a Pickford film, he considers the opportunity a first step towards an entire career. In his composition for The School Teacher and the Waif, Gladbach drew inspiration from Pickford's iconic character, whom he describes as "compelling," and slowly began assembling pieces of score that matched the scenes on screen.

"Back then they were just discovering the possibilities of narrative film, so the films weren't huge directorial showpieces," Gladbach explains. "What we do get from them are the performances. Mary Pickford and the work of the other actors showed me what I needed to do musically. Using the characters' thoughts and feelings was a good way to figure out what needed to be done."

He started by playing the film and improvising on piano, an instrument in which he had excelled beginning at age three. Then he worked with Jonathan Newman, a guest professional composer enlisted by the Pepperdine music faculty to mentor the students as they finished their Pickford projects.

"Working with Jonathan taught me that I need to be as complete as possible every step of the way, not just at the end when everything is sketched out and I can fill in the blanks," he recalls. "I've learned that it's important to be complete, precise, and specific. I've learned how to better breathe life into a film through music. It really has been quite a professional composition experience—the first one that I've had—and I hope it will get better and better after this," he says.

"The project is about trying to take what the students have learned so far about 20th- and 21st-century music and incorporating writing true, serious, art concert music for silent film," says Newman. "I hope I've stopped them from going too far in the default mode and pushed and challenged them a bit to see beyond that to a larger, I think more interesting, potential. We all know what film music sounds like. It's far more interesting to push beyond that."

N. Lincoln Hanks, associate professor of music and lead faculty representative of the Mary Pickford Foundation Music Project, who himself was a student of the classical style, believes that the student composers involved in the project are leading the charge as the genre experiences a paradigm shift.

"The future of classical music is finding different ways to put music in people's lives," he says. "I think this is a place where we can show our students that we can make classical music work outside, we can do it with film, and we can put it in front of people that might have never thought about coming to a classical music experience."

Mary Pickford Foundation director Henry Stotsenberg explains that, though the compositions are within the classical training arena, they go beyond the expected sound. "They're a little more edgy," he says. "It's the kind of sound that will appeal to the non-classical ear, to that 20-year-old who doesn't really understand or is not familiar with classical music. We hope the audience heard this and thought, 'This is really cool. I really liked what I heard and saw.'"

Elaina Archer, director of archive and legacy at the Pickford Foundation and expert in "all-things-Mary" enthuses, "She would love this! She liked to support things that were active. She didn't just want to write a check. She liked to be involved in people's lives. She wanted to help young people, educate young people. She wanted people to benefit from what she had learned, so this project is a perfect example of Mary's vision."

"These days a conservatory experience for an instrumentalist or a vocalist is old-fashioned and short sighted," continues Hanks, who taught and mentored the composition students throughout the entire process.

"Students need to be exposed to a million different opportunities to make music and to put music in front of people in different ways. Pepperdine students are exposed to opera and chamber music and this is just another great experience in a different kind of way, working with the medium of film, which teaches them a different set of skills that they've never had before."