Healing History
After years of treating the challenges unique to African Americans in his private practice, Graduate School of Education and Psychology professor Daryl Rowe is developing the tools to lead them to recovery.
Daryl Rowe clings to a story that has been passed down in his family for generations. It tells of his father's father (pictured right) who vanished in the mid-1930s while trying to help black people register to vote. Rowe explains that this experience—one of disappearing family members—is not uncommon within black communities around the world.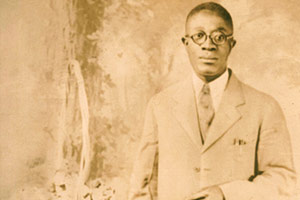 "Those types of traumatizing experiences, which should be unusual and uncommon, which should be reflected in a community-wide response of outrage, simply don't ever gain attention," Rowe insists. "The outrage that you heard within the black community with cases like Trayvon Martin and Jordan Davis was a reflection of this unrequited disappearance that has been part of far too many of our backgrounds." The story of his grandfather, and the countless other tales of trauma he has heard throughout his life, helped shape his decades-long career in psychology and, for the last 32 years, his focus on shifting the organizing principles of psychology to make them more relevant to populations of African ancestry and the communities out of which he emerged.
Today, as president of the Association of Black Psychologists (ABPsi), Rowe's most significant endeavor has been creating and promoting a series of grassroots networks called Emotional Emancipation (EE) Circles, self-help groups facilitated by community members focused on addressing challenges unique to the African American community.
In 2010 the ABPsi was approached by the Community Healing Network, a small nonprofit organization based in New Haven, Connecticut, to provide technical assistance to develop a process for challenging the myth of black inferiority. Out of that consultation a plan was developed to launch EE Circles, a set of interventions that would tackle matters of emotional emancipation, healing, and wellness for African Americans.
"The initiative is based on the idea that, during the almost 400 years that persons of African ancestry have been in the United States, there has been a fairly consistent, fairly systematic negation of both their value and worth," says Rowe. "Our aim was to create a space where people of African descent can come together to share stories, to deepen an understanding of historical forces on our emotional well-being, and to learn a range of essential emotional wellness skills to begin to challenge, overcome, and resist the impact of the myth of black inferiority," he says.
"We feel that the EE Circles begin to address the sets of challenges that have had pervasive negative impacts on African American populations."
Training sessions provide participants with an exploration into what emotional emancipation means, how it ties into the intergenerational trauma literature, what the structure of EE Circles look like, and how groups can go about launching them. Once launched, EE Circles begin with 10 to 12 introductory sessions followed by a series of consciousness-raising activities, exposure to historical references, and a number of inspirational and mindfulness activities that, in a group setting, are designed to spark community activism and healing.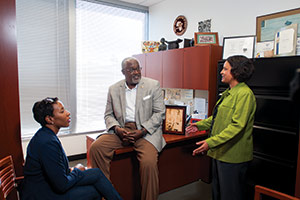 "Part of what the literature suggests is that when members of different communities are engaged in civic activities, activities that enhance not just their individual well-being, but also the well-being of their communities, they are less likely to be enticed by drugs, violence, and other crimes," he says.
Rowe explains that the programs are designed to enable attendees to shift their perspectives from a place of less power to a place where they begin to believe in their inherent value and feel empowered not only as individuals, but also as members of a broader community. This strategy was piloted in Tuskegee, Alabama, mostly due to the city's particularly powerful role in the development of the self- help movement among African Americans, as well as its strong African American demographic—95 percent—and community leadership. By 2019 Rowe and his team hope to have engaged a critical mass of people around the country, eventually the world, in conversation about the possibilities that emerge when the limitations brought upon by years of oppression are addressed.
At the Graduate School of Education and Psychology, Rowe recently led an EE Circle workshop at Pepperdine's West Los Angeles Campus targeted to clinicians of the Southern California Association of Black Psychologists, as well as one geared towards graduate students. The latter is where fourth-year GSEP student Victoria Moran found a "cohort of support" as an African American student and psychotherapist.
"The Emotional Emancipation Circles are affirming to my humanity as an African American," she says. Moran also explains that the experience equipped her with the tools needed to support her clients facing race-related crises. "African Americans, and those of African descent on an international scale, are often over-pathologized without putting historical trauma in context. African Americans have only had civil rights for the past 50 years, yet we are expected to play on level playing fields, ignoring hundreds of years of bondage and subhuman treatment. When you understand this context, it is helpful to understand where we, as African Americans, are in 2014."
For Alike Chandler, a first-year GSEP student interested in opening a private practice that supports individuals and groups of underserved populations, the workshop provided a platform to express and share her thoughts, concerns, ideas, and life experiences as an African American female. "The EE Circles provide a powerful and collaborative support system for those of us who have endured a lifetime of psychological and emotional traumas by way of racism," she claims. "Knowing the catalysts to the dysfunction will enable us to forge a path to future progressive change. The Emotional Emancipation Circles are the voice of truth and reason. They are inclusionary, they are the light, they are the future."