The Nexus of Vocation and Calling
Graziadio School professor Ed Rockey seeks meaning in his work.
Ed Rockey's 44-year relationship with Pepperdine began with a fateful phone call in 1968 from Bill Banowsky, then the executive vice president of George Pepperdine College, which was nearing a cliff of financial ruin. It was also a pivotal time for the college, which made a strategic decision to open a highly experiential satellite campus in Malibu.
Now, over four decades later, Rockey stares into the distance and takes inventory of his career and life's work at Pepperdine. He has reinvented himself so many times, it is not easy to discern the crux of his mission. He has served both as faculty and as administrator, working at George Pepperdine College, Seaver College, the School of Business and Management, and finally at the Graziadio School of Business and Management. For most of his life he has wondered where he made the most impact. What was his greatest contribution? What was his biggest missed opportunity? What was the nexus of his vocation and calling?
The answer came surprisingly late in Ed Rockey's life. As a presenter at an executive conference hosted by Control Data Corporation in Milwaukee, Wisconsin, Rockey was asked to complete their "Train the Trainer" program, which included taking a personal inventory that posed many deep questions. After answering hundreds of questions to complete the survey, he skimmed the executive summary when it was returned.
While the professional profile it created was of interest, the final sentence resonated deeply within him. The survey concluded: Ed Rockey's keenest professional fulfillment is to facilitate the growth and development of others and of himself. He smiles and says, "My mission crystallized in that moment."
Twenty-five years ago, along with professor Al Hoisman, the Pepperdine business professor of applied behavioral science created a course called Creativity, Innovation, and Leadership. Well ahead of the curve, Rockey knew that for his students to succeed they must first learn how to conceptualize and create. Yet even today, in spite of a recent IBM executive survey that found that creativity was the most important skill for a leader to possess in a world of chaos, few major business schools specialize in it.
Creativity and innovation stir Ed Rockey's soul. He relishes the memory of the innovative early days of the business school under then dean Don Sime.
"We were the first to seriously offer an MBA program to fully-employed students while other schools scoffed at the idea of teaching part-time working adults," he recalls.
Rockey and his colleagues understood that working adults had experienced success and failure in a way that motivated them as students.
"What a privilege it was to teach workers from diverse backgrounds and different fields, renaissance men and women seeking to better themselves," Rockey says.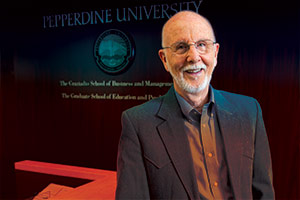 To help his students achieve both personal and professional success, Rockey determined to make creative problem solving the centerpiece of his curriculum. He wanted his courses to be applicable to the real-time challenges of his students; so, he abandoned the typical approach of studying Harvard Business School case studies. Instead, he taught his students how to write case studies of their own business challenges. The class would then form teams to solve real business problems.
"In those days, MBA programs taught students how to compete with one another," he recalls. "At Pepperdine, we taught them how to collaborate." They quickly learned that teams are smarter than individuals.
To this day, nothing pleases Rockey more than to hear from a former student, as he routinely does, who expresses their appreciation for learning how to listen, engage, communicate, and collaborate. David Grossman (MBA '00), executive director of the Santa Barbara Symphony, recalls, "I was already a senior executive when I went to Pepperdine for my MBA and his class stands out as one that made a huge difference in how to do my job better."
"Dr. Ed changed my life forever," declares former student Sean Carlson (MBA '12). "He helped me understand not only organizational behavior in general, but also who I truly was as a person and as a leader."
Perhaps Rockey sees something of himself in his students. Like many of them, his life meandered at an early age and he logged many hours in the workforce before finding his way to the academy.
Born in 1928, Rockey was raised in a lower middle class family in Queens, New York. His parents, placing little value on education, raised him to be a mediocre student who eventually dropped out of high school.
At 17, directionless and with no plans for college, he worked as a farmer in upstate New York and later as a deckhand on Erie barge canals before joining the army. After serving in the military, he decided to develop a skill as a machinist. This decision led to a breakthrough in young Rockey's thinking about his skills and his calling.
To advance his future prospects, he took evening classes to study Spanish and exporting. He earned an A in Spanish and, in so doing, learned that he could be an excellent student. With a new sense of self, new horizons opened up to him that drew him first to the ministry and eventually to the academy.
Today, the words scribbled on the whiteboard in Rockey's Westlake Village Graduate Campus classroom are nearly illegible. It takes a moment to recognize the weight of their meaning. The words "information age," written in black, have been crossed out and replaced by two words written in green: "creativity age."
It may have taken Ed Rockey a lifetime to understand the heart of his work, but his students understood it long ago. "His sole intention was to help me pursue my calling," says former student, Jordan Drake ('07). "It was not because he had to; but because he wanted to. It was never a job to him but a passion and the students could feel the difference."