A World of Wellness
After enduring unspeakable hardship in her youth, a lifelong nutrition scholar improves health conditions in communities close to home and beyond.
Last summer Seaver assistant professor of nutrition Loan Kim traveled to Kamulu, a rural village an hour east of Nairobi, Kenya, with Made in the Streets (MITS), a Christian organization that focuses on rescuing street children from nearby slums. Kim, along with her husband and a host of Pepperdine faculty and staff members, made the journey to volunteer their time and participate in the mission trip.

"These are kids who have been abandoned or left or ran away from home for a number of reasons, mostly due to poverty," Kim explains. "They end up on the streets and there's no safety net in Kenya. In America, you could go to a food bank or a homeless shelter, but they are literally living on trash, they're scavenging for metals...whatever they can find in order to survive and buy food."

The experience recalled a time in Kim's life when she was forced to face her own set of challenges trying to survive dire circumstances. The middle child of a well-to-do-family, she was just six during the communist takeover of Saigon following the Vietnam War, when more than 3 million people fled from Southeast Asia. Her father, like most educated men, was forced into a reeducation camp in rural Vietnam, leaving his wife and three children to fend for themselves. When he was released two years later, the family decided to leave Vietnam for the United States. They, like many of the other refugees, escaped by boat.

"If we stayed, there was just no opportunity for us," she recalls. "We would have no future."

Packed like sardines, Kim, her parents, her two siblings, and her cousin were smuggled onto a fishing boat with hundreds of others, headed towards Thailand.

Once the motor died and the fuel ran out, the boat was floating on international waters and the passengers went into survival mode. Forced to drink their own urine when their food and water supply depleted, many could not bear the circumstances and perished at sea. Among them was Kim's younger sister, who died in her cousin's arms one hour before a Thai fishing boat spotted and rescued the refugees.

"You name it, it happened," she says. "When I look back on it, I'm very grateful for how things played out, because we could've been kidnapped or sold into prostitution. Many of my friends have lost sisters and mothers... to this day they don't know what happened to them. It's heartbreaking on a level that you can't fathom."

After landing at a refugee camp in Thailand, Kim and her family made contact with their U.S. relatives who sponsored and helped them transition to life in the U.S.

The family arrived in Los Angeles in October of 1980 and started building their life in America from scratch. They lost everything, their belongings mostly sold to buy food and necessities while at the Thai refugee camp. Kim's father, a lawyer in Vietnam, went back to school to obtain an associate's degree and worked as a computer programmer. Years later he was laid off and took a job as a janitor with the LAUSD. Her mother worked nights at the post office and took jobs as a seamstress during the day, sewing zippers for 10 cents apiece. "But, you know, we made it," she maintains.

The tumultuous circumstances of her childhood also led to a spiritual awakening as a college student. "Through that, I learned a lot about suffering and difficulties and poverty. I became a Christian after being forced to think a lot about life, purpose, and what happened to me."

In the two weeks she spent in living among the locals in Kamulu and bearing witness to their daily struggles, Kim found compassion and empathized with those who were unable to escape their conditions. Her daily diet consisted of staples like rice or mashed potatoes and stir-fried cabbage and carrots—a menu with very little nutritional variety and little or no vegetable and fruit options.

The public health scholar, who had cultivated a career in obesity prevention, saw the flipside of her lifelong research: severe malnutrition. "It was really eye- opening for me as a professor and public health researcher, seeing the level of poverty they faced every day." Many, she explains, turn to sniffing glue or kerosene to numb the hunger they feel.

Back at home, Kim thought of the students in her community nutrition course and the practical, classroom applications of the solutions she imagined for the people of Kamulu. "I envisioned a way to integrate science knowledge and how to get my students energized about what they learn in the sciences," she recalls. "One of the ways is for them to really see hunger and poverty and see the slums and the conditions in which these kids live and understand why malnutrition is prevalent."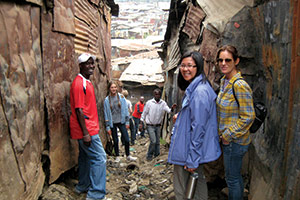 Professors Loan Kim and Donna Plank stand amid trash and sewage in a residential area in Mathare Valley, the second largest slum in Nairobi.

The Kenya Program, a high-impact, experiential learning program, which launches in June of 2014, will engage 16 Pepperdine biology and nutrition students in meaningful learning and service opportunities as they work alongside MITS to help the children of Kamulu. Kim will be joined by Seaver associate professor of biology Donna Nofziger Plank, who will lead the biology component of the program.

Hung Le ('87, MA '03), Pepperdine associate vice president and University registrar, first traveled to Africa with MITS in the summer of 2012 and was with Kim last summer when she first discovered the severity of the need in Kamulu. Le, an elder in the University Church of Christ, and his wife Corinne ('87) have been members of the University Church since they were first-year students at Pepperdine in 1983 and take advantage of every opportunity to travel to Africa with the youth group. Inspired by the University Church's work in the village and Le's commitment to the mission and purpose of the program, Kim sought ways in which it could be part of the Pepperdine experience and approached him about developing a partnership with International Programs.

"My vision for the program is for the students to realize that they have a lot to learn from the Kenyans, from the students who have gone through so much pain and poverty and brokenness while maintaining their resilience," insists Kim. "They're able to thrive in the midst of hardship. So I think that will be a very valuable and priceless lesson for our students."

"Both Dr. Kim and Dr. Plank personify and exemplify our mission in every way," says Le. "Saying they have a heart for service seems to be insufficient in describing what they do. They lead, they serve, and they do that with a real purpose to glorify God and to make this life more abundant."

"The purpose for us going is to add to life," he continues. "Not only the life of the children at MITS, but I believe our lives will become more abundant through this experience."

Of the 50 first-year applicants, eight biology and eight nutrition students will take two classes in their respective programs over the course of two weeks prior to traveling to Kenya. The second phase, in the subsequent two weeks, will take place in Kenya while

at MITS. Students will be provided with intensive educational background and simultaneously work on developing a project that they could implement once they are in Kenya. The "front" end of the class would involve studying the problem and working together to develop the solution, a five-day menu rotation with more diverse nutrient options, for example. The implementation of the solution will include testing out the menu plans using local ingredients and farm produce provided at the MITS facility.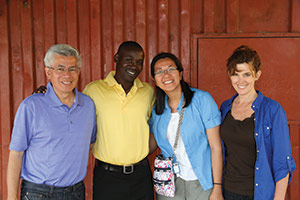 (L-R) Hung Le, MITS program director Frances Mbuvi, Loan Kim, and Donna Plank.

One of the many endeavors of the Kenya Program is to teach the catering students at the MITS camp about basic nutrition to use when they go on to work in local restaurants. Another is to debunk nutrition myths that exist in Kamulu culture. "They don't drink water in the wintertime, because they think it'll make them cold," Kim explains. "But you need water, regardless of what season it is. Imparting our background and knowledge will really help in these cases."

"What the staggering number of applicants tells me is that there's a huge interest among the Pepperdine student group who want to apply what they learn," says Kim. "They really want to make a difference with what they learn, and I want to show them that they can make that positive difference in the world."

Kim and Plank also plan to involve participating students in setting up a science camp in Kamulu, which will introduce the local children to the subject on a deeper level. The camp will provide students with resources such as microscopes and petri dishes and prepare them for experiments in biology, physics, and nutrition.

For those students who will be unable to travel to Kenya, Kim has partnered with World Impact, a Christian organization that minsters to the urban population in Los Angeles, to improve conditions in the local "food desert"—a geographic area where affordable and healthy food is difficult to obtain. Closer to home, Kim and her students will provide nutrition education to the area youth and work together to establish an urban garden in an under-resourced urban community near Downtown Los Angeles.

"Many of them don't get to eat as much as they want to because their parents just can't afford it. That's a reality," says Kim. "And they're not getting much of it in the lunch programs at school, so if we can create this garden, then it will provide direct learning. Studies show that kids who learn where their food comes from are more likely to try it."

Kim, whose own family lived on welfare and food stamps in Koreatown, 10 minutes away from World Impact's headquarters, has a special heart for immigrants. "Everybody has that desire to have a better life," she says. "There are others I know who have gone through worse than I have to get here: losing family members, going through war, seeing atrocities that they can't even describe. But they're here. They're living in the inner city, but they're trying to make it. If it hadn't been for those kinds of programs, I don't think I could be here today."

"One of the things I've really learned in my life is not to be afraid to do hard things. I think it's the hard things that can make a difference not only in my life, but in the lives of other people. A lot of my passion for the work that I do is born out of understanding what it's like to have had and lost."

"The reality of poverty and how much it can really make or break a person was my reality. Now that I 'have' again, I want to make a difference to improve the health of immigrant communities who have gone through much pain and difficulties. I want to empower our students to use the talents, gifts, and skills that God has given to be agents of change for the better in our world. I think that's the Pepperdine vision for each and every student who graduates."

Hear professor Loan Kim reflect on her experience in Kamulu:

mp3="/sites/default/files/magazine/2014/05/PepMag-Spring-2014_mixdown.mp3"