Having it All
A Pepperdine project explores how women worldwide cope with the increasing demands of work and personal life.
Kendra Killpatrick finds great joy and fulfillment in both her roles as a mom to three young children, as well as in her work as a professor of mathematics at Seaver College, and believes it is possible to find a happy balance between the two.

Kerri Cissna-Heath (EdD '12), now a Pepperdine senior advancement officer, no longer answers phone calls or e-mails in the middle of the night, but instead makes time for exercise, journaling, and prayer. Demanding positions with the Federal Bureau of Investigation and The Walt Disney Company made it challenging to maintain a balanced lifestyle, but Kathleen McChesney found support through friends, family, and colleagues, who helped her determine the best use of her time and energy.

Like Killpatrick, Heath, and McChesney, women worldwide are grappling with work-life balance issues. As they make strides in their education and careers, maintaining equilibrium among all of the demands in their lives, including work, marriage, motherhood, aging parents, community service, hobbies, and personal care, can be difficult. Having it all is challenging.

That struggle and the coping strategies women use is being studied through an initiative at the Graduate School of Education and Psychology (GSEP) called the Women in Leadership: Work-Life Balance project. Initiated in 2009 and led by GSEP Dean Emeritus Margaret J. Weber, the comprehensive project includes multiple components: a digital interview library and website; dissertation research; an annual women's conference; and the publication of several books.

"Women are amazingly resilient in terms of decision making and figuring it out, but I think we still have a lot of work to do," says Weber, who retired from Pepperdine last year, but continues to lead the project.

The digital interview library site allows women worldwide to submit their narratives, through written interviews, to an online database, which is made available to doctoral students who use the information for dissertations related to women and work-life balance issues. Over 400 interviews of women ages 26 to 89 have been completed.

At first Weber's graduate students, including Heath, who now assists with the project, interviewed fellow Pepperdine students, faculty, and staff on campus. Through referrals, interviews expanded to women in Los Angeles. Interview requests soon spread to other parts of the state, the country, then worldwide.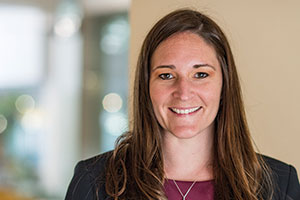 Kerri Cissna-Heath

"It snowballed," recalls Heath, who conducted 30 interviews over a two-to-three-year period. "Women wanted to tell their stories. I walked away inspired every time."

Wanting to share their research findings, Weber's students initiated the idea for a related annual academic conference. The first conference was held in 2013 and drew 50 participants. This year's event, held in March, attracted 150 delegates nationwide, who heard from scholars and professionals on the theme of mentoring and sponsorship. A poster session added to the agenda this year featured 50 presenters sharing their research.

"Just being in a forum where you're discussing this topic is so valuable," Heath says. "It encourages people and shows them how they can be more productive."

McChesney has participated in two of the conferences as a delegate, organizer, and speaker and says work-life balance issues affect males, as well.

"The conferences inspired me to do more to mentor young people who are struggling with the issue of establishing and maintaining a proper work-life balance," she explains. "I have seen men and women who were unable to find a beneficial work-life balance, sometimes because of external circumstances beyond their control, at other times as the result of self-generated, unrealistic pressures and their relative misperceptions about success and happiness."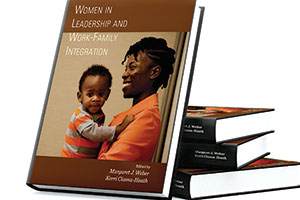 The third aspect of the project is a series of books that further explore the research. Weber and Heath have completed the first book, Women in Leadership and Work-Family Integration, which reviews the narrative research. Plans are underway for second and third volumes, which will further examine work-life balance issues both in the U.S. and abroad.

The idea for the project came about through faculty professional development research Weber had conducted at Oklahoma State University, where she worked before Pepperdine. "I'd noticed that female faculty gave different responses than male faculty to committees, promotion, research, and I wanted to explore that more," Weber recalls.

When she came to Pepperdine in 2001, doctoral students often asked if it was possible to have family and career. "I used to say, 'Of course.' But it's harder than I have indicated it to be, and becomes increasingly difficult without a supportive spouse. I don't know how single parents do it," Weber says.

The research has led to the completion of 14 dissertations to date reflecting varied situations and perspectives. Heath's involved strategies women use to integrate family and work; another studied women who work in the aerospace industry's typically male environment; and others studied Middle Eastern and Indian women and work-life issues.

"The issues are fairly similar," Weber says. "Women across the board talk about meaning and purpose and how it anchors their lives; 75 percent talk about faith and how it helps them through difficult times. The stories the women share with us are just amazing."

There was the teacher who scored at the top of an exam required to become a principal, but was consistently passed over; the executive whose professional success caused issues in her marriage, eventually resulting in divorce; the women in India who cannot pursue careers unless they defy deep cultural mores; and the African American women who reported involvement of family and a wide extended group in decision making, reflecting a communal culture.

Project findings reveal little support for women's different roles. If a woman leaves work to attend her child's baseball game, coworkers say she's not really serious about her work, so she will create some other reason to be out of the office that afternoon. A male in the same situation is applauded by everyone for being involved with his children.

"There's a real double standard, a bias that we don't even realize we have," Weber explains. "The workplace is not very friendly to mothers with children, and it's very difficult for moms to pursue careers and take on leadership positions."

Part of the challenge is women's own attitudes. "Women are not thinking about being balanced spiritually and emotionally," Heath explains. "They're thinking, 'Am I perfect at all of my roles?' They want to be on every committee and work late like everyone else. Men don't have that same standard."

Weber recalled one employee who was offered a promotion. The woman initially declined, because she was pregnant and didn't feel she could meet the demands of the new job and a baby. Weber explained that there were ways to work out challenges, but that she felt the employee was qualified. The employee did end up accepting the promotion and expressed gratitude for Weber's encouragement.

"Women focus on all the reasons why they can't instead of why they can," Weber says.

The interviews also revealed that women struggle with setting boundaries more than men. "We've been brought up societally to please. To be able to say 'no' and set boundaries is really problematic for women," Weber comments.

These issues affect single as well as married women. Those who are married with children have the attitude that single colleagues can stay at work late or complete work on the weekend because they don't have children to care for. "Several of the single people interviewed commented that's a real problem," Weber says.

Some women prefer jobs with freedom to leave in the afternoon to attend a child's soccer game, then complete work later at home. Others prefer to not bring work home in order to focus on family. All who were interviewed agreed that they have a certain standard of perfection they want to maintain in work and personal life, but that can be challenging.
"Your work will suffer some, your life will suffer some," Heath explains. "Most women have a lot of guilt, because work takes them away from family. Or, they feel guilty at work not joining all the committees because they are making home life their priority."

Women who opt out of working to raise children also need support. "We need to empower women whether they stay at home or work," Heath comments. "Men don't have to choose. We just build in a support structure for them."

Many people measure their success by their children.

"If their children are thriving, then they're doing something right," Heath says.

Through the information culled from the narratives, Weber was especially impressed by the resiliency of women who underwent negative experiences in childhood and adolescence.

"Women often said that those challenges made them who they are, and that without those experiences, they wouldn't have the life perspectives they have, or be in the leadership positions they are in," Weber comments.

Weber explains that males will have to be in support of changes in order to ease the work-life balance challenges women face.

"Younger men are not going to be quite as willing as their fathers and grandfathers to work as many hours as they did rather than be more involved in their families," Weber says. "Maybe the millennial generation will be the ones that push it."

Heath hopes that women will continue to advance in their careers. "The higher up you go, and the more flexibility you have in your job, the more you can delegate and create your own schedule," Heath says.

In the meantime, women will continue to find ways to juggle their many roles. "There's not one way to do it," Heath explains. "It's whatever works for you."

Learn more about the project or submit your own narrative.

Did You Know?

†More than 40 percent of mothers are the sole or primary source of income for the household. Bureau of Labor Statistics, Current Population Survey

†Women make up 47 percent of the labor force, compared to 38 percent in 1970. Bureau of Labor Statistics, Current Population Survey

†Job demands interfere with family life sometimes or often, report 46 percent of men and women. In contrast, less than 30 percent report that family interferes with work life. U.S. Department of Labor

†The U.S. increasingly lags behind other developed countries in providing flexible work and paid leave arrangements that enable workers to build long-term careers, while also providing care for their families. Blau and Kahn 2013†Providing workplace flexibility and paid leave increases productivity, helps recruit talented workers, lowers worker turnover and replacement costs, reduces absenteeism, boosts profits, and cuts costs. 2011 Gallup Poll

Women in developing countries work more than men, with less time for education, leisure, political participation, and self-care. United Nations report 2015

†Women work two-thirds of the world's working hours, produce half of the world's food, but earn only 10 percent of the world's income and own less than one percent of the world's property. The Global Poverty Project

On average women make up about 43 percent of the agricultural labor force in developing countries, ranging from 20 percent in Latin America to 50 percent in parts of Africa and Asia, and exceeding 60 percent in other countries. United Nations FAO 2011