Healthy Habits
Professor Susan Helm and her team are working hard to make Pepperdine's nutritional science program a leader in the field.
The statistics are alarming: two-thirds of adults in the U.S.—close to 80 million—are obese, with many suffering from diabetes and heart disease and not enough Registered Dietitian Nutritionists (RDNs)—trained to provide nutrition education to those who need it. Pepperdine's nutritional science program team is striving to equip more students with the tools necessary to enter the profession, help people take control of their health, and learn how to live a healthy lifestyle.
Under the leadership of Susan Helm, registered dietitian nutritionist, Seaver College Associate Professor of Nutritional Science, and coordinator of the nutritional science program, Pepperdine is being recognized for its impressive accomplishments in the field of nutritional science education.
Helm was recently honored with the prestigious Excellence in Teaching award given annually by the 6,500-member California Academy of Nutrition and Dietetics to one person statewide for outstanding contributions in nutrition education. The award came after an involved nomination process in which the association carefully reviewed candidates' contributions in the field and considered alumni, faculty, and student references.
In addition, the Accreditation Council for Education in Nutrition and Dietetics took notice of Pepperdine nutritional science students' perfect scores on the Commission of Dietetic Registration (CDR) board exams for the past 20 years, and chose the University to offer a post-baccalaureate certificate program that provides valuable on-site experience in hospitals, schools, social welfare groups, and other professional environments.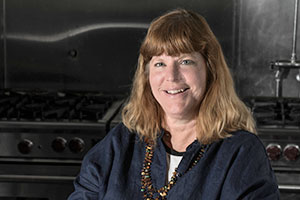 Susan Helm
"Clearly, Susan's hard work has resulted in the establishment of an excellent nutrition program at Pepperdine, and the fact that Pepperdine was selected to host the post-graduate training in dietetics is testimony to Susan's excellent reputation at the national level," remarks Rodney L. Honeycutt, University Professor and chair of the Natural Science Division.
Helm and her colleagues, including professors Patricia Moore, Loan Kim, Sunnie DeLano ('94), and new RDN at the Seaver College Health Center, Caitlin Schoensiegel ('12), have created a strong curriculum at Pepperdine. The University's undergraduate nutritional science program is accredited by the Academy of Nutrition and Dietetics, and Public Health Online ranked the program as the 17th best nationwide and second best in California. The Pepperdine program has doubled its annual enrollment to 50 students; new classes, such as Nutrition Through the Life Cycle and Nutritional Epidemiology, have been added; and the Seaver Academic Council recently approved both a clinical nutrition and public health track for Fall 2016.
To become RDNs, undergraduates take the same courses as natural science majors and are required to pass rigorous board exams after graduating. The road to becoming registered dietitian nutritionists is also challenging: students must complete an internship to gain experience interacting with clients, pass a national registration examination, and participate in continuing education. Many students become intimidated by the process and change paths.
"Freshmen come in wanting to be TV cooking stars or food bloggers," Helm explains. "They think it's an easy degree. We quickly lose them because they discover the science involved in nutrition and that they have to take biology, chemistry, and math."
A common misconception, Helm explains, is that nutrition is about dieting; choosing organic, vegan, or non-genetically modified foods; and avoiding sugar, starch, fats, carbohydrates, or calories.
"The public looks at what's on the plate rather than how nutrition affects their bodies," she says. "Our current culture has so many different issues with food. Our program is about what happens to that food once you swallow it, what your body does with it. It's not about food and diet, it's about science and nutrition."
The program has its roots in a home economics degree established in 1974. In 1985 it was changed to nutritional science, moved from social science to the Natural Science Division, and was endowed by the late Flora Laney Thornton, a Los Angeles philanthropist passionate about nutrition. The degree change mirrored a nationwide trend in which federal dietary guidelines became more stringent, calling for less salt and saturated fat.
"Registered dietitians were coming out of the kitchen," Helm recalls. "They were no longer food service employees, and home economics wasn't the appropriate place for dietetics and nutrition degrees."
When Helm was hired by Pepperdine in 1993, she helped alter the program to a more theoretical one that addressed the rationale behind examining individual nutritional needs. Her future plans include continuing to grow the program and educating external audiences. She has been involved in research projects and public education endeavors, including promoting the dangers of soda to individuals with diabetes; investigating the role of folate in Down syndrome; traveling to Fiji to provide impoverished, isolated communities with nutritional counseling; and giving healthy cooking demonstrations to low-income populations.
Helm is proud of her accomplishments, but quickly deflects attention to the community of colleagues that supported her.
"You don't get there by yourself," she explains. "I built a strong team of collaborators in nutrition education over the years. It's more about celebrating the people that helped me be an educator. I'm so proud of our students who come out of the program very strong and are prepared to become applied or theoretical nutritionists, or go into education or business. I'm doing what I really enjoy.