Schooled in Rock
Rock and Roll High founder Aaron Burch's ('02) life is a love song to rock music, now with a B-side of politics.
Aaron Burch stepped off the scales, making a mental note of his weight. His guitar lay next to him; attached to it was an empty sand bag. Placing the guitar on the scale, Burch filled the empty sack with sand until the combined weight of the guitar and bag equaled 15 percent of his body weight. He picked up the guitar and was stunned by how cumbersome it had become.

"This is ridiculous," he thought. "No kid would ever want to play that."

Burch is the founder and CEO of Rock and Roll High, a summer music program based in Ventura County, for children of all ages and abilities. A few days before Burch's sandbag experiment, a young boy complained of being unable to play a small, steel guitar that Burch calculated as being approximately 15 percent of the boy's body weight. By comparison, a typical adult guitar weighs just five percent of an average adult male's weight.

"We need a lighter guitar that really works kids," Burch realized. So he teamed up with high-end guitar designer Paul Janowski and together they raised funds through Kickstarter to design and build the completely original, 3.2 lb. Volt, which includes a color-coded design on the neck of the guitar for easier learning. The Volt debuted at Rock and Roll High in summer 2014, before its release at the National Association of Music Merchants (NAMM) conference in January this year.

"We noticed a dramatic improvement in the ability of kids to write songs and more quickly pick up to play the guitar. They can perform better; they can jump around and be more kid-like," Burch enthuses.

Maintaining that pure, kid-like enthusiasm for rock and roll is what led Burch to where he is now. After graduating from Pepperdine with a bachelor's degree in organizational communication, with an emphasis in business, Burch gave himself "permission to pursue what I really wanted from life"—to either succeed or fail at following his dreams before turning 30.

To that end, he spent a few years touring the country as a drummer for the band he formed at Pepperdine with a few classmates, called Aria Decline (later renamed Good Cheer, currently in the studio working on their first record in almost 10 years). Teenagers and young bands at their shows would approach them with industry questions, sparking an idea in Burch.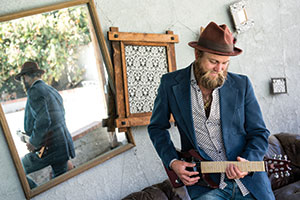 Aaron Burch with the Volt at his Simi Valley, California, studio

"Between two tours I approached a community center and asked if I could teach a class about how to get your band going and get your demo recorded. That was in 2005," he recalls.

Thus, Rock and Roll High was born. 10 years later, more than 600 children and teenagers have attended one of 11 camps offered, where they spend a week learning to write and play their own song, record it in a studio, and participate in photo and video shoots. Each camp culminates in a concert of their works.

Burch is proud of how former students have taken their musical dreams to the next level, including working with major and independent label bands.

"We've had a former student play Coachella. That was pretty cool!" he says.

While helping passionate and talented kids develop into career musicians is satisfying, Burch believes access to music education is important for all children. This May he traveled with NAMM to Washington, D.C., and met with his local representatives in Congress to discuss the issue. When the economic crisis of 2008 hit, funding for music education in California was one of the first things to be cut and Burch would like to see it restored now the economy is improving, calling it a "versatile and rich" educational tool.

"You can teach art, literature, and history through music. You learn math, how to be creative, and social skills all at the same time. There are very few things that cover those topics so thoroughly and completely," he explains.

He recently met with six congresspersons and staffers in his first of what he hopes will be many efforts in the arena of music advocacy. His representatives responded on a personal level to the arguments presented.

"Several commented that music has played a significant role in their lives," he says. "So then the next realization is that kids deserve the opportunity to have that experience for themselves and that should be a core part of education, not a supplemental part."

From lobbying for music education in schools to attending to the level of detail needed for creating a guitar specifically for children, Burch takes pride in helping the next generation of musicians take the risk of following their creative dreams, like he did.

"God has given us creativity for a reason. And to search out that reason ... that's your vocation," he says. "If you feel the creative part of you is out of control, then it is, and it's put there by God. There's something you can do with it that the world needs."