Busyness Management
After serving in ministry for 25 years in 20 countries, a spiritual director hones in on a life-changing approach to self-reflection
Regardless of what we believe, most of us encounter one of two typical spiritual struggles: either we are in the midst of overcoming disappointments and complaining of God's absence or we are far too busy to notice his presence. Whichever side of the pendulum we land on, we are often in denial about feeling disconnected and find comfort in the distractions that push us further away from examining our spiritual health.
For people who understand this dilemma, theology expert Robert Woodcock has some simple yet profound advice: if you want to hear a personal message from God, escape to a place of complete solitude and listen for a small, still voice.
With over 25 years of experience transforming people's spiritual outlooks—which includes working extensively with Christians, people of other religions, and those unaffiliated with any particular faith—Woodcock is the first-ever spiritual life officer at the Graziadio School of Business and Management. His vision: to introduce students, staff, and faculty to spiritually transformative approaches to business, life, leadership, and work.
"Students come here to develop social, financial, and emotional capital, but what about spiritual capital?" he implores. "Where will they draw from when they're alone and have to make decisions? We Christians, as well as people of different faiths, to reflect upon these concepts, some for the first time, at the beginning of their education at a great business school."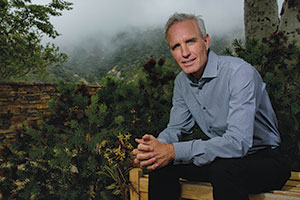 Prior to joining the Graziadio School in February 2016, Woodcock operated Integrative Guidance—a Pennsylvania- based private practice where, through a series of reflective exercises, the spiritual director trained his clients to find their purpose in life. After listening to his clients' needs, Woodcock soon learned that while people were quick to disclose their grievances, they did not seem to know what to pray for. This led him to explore numerous theological approaches, including the works of celebrated religious figures, to develop spiritually formative questions and practices that shine light on what God wants each of us to do with our time on earth.
Woodcock's unique spiritual guidance, which he now offers at the Graziadio School, begins with asking people to reflect on the previous day to identify where and when they sensed feelings of belonging, connection, and support. He then asks them to consider which parts of the day made them feel the most uncomfortable, lonely, and unappreciated.
These honest and thorough reflections produce revelations of which persons and activities they should pursue in order to increase their sense of encouragement and happiness the following day, while highlighting which negative situations to avoid moving forward.
"They start learning that they can do some of the work on their own," he shares. "They just need someone to listen to them and not pray for them so much, but act as a prayer companion to pray with them and witness what's happening. After a while, you begin to see growth, and then you start to see transformation happening."
The next step is to explore what once made them feel alive. According to Woodcock, many people grew up demonstrating a talent they passionately enjoyed—such as art, sports, or music— but the overwhelming responsibilities of adulthood slowly detached them from continuing to nurture these interests. But after they rediscover what once made them genuinely happy, they will have the opportunity to relive those joyful moments.
"Our work isn't about accomplishing a goal," Woodcock explains. "Our work is focused on getting people grounded in their core identity. Who are they? Who does God say they are? A lot of people have difficulty getting in touch with their deepest desires." Desires, as Woodcock suggests, that are often placed on our hearts by God for a specific purpose.
"Most people say they want to do the will of God, but they don't think about the desires that God gave them," he says. "So if they can discern that God gave them these desires, they can ask, 'What am I going to do with that?' And a big part of that is exploring who they are."
As Woodcock explains, this exploration requires people to periodically break away from their busy schedules to allow time for quiet reflection and prayer. This is a practice that may pose a challenge for the members of the Graziadio School community who have already sought Woodcock's guidance in rebalancing their daily workloads to prioritize their spiritual health. Without this balance, Woodcock warns that ignoring feelings of detachment can eventually lead to the spiritual equivalent of arrhythmia (an irregular heartbeat that in some cases can be life- threatening) and recommends spending a few hours each week in the quiet presence of God to regain inner peace.
"I think people get a feeling of arrhythmia in their lives, and they can sense that there is a better rhythm," he says. "And that's part of why I'm here—to help highly motivated and busy people at a world-class business school be more contemplative about their life and work."