Home Team Hero
In a once-in-a-lifetime opportunity, Seaver College students learn from one of the best in the history of Major League Baseball
When former Los Angeles Dodgers general manager (GM) Ned Colletti reflects on the 10 greatest days of his baseball career, he might think of the fateful one when he oversaw the signing of Clayton Kershaw, who is becoming known as one of the best pitchers of all time. He might even recall his leadership in the Dodgers' return to the Latin American market as one of the defining moments of his 35-year journey. But today the Chicago native—and childhood Cubs enthusiast—remembers his last official day as a baseball executive: October 22, 2016.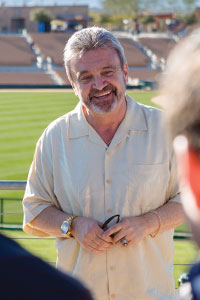 That night at Wrigley Field, the lines of loyalty were almost indistinguishable. While Colletti had a stake in the Dodgers advancing to the World Series, the seeds of his love for the game were sown in Wrigley Field as a Cubs fan. As the team he helped construct was ending its 2016 post-season short of the World Series, he remembered the countless matches he attended at that very location with his father while growing up in the Chicago suburb of Franklin Park. He couldn't help but feel an overwhelming sense of nostalgia as his hometown team won the National League Championship Series, claiming a historic victory against the team that he had helped design for the last 11 years, the first nine in the GM role.
"It was the last hurdle for the team I grew up with to go to the World Series, and I thought, 'How poetic is that?'" muses Colletti, who transitioned following the 2014 season into a role as a TV analyst for the Dodgers' SportsNet LA. "It was one of the most precious things my dad and I shared—baseball, and especially the Cubs. It could have been any team, but it was that team and I was there for it rooting against them.'"
He was also there for five of the seven World Series games, including the final matches in Cleveland that so ceremoniously led to a win for the Cubs that was more than a century in the making. The Chicago team's roundabout and sometimes rocky road to a sweet victory almost runs parallel to Colletti's path to his place in Major League Baseball history—one that he hopes will inspire a new crop of executives and leaders as he shares his life lessons as an adjunct professor at Seaver College.
"I wasn't a major league player. I wasn't educated at an Ivy League school. I really had to work my way through the system and learn everything there was from the bottom up," says Colletti, who has been mentoring students at Pepperdine for the last two years. "Teaching gives me an opportunity to discuss my experiences from the beginning of a career at the bottom of an organization all the way through it to the very top."
This spring Colletti gathered a group of Seaver College students and some of his closest friends and designed for them a once-in-a-lifetime opportunity to learn from the greatest athletes, sports executives—including himself—and media professionals in the game.
In a course called The General Manager, Colletti advised a group of 25 students on the pertinent leadership role in professional sports, one that he has nurtured and made his own through the years. The second course, Behind the Scenes: Major League Baseball, prepared students for the capstone experience of traveling with Colletti and John Watson ('72), professor of education and coordinator of the sport administration program at Pepperdine, to Camelback Ranch during Dodgers spring training. The curriculum, which aimed to give students a never-before-seen look inside the championship franchise, was a little different than your average college course.
The trip promised meetings with different leaders in the Dodgers organization, including president of baseball operations Andrew Friedman, general manager Farhan Zaidi, head of strength and conditioning Brandon McDaniel, video coordinator John Pratt, and Alanna Rizzo, a TV host on SportsNet LA, to name a few.
Throughout the week, more of Colletti's friends expressed interest in mentoring the young scholars and joined the group in impromptu drop-ins to share their perspectives on their areas of expertise. Students met with Hall of Fame pitcher and announcer John Smoltz, sportscaster and MLB Network host Greg Amsinger, and former NHL forward Mike Ricci, who talked about his development as a hockey athlete.
Between the sports talk and conversations about how to make themselves more marketable in a tough economy, Colletti also endeavored to boost students' confidence and reminded them of the great blessing of having "the opportunity to have opportunities"—internships and conversations with people who can help guide them down the path to professional success.
"They aspire for great things," he asserts. "They aspire for a tremendous life, a life of morals, ethics, and also prosperity as an employee. That's a lot to try and weave together as you're hitting your 20s."
"All they really need on the outside is one person to believe in them," Colletti continues. "They don't need 20, they need one. I gave them ideas about how to make that happen."
---
Colletti is no stranger to opportunity and he certainly doesn't take for granted those individuals who saw potential in his eagerness to learn and commitment to succeed.
He was given one of his first opportunities when Gary Klasen, a sports editor at a small newspaper in suburban Chicago, gave the North Illinois University journalism graduate a chance to cover sports. From there he took jobs covering football and basketball beats at the Chicago Daily News, Chicago Sun-Times, and Commercial-News and expanded his writing ability. He was then given an opportunity to cover the Philadelphia Flyers for the Philadelphia Journal. And then life turned upside-down for Colletti.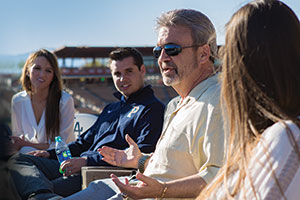 In September 1981, 800 miles west of Philadelphia where he and his wife Gayle were living at the time, Colletti learned that his father was dying of lung cancer at the age of 49. Gayle was eight months pregnant with their first child and they had just bought a duplex in Philadelphia. By December, the Philadelphia Journal had folded, leaving Colletti jobless with a 30-year mortgage to pay off. Bob Ibach, a sports writer in Philadelphia, introduced him to Dallas Green, the general manager of the Cubs at the time. The duo approached him about applying for one of the two job openings in the front office of his hometown team. Colletti would have taken a pay cut had he accepted one of the positions, so he made them a deal.
"I didn't have the experience that some people had on a resume," he says. "What I did have was an opportunity to present to them that I would do two jobs for a higher salary than I would have received for doing one job—but for less cost than if they had hired two employees. I showed them that I was willing to compromise and be creative, willing to find a way to help the company, and they helped me."
"My mother told me every day to try to be a blessing to somebody," Colletti remembers. "You don't have to know them, you don't have to do anything magnificent, but try to be a blessing to somebody."
The pithy philosophy paid off. Three years later Green brought Colletti into the business side and introduced him to the salary arbitration process and negotiation, scouting, and player development. After eight years with the Cubs, Colletti went to San Francisco to work for the Giants, the last nine of his 11 years there as assistant GM.
Twelve years ago in November 2005, Colletti got a call from Frank and Jamie McCourt to come to Los Angeles to be the GM of the Dodgers.
"There are many people who come into your life, and at the time you don't necessarily know why they are in your life. You don't always know the job right now is going to pay a dividend later in life," he says. "One place led me to another person to another place. I look back at my life and my career and I see God's plan. The magnificence of it is so inspiring to me. And while it was so unclear to me while I was in the midst of it, it made perfect sense in hindsight. I'm the most blessed person you'll ever meet."
---
At Camelback Ranch, senior Sam Ravech ('17) was soaking up every moment of his time learning from the greats, and especially from the man who had given him the opportunity to be there. He had sat down with Colletti a few weeks before the trip and remembers a conversation they had had about the seasoned executive's long career and how his faith had helped shape it. In fact, between classes in Malibu and life-changing trips to Arizona, Colletti was always on call and made himself available to meet with students any time his guidance was needed.
Colletti advised the aspiring sports broadcaster to stay true to himself, stay focused on his faith, and avoid getting caught up in the noise of the limelight. As a baseball fan and someone on the fast track to making his own name in sports broadcast journalism, Ravech couldn't believe that he had the opportunity to learn from the legend himself.
This year Ravech was tapped by the San Francisco Giants—Colletti's former team—to take on a broadcasting role for their Double-A team located in Richmond, Virginia—becoming the youngest professional broadcaster in the league. Though he didn't have much baseball experience, he had spent the last four years delivering game-time analysis for Waves basketball and volleyball. The Giants were impressed by his talent and the experience he had gleaned from his father Karl Ravech, the longtime host of Baseball Tonight on ESPN.
"I'm definitely following in my father's footsteps, but I want to make my own footprint in the industry," Ravech contends. "I've been around baseball my whole life, but to learn from Ned Colletti, one of the best GMs in Major League Baseball ... he's changed the game."
---
About 10 years ago someone asked Colletti, "What do you see yourself doing when you're done with baseball?" He didn't initially have a response.
"I really couldn't answer it because I didn't know what I had wanted it to look like, but then it dawned on me what a poignant final chapter or two might be," he says. "When someone holds a memorial service for me, I want people to remember that I did something outside of my 35-year baseball career that was meaningful to other people in a positive way. As amazing as the baseball positions have been, as wonderful as it was to be the GM of one of the most iconic franchises in the history of sports anywhere, doing something so profoundly positive and helpful to other people when I had completed my baseball career was something I sought."
"And perhaps this is it. Perhaps it's God opening the door for me to use my experiences, my strengths, my weaknesses, my successes, my failings—to use it for the good of young people coming up through education. When I drive up Pacific Coast Highway and pull into campus, I have a tremendous sense of peace in my soul.