Mixed Company
A double alumnus is selected by the mayor of Los Angeles to bridge the gap between business and government
Jason Nazar (MBA '05, JD '07) started his first business at 7 years old. It was called Loans Incorporated, and the budding entrepreneur collected his own lunch money and loaned it to his classmates—even collecting interest at 25 cents per day. He believed he had enough to share and drafted handwritten contracts for his borrowers to sign to legitimize the deal.
"My dad is a Persian Jewish immigrant who came to the US in the 1950s. By the time I was born, he was a full-time entrepreneur and worked in real estate," he explains. "So I always had the model of somebody that worked for himself, with a business built his own way, and that had a big influence on me."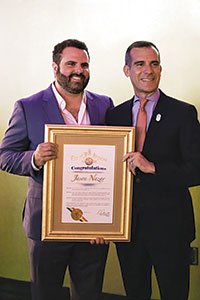 So began Nazar's lifelong passion for entrepreneurship, which has encouraged him to expand his portfolio from schoolyard lender to nationally recognized business magnate in the technology realm—a niche expertise that caught the eye of Los Angeles mayor Eric Garcetti.
In February 2016 Mayor Garcetti appointed Nazar as an Entrepreneur in Residence (EIR) for the City of Los Angeles. Launched in 2014 and modeled after a technique popular among venture capitalists, the mayor's vision for the EIR program is to develop a liaison between the city's business community—specifically those invested in entrepreneurial and technology endeavors—and local government, offering support and resources on both sides of the partnership through one grand-scale project for the city.
For his EIR project, which raised over $100,000 from sponsors, Nazar worked tirelessly with a team that included staff members from the mayor's office to organize and host the largest-ever technology job fair in the history of Southern California: TechFair LA.
On January 26 this year, 14,000 Los Angeles residents congregated Downtown to meet with representatives of nearly 300 internationally known corporations, including Snapchat, SpaceX, and Tesla—all of which were seeking to expand their network of employees.
"This widely successful event is an example of what you can do when you combine the private and public sectors to help the community," Nazar says of the project that challenged him to develop all the concepts and content, drive audience attendance, and book the keynote speakers, which included former Los Angeles Lakers coach and basketball legend Byron Scott.
After six months of investing his energy into creating, promoting, and executing TechFairLA, Nazar spent other parts of the year connecting Los Angeles entrepreneurs with policymakers, educating them on how best to work with city government to realize their business goals.
This was a similar role to the one he has perfected producing and managing Startups Uncensored, the longest-running technology mixer in Los Angeles, attended by nearly 20,000 people since 2008.
"I have brought in notable CEOs, at first from Los Angeles and then eventually from the Bay Area and New York, to talk about their experiences," Nazar notes. "And Mayor Garcetti came and spoke at one of the events back when he was a council member."
When the entrepreneur and the politician first met, Nazar was primarily focused on Docstoc, his first global website that at its peak generated 30 million unique visitors a month—making it one of the most visited websites in the world from 2008 to 2014. Docstoc garnered nearly 50 million registered users when it was sold to software company Intuit in 2013.
Nazar began developing Docstoc during his third year at the Pepperdine School of Law, delicately balancing his academic responsibilities with operating a high- profile content site, presenting at speaking engagements, and writing articles on entrepreneurship for online platforms like the Wall Street Journal, Forbes, and Business Insider.
The faculty and administration at the School of Law were incredibly supportive of Nazar's impressive endeavors, and even then-dean Ken Starr encouraged him to pursue his dreams while staying focused on his law degree. "He would say, 'Look, Jason, we all know you're going to be an entrepreneur, but just do what you have to do to get through law school. Then go off on that journey.'"
The Pepperdine alumnus took that advice to heart. In 2015 he launched Comparably.com, a platform that lists how much employees should be earning in their current positions, informs users about a company's office culture as reviewed by employees, and helps digital candidates land their dream jobs by connecting them with companies in the technology industry.
Having raised $14 million thus far and partnering with numerous major Los Angeles-based venture capital firms, Nazar explains that the goal of Comparably is "to close the gender pay gap so that women are being paid as fairly as men, create a level playing field between employers and employees, and make work culture more transparent."
While Nazar's professional accomplishments have gained international attention over the years, his most rewarding venture has been witnessing former employees become entrepreneurs.
"That's something I'm extremely proud of," Nazar admits. "I've often invested in their businesses and joined their boards knowing that what I'm doing is directly helping
other people as a launch pad to what they ultimately want to do in their careers—that's truly fulfilling for me."