Net Results
Following a long and decorated career, a WNBA champion and Olympian takes the reins of Waves women's basketball
Delisha Milton-Jones is a woman of contradictions. Soft spoken, polite, and eloquent, she is known as "Sunshine" off the court to her teammates and all who have the privilege of knowing her. On the court, she becomes "D-Nasty," challenging her opponents with her dizzying defense, dropping buckets with impeccable dexterity, and leading her team with an intense focus that has earned her two back-to-back WNBA championships and two Olympic Gold Medals. When she was named head coach of the Waves women's basketball team this spring, everyone was eager to witness which Milton-Jones would show up on the hardwood and how her decades-long legacy of domination would translate at Pepperdine.
"I've only known one way to play, and that's hard," says Milton-Jones, a self-proclaimed "country girl" who credits her whatever-it-takes mentality to her modest—and oftentimes difficult—upbringing. "I know how to roll up my sleeves and get to work and never take anything for granted," she says. "That's been a driving force behind me all these years."
At 11 years old the Georgia native already stood six feet tall. She wasn't quite sure about the dolls and books her sister spent time with and instead took pointers from her athletic next-door neighbor, a cousin who had experienced some success playing basketball in her youth. She tried her luck on her middle school basketball team and hit her stride in high school, where she started as a freshman on the varsity basketball team.
She was noticed by the USA Basketball organization in her junior year and was launched into the world of high-stakes sports that would transform her life and set her on a path to international success.
"Every step of the way, every experience I had took me to another level," says Milton- Jones, who earned numerous MVP titles at overseas competitions and at basketball camps during her summers off. She was then recruited by the University of Florida, where she led the Gators to four consecutive NCAA tournaments and helped them score a spot on the NCAA Elite Eight in her senior year. She also averaged 20 points per game and was the recipient of the Southeastern Conference Player of the Year award, the Wade Trophy, and the Honda Collegiate Women Sports Award.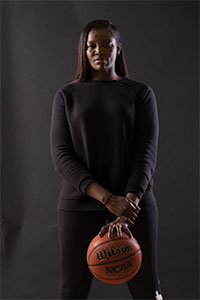 After graduating in 1997 she was faced with the decision of playing overseas in Poland, joining the WNBA, or playing alongside soon-to-be legends as part of the now-defunct American Basketball League (ABL). She seized the opportunity to further develop her skills and earn some money with the ABL. By 2000, she and her fellow teammates—Dawn Staley, Teresa Edwards, Yolanda Griffith, Natalie Williams, and Katie Smith, to name a few—were the best women's basketball players in the country and stood together on the podium to collect their medals
at the Summer Olympics in Sydney, Australia. That's when the players in the ABL decided to make a separate draft to declare for the WNBA, still in its infancy and fighting to pave the way for the recognition of women's basketball.
Milton-Jones' chance was in the hands of WNBA great Lisa Leslie, who was very clear about her intentions for her fourth draft pick for the Los Angeles Sparks. She wanted somebody who was going to run circles around opponents with a quick-hitting high-low offense—Milton- Jones' specialty.
"I became the Robin to her Batman, and we made magic," she recalls, referring to her 11 years on the trail- blazing team. She also went on to compete on the Washington Mystics, the San Antonio Silver Stars, the New York Liberty, and the Atlanta Dream throughout her 17-year professional career. She holds the WNBA record for most games played (499) and is one of only seven players in league history with at least 5,000 points and 2,400 rebounds.
When she got the call to join the women's basketball coaching staff at Pepperdine, she had to make the decision to retire from playing the sport that had shaped her life and career.
"I was truly blown away," recalls Milton- Jones, who credits her husband Roland, a professional basketball player himself, with giving her the initial push to pursue the coaching opportunity. "To hear director Steve Potts (JD '82) say that I'm the person he wants to lead the charge ... it was euphoric. You realize how monumental it is. It's not just about you setting out to achieve a task and walk away with a prize. This is something different."
At Pepperdine, Milton-Jones was introduced to a very young, very injured team. But through the seemingly constant physical challenges they faced, the team persevered and eventually claimed a victory over Gonzaga last year, a team that has earned a reputation as a college athletics juggernaut.
"Our team experienced a lot of growth just by beating teams we had never beaten before," Milton-Jones explains. "The blueprint that women's basketball head coach Ryan Weisenberg had was a good one. I want to continue our ascent to greater success."
But this time it's someone else in the jersey sinking buzzer-beaters and charging through plays on the court. "It's me trying to get others to perform, whether it's the staff or the players," she says. "That in itself can be scary and overwhelming."
For Milton-Jones, her priority is bringing the "pro mentality" to the collegiate level and giving the players the type of freedom to perform in ways that feel natural to them until they develop the IQ that Milton- Jones requires of a championship team. "That is going to take some patience on my end," she says. "I can't be so caught up in wanting game to look a certain way because it will be chaotic for them to fight the urges to do what comes comfortably to them."
As she continues to groom the team and instill in them the fighting spirit that has taken her from her hometown to the big leagues, Milton-Jones hopes to bring a different brand of basketball to Firestone Fieldhouse—one with energy on both ends of the floor that will help the team win games but also gain fans and followers.
Milton-Jones explains that the success of the women's basketball team depends on the relationships that the program builds within the Malibu community.
"We need to get the community invested and involved the same way the Pepperdine women's program has supported the local community," she asserts. "We have a great women's team with a great mission behind them. They deserve that support!"