The New News
Seaver journalism students present social issues in new ways to promote positive community outreach
In anticipation of heavy rainstorms that were predicted to ravage the California coast during El Niño 2016, Malibu City Council members proposed a plan to provide homeless residents complimentary shuttle services from Malibu to Santa Monica for an overnight stay in a shelter. The following morning, the same shuttles would return the residents back to Malibu. While the idea seemed like a charitable initiative that would be desired by the local transient population, Seaver journalism major Karina Corona ('17) wondered how Malibu's homeless community really felt about being relocated without their input on the matter.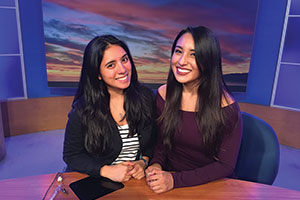 At the recommendation of her journalism professor and broadcast news program adviser, Corona took to the streets to investigate. A few interviews later, she discovered that the general consensus among the homeless was that they felt uncomfortable leaving their possessions behind. To them, the streets were home, and they argued that no one leaves their house simply because of rain. One man even mentioned that he had grown so accustomed to living outside that he now preferred it to indoor housing.
What they did want was a day center—a place to shower, do laundry, and charge their phones. Some were even willing to pay a small fee for these services. They also emphasized the importance of receiving food or clothing over dollars and cents, and explained that any money collected from panhandling would typically be spent on things like alcohol.
Corona, astounded by their candor and enthusiasm to share their wants and needs, presented her findings to former Malibu mayor Laura Rosenthal to collaborate on a more effective plan to help the city's homeless population.
"We talked about the shuttle system and the idea of a homeless shelter in the future. I also brought up the idea of the day center," Corona recalls. "She was quite surprised by the idea and thanked me for relaying the information to her, because it was not a concept that had been talked about before within the city council."
This proactive and impactful approach to storytelling—and then taking it a step further to propose a realistic solution—is what assistant professor of communication Theresa de los Santos ('01, MA '08) instills in her students at Seaver College. Known as solutions journalism, this news style focuses on a major community issue, highlights groups that have already attempted to solve related problems, and addresses what they have accomplished so far.
"Solutions journalism is about digging a little bit deeper and criticizing public policy to ask, 'Is this the right solution for this particular issue?'" de los Santos explains. "It's about showing audiences that there are a lot of current problems and a lot of work to be done, but you don't just leave the story there."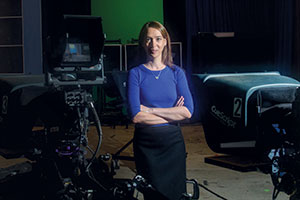 Delivered with neutral, non-threatening tones, these news stories also provide audiences with a sense of hope rather than fear, offering the opportunity to get involved and promote positive change in an otherwise disheartening situation.
According to one of de los Santos' studies, people will stay engaged in a hope-framed message significantly longer than stories based on fear, indicating that perhaps this common negative bias is part of what is causing so many people to turn away from the news.
"The ratio of negative stories to positive stories is 17:1, so that got me thinking about how we can train students to do this better," she reveals.
Recent graduate Alexis Padilla ('17), who accompanied Corona to film her interviews with the homeless residents, applied the same journalistic method when exploring the implications of the 3-2 council vote that established Malibu as a sanctuary city this March.
"Hispanics are the second most dominant ethnicity in the city, so I felt it was important to tell this story," she shares, specifically focusing on the potential consequences of legislative decisions on that particular community. "Immigration is a huge topic in the news recently, and it's creating fear for many people." Extremely passionate about social justice issues, Padilla expresses that these types of stories are often excluded from mainstream media.
In her efforts to research this topic vastly enough to provide possible calls to action, she worked with members of Malibu City Hall, the Malibu Labor Exchange, and professors who research Hispanic culture in the United States to examine this event in a way that would avoid demonstrating advocacy for either side of the decision—an element that de los Santos claims is key in delivering true solutions journalism.
Padilla, who describes solutions journalism as "more of a mentality," contends that incorporating components of hope and related outreach efforts can help assuage the public's angst, thereby making news more appealing to follow.
With a deep journalistic dedication to tell stories that highlight both the struggles and achievements of Latino communities in the United States, fellow alumna Corona shares similar insights. "It just goes to show that we each have a voice," she says. "And as journalists, it's our job to make sure that those who may not always get their voice heard get the chance to speak."