A Shot at Greatness
Golfer Sahith Theegala shines at the college level—and beyond
If Sahith Theegala seems to cut a confident figure on the golf course, particularly for a 19-year-old college sophomore, he's earned it. On top of clutch performances in several NCAA tournaments, Theegala was partnered with PGA Tour legend Phil Mickelson at the Genesis Open this past February and played him to the wire, finishing just one shot behind the three-time Masters Golf Tournament winner. What's more, he finished two strokes ahead of Australian Jason Day, ranked number one in the world at the time.
"Phil was great to talk to," Theegala says. "As we were walking down the fairways, he'd have all sorts of stories to tell me. He started off talking about college, 'Do you have a girlfriend,' things like that—we had a lot to talk about."
"When you grow up playing golf, you obviously look up to him. He was second only to Tiger for so much of his career, so it was really amazing to get to play with him. Not many other people can say they got to play 31 holes on Sunday with Phil Mickelson."
When Theegala talks about "growing up playing golf," he may actually be underplaying his experience. He remembers picking up a club for the first time at age 2. Just before he turned 6, he got his first set of clubs. A few months later, he was playing in his first junior tournament.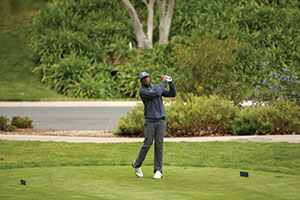 He says he picked up his interest in golf from his father, who came to the US from India with Theegala's mother when they were in their 20s. "My dad loved watching sports on TV. One day he was watching the Masters, and I was intrigued by it right away, so I just sat right down and watched with him. I remember him talking about Tiger and all the top players, and that just seemed really interesting to me at the time."
Even before he started as a freshman at Diamond Bar High School in Southern California, Theegala recalls getting recruiting overtures from Pepperdine men's golf coach Michael Beard.
At the time, he didn't even know where Pepperdine was, but when he started visiting schools toward the end of his sophomore year, he accepted Beard's invitation for a campus tour in Malibu.
"The first time I visited Pepperdine, just getting to know the coaches and walking around campus with my dad, I knew this was a special place," he says. "One of the main reasons I went to Pepperdine was the coaches—everyone seemed to have a lot of respect for them. They definitely seemed to know what they were doing."
"The total experience of going to Pepperdine and joining the golf team was way better than I thought, the way coach goes about practice and tournaments. He also does such a good job of fundraising and networking. Coach knows so many people and he's introduced me to so many of his friends, and that's really helped me outside of golf too."
One of those people is Paul Porteous, a longtime supporter of both Pepperdine and the golf team. Porteous paid Theegala's way into the qualifier for the Genesis Open, and the two played in a foursome that won the four-ball part of that qualifier—a victory that earned a $50,000 donation to the Pepperdine golf program.
It also kicked off an amazing year for Theegala, which included the Genesis Open pairing with Mickelson, a win
in the Southwestern Invitational in Westlake Village (in which Pepperdine upset sixth-ranked USC by a whopping 16 strokes), and a trip to Chicago with his team to play in the NCAA national championship tournament.
"That was probably the best part of my year, honestly," he says. "Being so close with the guys on the team, it was like having family out there. We were so excited to be there. And all of our actual families traveled out there too, so we had a big group, like 30 or 40 of us going out to dinner."
Ranked 25th nationally headed into the NCAA Championships, Pepperdine made the top-15 cut and finished a respectable 13th in the tournament. And Theegala says the team could be even better this coming season with its top four golfers returning.
When that new season gets underway in a few months, Theegala will be one of the team's undisputed leaders. At that point, he'll have a US Open appearance under his belt, becoming only the second golfer in Pepperdine Athletics history to play in the open while still a student.
But it's been a long time since he last felt any real nervousness on the links. "For me, once I hit the first tee shot, I'm good," Theegala says. "I know it's a game I've played my whole life. I'm not going to force anything, whether I'm playing with Phil Mickelson or another college player. I just play my own game."