A World of Difference
Two alumni travel around the globe to spread Pepperdine's mission of purpose, service, and leadership as Foreign Service officers
Imagine moving to a different country every couple years to start a brand-new job. Between constantly updating your resume, exploring an unfamiliar culture, and saying goodbye to the handful of close friends you made, it seems like hardly any time is left for implementing international aid and addressing complex foreign policies on behalf of the American government.
But for United States Foreign Service officers Benjamin Kauffeld ('92) and Leah Pease (MPP '01), the delicate balance between social adjustments, professional achievements, and global assistance projects has become second nature. In an array of capacities, Kauffeld and Pease have each spent about two decades serving overseas, collaborating with various government agencies to protect both American and local interests in communities abroad.
Working Remotely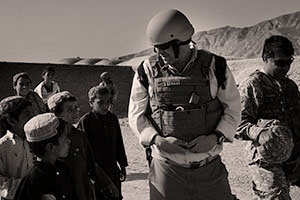 In Islamabad, Pakistan, Kauffeld works for the United States Agency for International Development (USAID) to improve living conditions in remote villages through projects that provide education, improve healthcare, and build roads that connect isolated residents with commercial centers and increase accessibility to clean water. One of his office's major projects, known officially as the FATA (federally administered tribal areas) Infrastructure Project, will also facilitate cross-border trade routes between the province of Balochistan in Pakistan and neighboring Afghanistan.
Although the security and work requirements of Kauffeld's current job keep him primarily indoors in the air-conditioned offices of government buildings, some of his most memorable experiences have been from hands-on projects out in the field. Throughout a 22-year career that includes visiting nearly 100 countries, the crisis, stabilization, and governance officer has countless stories about the scenes he has witnessed—many incredibly touching and some unbelievably frightening.
During his first assignment working with the United Nations World Food Programme in southern Sudan, Kauffeld lived in tents, battled extreme temperatures, contracted malaria twice, and was once forced to evacuate on foot when a nearby village came under attack. Under more typical circumstances, he engaged directly with rural communities about their food security needs and managed food distributions to hundreds of thousands of people over a two-year period.
"When you start out in international development work, whether for emergency relief operations or long-term development, you must be flexible to go where the work demand is," Kauffeld explains.
"Relief in particular is cyclical, and there will be a lot of donor funding and jobs after a major natural disaster (like an earthquake or tsunami) or civil conflict (like in Syria or Yemen), but these funds and jobs can also dry up as the response winds down. So you have to be ready to move."
The day the 2004 Indian Ocean earthquake and tsunami shook Sri Lanka, Kauffeld, who happened to be on vacation with his family in nearby Thailand, immediately flew to Colombo, Sri Lanka, to manage humanitarian assistance activities at the heart of the disaster.
Upon landing, Kauffeld met with various representatives of other national embassies as well as the United Nations, and together they assessed the damage and requested the necessary emergency relief assistance. Kauffeld spent the next few months teaming up with first responders, donors, and private organizations to manage Sri Lanka's recovery.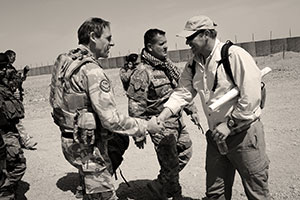 "Hundreds of kilometers along the coast were hit and over 30,000 people were killed," Kauffeld recollects. "We drove into devastated coastal towns and villages where houses had been overturned and there were boats on the road. I even saw a fully boarded train that had been swept off its tracks and thrown like a toy."
Kauffeld's assignments in the Middle East proved to be just as perilous. During a 2010 assignment in western Afghanistan, when local residents were highly in favor of anti-Taliban stabilization and development efforts, Kauffeld joined the Provincial Reconstruction Team to supervise construction projects—all while fully embedded with the US military, living on a forward operating base, and wearing protective gear to meet local officials.
According to Kauffeld, "It was among the most austere working environments ... it looked like the surface of Mars, was regularly over 130 degrees, unimaginably dusty, and occasionally very dangerous"—particularly the day a vehicle in front of him drove over an improvised explosive device, which miraculously failed to combust completely.
Two years later, Kauffeld was involved in supporting transparent and accountable governance in Ghana when he suddenly received word that the country's president, John Atta Mills, had died from health complications.
"Thankfully Ghana managed a very regular and peaceful transition of power," mentions Kauffeld, who was selected to coordinate the participation of the senior under-secretary-general of the United Nations at the state funeral and was the lead field officer coordinating visits from the United States secretary of state and a four-star general for the event.
Despite the harrowing occupational hazards that Kauffeld has endured, he still prefers fieldwork to office work. In his current role at USAID, his team's main effort is to channel taxpayer funds for international assistance to reliable organizations that then conduct relief activities.
"work separates you from really interacting with people and seeing the very tangible effects of your assistance."
Talk of the Town
Growing up near the small northern California town of Yreka, Pease often dreamed of distant voyages. Now working as a public affairs officer at the US embassy in Sarajevo, Bosnia and Herzegovina, Pease has relocated seven times over the last 16 years, embarking on new adventures within different roles.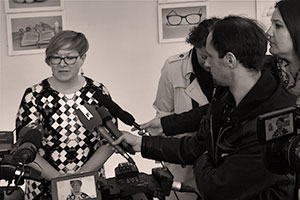 While in Sarajevo, Pease is responsible for maintaining favorable relationships with media outlets, government agencies, and community members in support of US policy priorities. As she puts it, "We explain American policy and values to the public of the country that we're in. The majority of employees at US embassies are local staff and the managers are the US diplomats. The locals—who make up the majority of employees at US embassies—have expert knowledge and know how to get things done in their country, while we—the US diplomats—lead on foreign policy."
Although her professional title changes every one to three years, her multiple roles as a generalist commonly involve strategic communications. Prior to Sarajevo, Pease dedicated three years of service as a course coordinator and instructor for both American and local staff at US embassies across the world, teaching the intricate details of public affairs and diplomacy to a diverse audience, ranging from brand-new Foreign Service officers to local employees who have worked with the Department of State for more than 25 years.
Throughout Pease's career—which includes serving in Belfast, Northern Ireland, at the US Mission to NATO in Brussels, Belgium, and in Washington, DC—one of her most memorable experiences occurred while working as a desk officer covering UK and Ireland issues at the US State Department. During this assignment, Pease was able to partake in the historic Washington, DC, visit between Ian Paisley, leader
of the main loyalist party in Northern Ireland, and Martin McGuinness of Ireland's nationalist political party, Sinn Féin.
While the two leaders had been sworn enemies for most of their lives and political careers, they found themselves as the elected co-ministers of Northern Ireland's power-sharing agreement. In this capacity, they managed to work together to bring lasting peace and prosperity to Northern Ireland, despite a half century of opposition to each other's respective party.
This collaborative effort was a testament to the fruits of long-term diplomacy and international cooperation, as the US government had been committed to the Northern Ireland peace process with other key international players for more than a decade by this time.
"It was remarkable to see human nature and witness how people can change," Pease says of the former enemies. "It showed me what peace can do, and it was the most meaningful resolution I've seen in foreign policy."
Pease, who describes her position as "your traditional diplomat," recalls how her childhood desire for visiting other countries helped define her passion for foreign service.
After jumping at the chance to visit Costa Rica as an exchange student the summer after high school and spending time volunteering and studying in Italy, Honduras, and Venezuela, the Spanish speaker knew she wanted to continue studying American politics and international relations.
So when she traveled to San Salvador, El Salvador, to partake in a summer internship program while at the School of Public Policy, Pease sensed a deep confirmation that her life's calling had been unveiled. She joined the US Foreign Service just a few months after graduation, and following orientation and training in Washington, DC, (the second day of which was the September 11 attacks in 2001), she moved again to Venezuela to begin her career as an embassy consular—a position mostly responsible for interviewing people who want to come to the US, both as tourists and immigrants. Consular officers also help Americans abroad with various requests, such as replacing lost or stolen passports, issuing birth certificates for babies born overseas, and providing notary public services for legal transactions.
They also perform welfare checks, visiting international prisons holding American inmates to ensure that their human rights are not being violated—one of the first tasks Pease was assigned while newly employed in Venezuela. Thinking back to these visits, she remembers how the new prisoners would beg her to expedite their release, while the long-term inmates were familiar with the routine and knew that a consular officer did not possess the authority to set prisoners free.
"The US embassy provides a lot of services that you don't know about if you've never needed them," she explains. "We help Americans who get in trouble in any way, whether it's medical or legal assistance."
First Class
No matter how far away their jobs have taken them over the years, Pease and Kauffeld both credit the education they received at Pepperdine for helping them prepare for a lifetime of international service projects.
"My first semester at Pepperdine was the perfect study guide for the first Foreign Service exam," remembers Pease. "So much of what was on the exam was exactly what we had talked about in class every day."
Kauffeld, who double majored in international studies and humanities, addresses that his participation in Pepperdine's yearlong Heidelberg program and its summer program in Moscow, Russia, allowed him to develop a well-rounded and multidimensional worldview.
"These experiences opened my eyes to issues of global poverty and inequality," he affirms, "and I became very passionate about wanting to make a difference for people."