Beauty in the Broken
Seaver College student Tehya Braun is committed to creating art that will help fellow sexual assault survivors heal
As a young woman preparing to embark on her own path, Tehya Braun, a senior psychology major with a minor in sports medicine and studio art, often wondered what type of mark she would leave on the world. What she never could have imagined were the marks the world would instead make on her.
Sexually assaulted by her varsity high school basketball coach, an experience that, she explains, "tore apart my sense of reality, security, identity, and safety," Braun felt ashamed and blamed herself. In the time that followed the trial of a once-trusted individual, she developed post-traumatic stress disorder and dissociative amnesia. Her path to healing has taken years of therapy and support from family, friends, and professors, and she has found profound inspiration in Ann Voskamp's The Broken Way: A Daring Path into the Abundant Life. The book, which centers on the thought that "from brokenness comes abundance," employs a metaphor of a broken seed.
"If you just focus on brokenness, you might think it's a terrible thing," Braun says. "But the seed has to be completely broken, wholly undone, for it to create a crop that brings abundance."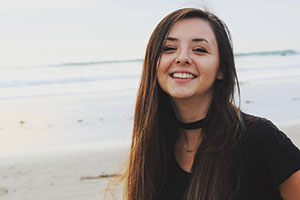 Determined to find the abundance from an experience that left her broken, Braun, who comes from a creative family and has been painting since she was a child, had the idea of developing an artistic series for survivors of sexual crime. While she was not quite sure how to begin, Gretchen Batcheller, associate professor of studio art, applied for a grant from the Center for Women in Leadership at Pepperdine on Braun's behalf.
Braun was selected as the center's first grant recipient to receive funding to pursue an original creative research project as part of the Academic Year Undergraduate Research Initiative. She used the funds to begin developing a series of works in spring 2017 with Batcheller offering her support along the way.
"A large part of that initial research, for an artist, is to process through experiences," Batcheller says. "I primarily focused on creating a safe environment for her to risk and explore her impulses."
Using her own experience as a sexual assault survivor, Braun completed four individual pieces for the series featuring human subjects that mirror her physical features. The completed pieces depict "a woman trying to rip parts of her skin and a woman being separated into three different entities as if she were breaking apart," she says.
While Braun's original research is not yet complete, her goal is to create art that will make fellow survivors feel that they are not alone. The collection will be composed of individual pieces that each show a different type of fragmentation, a common feeling among sexual crime survivors, as well as one larger piece that will have multiple figures, both female and male, holding hands. Text that reads "We are not what's broken" will be superimposed over the figures.
Described by Batcheller as a pay-it-forward type of person, Braun hopes to start a foundation to help fellow sexual assault survivors. Once her collection is complete, she plans to showcase the pieces and make them available for purchase. Proceeds from the sales will go to scholarships for survivors of sex crimes. "As I apply paint to canvas," Braun says, "my hope is that I will finally be able to make my mark on this world."