Campus Notes
Explore fun facts about Pepperdine University
Mark Lauren
Pepperdine People
As fire season heats up in Malibu, Pepperdine's lieutenant of fire and safety preparedness tackles hot topics.
When he was in the fourth grade, a local fire prompted Malibu native Mark Lauren's teacher to abruptly leave class to check on her home. The fire also came dangerously close to Lauren's own home, an experience that inspired him to pursue a career in the fire service.
While working as a fire captain in Carmel Highlands, Lauren once extricated an operator from a crane overturned on a bridge 300 feet above the ground in Big Sur. When a sheriff's deputy crawled into the cabin to attach a rescue harness to the victim, Lauren stepped in to assist in the rescue of both men.
Department of Public Safety (DPS) officers are uniquely cross-trained as wildland firefighters, which requires special training courses and completion of the California State Fire Marshal's 40-hour Wildland Firefighting Academy certification program.
Along with Lauren, fire inspector Jason Jensen and fire life safety officer Cris Anzo Andrade compose the primary DPS fire life safety staff and are supported by DPS officers. Together they manage the safety systems, construction project inspections, and other fire- and medical-related emergency responses.
Malibu campus fire safety protocol calls for sheltering in place should a wildland fire break and threaten the Malibu campus. This is essential, as traffic on narrow canyon roads can block entry points for emergency vehicles.
"Our vegetation is strategically managed to remove fuel from a fire's path. We also look at previous burn patterns to determine which areas of campus require greater focus."
DPS monitors the global Pepperdine community 24/7 and is prepared to initiate the appropriate responses specific to each campus for virtually every situation.
"As the father of five children, I know just how much Pepperdine's planning, training, prevention, and dedication mean to families. The welfare of our community is paramount. It is truly our privilege to serve its needs."
---
Faith Figures
Take a closer look at the attendees and events that explored "The Spirit-Filled People of God" at Harbor | PBL 2018.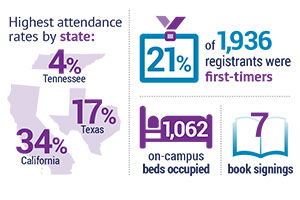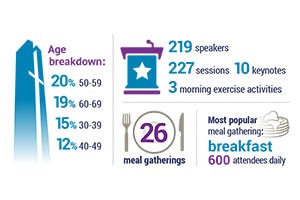 Source: Office of Church Relations
---
Chatter
As news of President Benton's impending departure spread throughout the community, Waves near and far shared their fondest memories of Pepperdine's distinguished leader.
@TALLWOPINIONS
Petition to keep bringing back his band for MyTie forever! #LoveAKB #WavesUp
@CHEFKENMEALPREP
Thanks for having an open heart and mind for so many great changes we proposed during our time there.
@MATTCOCCO
Anytime I ran into President Benton I got the feeling he knew who I was, as if he memorized every student attending
his school.
---
Sound Bites
"Justice systems are actually built by leaders of uncommon virtue, and in particular, the virtue of a love for others that does not go away when things get hard."
Gary Haugen, founder and CEO, International Justice Mission
EVENT: 45th Annual School of Law Dinner
"The headlines global warming are meant to get you into a state of anxiety. The way we're talking about global warming is guaranteed to disengage 99 percent of the people in the world…yet we persist in communicating in such a way to turn most people off."
Paul Hawken, environmentalist, author, activist
EVENT: Climate Calling 2018
"If we address emotional well-being, we have the power to transform our society. But to address emotional well-being requires us to recognize emotional well-being as being important. It requires us to recognize emotions not as a source of weakness, but in fact as a source of great power."
Vivek Murthy, surgeon general of the United States (2014–2017)
EVENT: 2018 Future of Healthcare Symposium
"Give up on the notion of balance. It's really not about "balancing." It's about integrating our work priorities with all the other things in life that matter to us. Be clear on what those things are, and be intentional about where you spend your time."
Jacki Kelley ('88), COO, Bloomberg Media
EVENT: Living Your Calling
---
From the Archives
The Promenade called the 1942 opening of the Oasis student center on the George Pepperdine College campus "the greatest impetus to student relations during the school year." In this photo dated 1990, the year of its rededication on the Malibu campus, the campus community gathers in the newly reimagined space on the annual Founder's Day.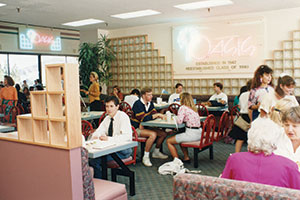 Source: Pepperdine Libraries Special Collections and Archives