Chasing a Wave
The Pepperdine surf team makes University history when a new member wins a national surfing competition
She paddles out from the sea mouth using her arms to propel the five-foot, nine-inch board into the great, big blue. At ease and effortless, it's as though she were born to buoy in the endless ocean that surrounds her.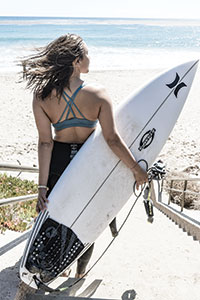 "I'm so comfortable in the ocean that surfing feels like walking or breathing, and paddling is second nature," says Seaver College junior Cayla Moore.
Moving nearly 2,500 miles away from her close-knit family for college, Moore discovered that surfing was the only surefire activity to remedy her homesickness, especially in the two years she spent in Santa Barbara before relocating to Malibu.
"Being in the ocean puts me at ease. It's a time for me to reflect on my day and my emotions without anyone else around," she says. "Surfing early in the morning is especially calming because I can watch the sunrise and appreciate the day before it has even begun. It helps me feel centered and more connected to God because I am reminded that he made it all."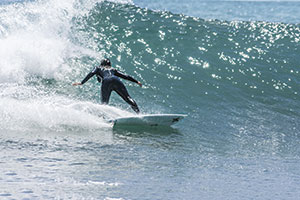 Moore's parents, both avid swimmers in high school and college, introduced their youngest daughter to the water as a baby on the south shore of Oahu. As she got older, her childhood days were split between the backyard pool and the warm Pacific. The Honolulu native learned how to swim at 7 months old, began surfing at age 2, and became a two-time national surf champion while still in high school. As a freesurfer in college, she landed brand sponsorships from Hurley, J. Kashiwai Surfboards, and Tonic Hair Care. By 21, the first-year member of the Pepperdine surf team was the second-ranked surfer in the women's individual category after competing against students from other West Coast schools during the 2017–2018 season.
Operated through Campus Recreation, the nine members of the Pepperdine surf team practice regularly under the guidance of dedicated professional coaches and travel and compete against teams from other universities. Surf team members are selected each year through tryouts, and the team must include two women, six men, and one longboarder, a position that is open to both male and female teammates. This year the team received a substantial gift from Pepperdine parents Scott and Audrey Blum, who will continue to extend their support each year that their son Will is enrolled at the University. This notable generosity from the Blum family has helped deliver a flood of new resources for the surf team, providing students with much-needed assistance to expand their opportunities, particularly by covering travel expenses to compete in an array of surfing competitions along the California coast.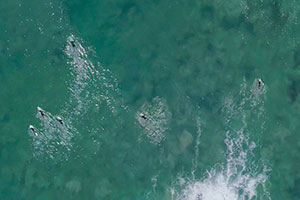 The surf team was founded and is headed by University Board member and former professional surfing champion Takuji Masuda ('93, MFA '17), who previously served on the World Surf League (WSL) board. With connections to both Pepperdine and surfing that span decades, Masuda is actively changing the direction of the surf team to equip students with the necessary skills to eventually represent the University at the 2028 Olympics in Los Angeles—a mission contingent upon the results of introducing surfing as an official sports category at the 2020 Olympics in Tokyo.
"My team's athletes are not simply trained to compete by WSL standards. The goal is to integrate them into the surf industry and into other opportunities around surf culture," Masuda reveals. "As an alumnus, this has been a delightful and meaningful experience for me."
Along with Masuda, Pepperdine has produced other notable alumni who have found success in entrepreneurial ventures at the intersection of surfing and business. After graduating from Seaver College, Richard Woolcott ('89) became the cofounder of popular sports apparel company Volcom—a brand that sold for $608 million to Kering, the Paris-based group that owns multiple luxury designer brands, including Balenciaga, Gucci, and Yves Saint Laurent. Fellow alumnus Enich Harris ('95), former Billabong marketing director and past president of the Pepperdine surf team, has also established himself as a leader in the industry as the previous global vice president of marketing at Fox Head, Inc., a sporting goods company that produces clothing and accessories for athletes and fans of extreme sports.
"I can completely envision Cayla playing a massive role in the surfing industry," Masuda says. "I wouldn't be surprised if she became the youngest CEO of the WSL."
In addition to the surf team, Campus Recreation also oversees the student-run Surf Club that is currently composed of about 50 members. Seaver College junior Sierra Perry, Surf Club president, plays a significant role in recruiting candidates for the surf team and sensed Moore's undeniable athletic prowess during New Student Orientation.
"I knew right away after tryouts and talking with my coaches that Cayla was on a different level than anyone else at Pepperdine," says Perry. "She is extremely talented and made it to finals at every contest we attended."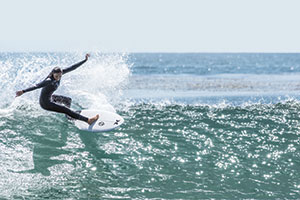 This June Moore competed at the NSSA Championships in Dana Point, in which Pepperdine was a first-time contender. She won first place, a familiar position for the 21-year-old whose sister Carissa Moore is a three-time WSL champion. While she makes unfathomable endurance and flexibility appear effortless, Moore dedicated countless hours to training with three coaches at both Zuma Beach and The Cage fitness facility on campus. She even practiced her moves at Kelly Slater's Surf Ranch for a few days in May—a highly coveted adventure for any surfing enthusiast.
With days that begin before sunrise and include a jam-packed schedule of rigorous schoolwork, Moore thrives on balancing her athletic and academic commitments. Although the ocean is undisputedly her happy place, the business administration major's ultimate goal is to pursue a career in the surf industry, specifically in the planning and coordination of projects for major events hosted by the WSL. Conveniently headquartered in Santa Monica with a regional office in Hawaii, Moore will have the option to stay in Malibu or move back home after graduation.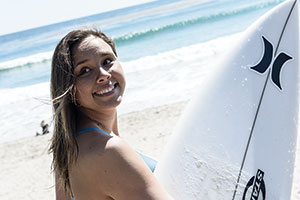 "The fieldwork, research, and communications that go into event planning interest me beyond the glitz and glamour that people see when they attend large functions," explains Moore, who spent the spring semester assisting the Pepperdine University Events team with various administrative assignments.
With the tremendous strides that the Surf Club and surf team have made recently in terms of leadership, talent, and endowments, Moore believes that she picked the perfect school.
"I never expected that surfing would bring me to Pepperdine, especially around the time that it is being included in the Olympics," Moore says. "I am exactly where I want to be right now."
---
Right of Wave
While rule enforcement depends on the location of each surf break, abiding by the following surf etiquette can help create a better experience for locals and visitors alike.
No "Drop-Ins"
When two surfers paddle toward the same wave at about the same time, the surfer who rides the wave first and is closest to its breaking point has the right of way.
No "Snaking"
Don't purposely paddle closer to a wave's breaking point after noticing that another surfer is already riding that wave.
No Cutting
When paddling out, don't cut through the lineup of surfers waiting ahead of you.
No Loose Items
Hold on to your board, because if you lose your balance and let go, its fins can injure nearby surfers on forceful impact.
---
Earth, Wind, and Science
Surfing facts from Seaver College professor and Surf Convo leader Robert Shearer and his son, School of Law student Will Shearer
Energy from the sun creates uneven temperatures around the globe, producing storms that generate waves that can travel thousands of miles across the open ocean to your local surf break.
Gravity pulls a surfer and the board down into the water, while the board's buoyancy pushes it back up. When riding on a wave, gravity pulls the surfer down the face of the wave.
He'enalu, the Hawaiian word for surfing, translates to "wave sliding." The original Hawaiian surfboards did not have fins, while modern surfboard shapers include them for directional stability and control.
Wetsuits are built to trap a layer of water between your skin and the fabric. As surfers start to paddle, their bodies warm up, heating up the water layer and keeping them comfortable in the cold ocean.