The Return of Romar
After a whirlwind career of wins, Lorenzo Romar is back at Pepperdine and ready to take the Waves to the top
Lorenzo Romar almost missed his chance at a national championship title.
As assistant coach and lead recruiter of the UCLA men's basketball team in the early 1990s, Romar was working with the Bruins under Jim Harrick, a former Pepperdine head coach who led the Waves to four NCAA appearances between 1979 and 1988. Wayne Wright, Pepperdine's athletic director at the time, was trying to persuade him to switch teams. The first time the opportunity came up, Romar declined. The Bruins, with Romar's help, went on to defeat the University of Arkansas in what would be known as the Los Angeles native's crowning achievement. Two years later, opportunity knocked again, and this time Romar was certain that signs were pointing him in Pepperdine's direction.
"We lived in Calabasas when I was working at UCLA, and I would see a sign at the Las Virgenes exit that said Pepperdine Next Right every day when I drove back home from work," he remembers. He eventually made the switch in 1996, and after an aggressive attempt at rebuilding the team in his first season in charge of the Waves, Romar led Pepperdine to 17 and 19 wins over his next two seasons, as well as a spot in the National Invitation tournament in 1999. He left after that year to become the head coach at Saint Louis University, but players that he recruited for Pepperdine would go on to make the NCAA tournament in 2000 and 2002.
Now back in California after a 15-year stint at the University of Washington, his alma mater and the institution where he became the second most winning coach in the history of the basketball program, Romar plans to incorporate his decades of experience and track record for excellence into his latest gig.
"When I first became a head coach, there was a lot of trial and error and learning on the fly," Romar explains of the time he spent working with the Waves. "Now, I have a better understanding of exactly what I want to do as head coach with this program. Since that time, I've just learned what worked for me. You can't be someone that you're not. I understand now what my personality allows me to do and what can help me be the most effective coach and leader."
His first plan of action: establishing trust with a new team. "They have to be able to believe that if Coach says something, they can trust him at his word and his actions," Romar explains. "If trust is established and kids feel that you have a general level of competency about what you're talking about, I think they'll try to do whatever they can to be the best they can for you."
What Romar promises to bring to the team is his intrinsic intensity that is revealed during game time. Despite his laid- back, approachable, and nurturing demeanor off the court, Romar has a no-nonsense approach to basketball. His non-negotiables: "play hard and be on time."
"head coach Marty Wilson and his staff did a great job of identifying kids with character," Romar says. "These are really, really good kids. It gives you a good head start to continue to recruit those types of athletes and bring them in."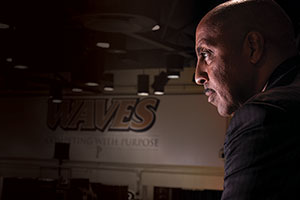 Romar first felt the rush of sinking baskets in the third grade at Our Lady of Victory Catholic School in Compton, California.
"I picked up a ball at recess and shot a basket. 'Wow that was nice. Try again,'" he remembers thinking. "'Man, it didn't go in. Let me try again.' I became addicted at that point."
His obsession with basketball led him to study the art of the game intensely. "I lived it, I drank it, I ate it," he says. "It formed who I was as a basketball person." It also enabled him to stay away from the people and behaviors that were detrimental to his progress and the accomplishment of his goals.
"I grew up in a neighborhood where you could go left and get involved in one thing, or you could go right and get involved in another thing," he says. "I had to make decisions of right versus wrong early on in my life—I'm not going to join a gang, I'm not going to smoke, I'm not going to drink—because I had a goal. I wouldn't trade where I grew up for anything. It allowed me to learn so many life lessons."
These life lessons are embedded in his personal value system, which he makes sure to instill in his players. "The Bible says, 'Whatever you do in word or deed, do it all for the glory of God.' If you have a particular goal or ambition, you're probably going to be OK if you do it right."
Another value that Romar refuses to compromise is a commitment to academics and making sure his players know how hard it is to make it in professional sports. In fact, according to the NCAA, only 1.2 percent of men's college basketball players make it to the pros. Romar says most college athletes don't make it and stresses the importance of completing their degrees. Throughout his career Romar has seen countless student-athletes succeed both on and off the court. At Washington, 44 of the 45 players he coached went on to graduate, a result he refers to as "a huge highlight" of his time as the head of the Huskies.
"I didn't realize how hard it was to make it until I made it," remembers Romar, who spent five years in the NBA playing point guard for the Golden State Warriors, Milwaukee Bucks, and Detroit Pistons. "When you're climbing, you're basically just surviving," he says. "But then when you look down, you gain that perspective of, 'Wow, I climbed this far. I had no idea I went this far.' It can help guys to see that it to the NBA is not easy at all. It's everybody's goal, but most don't make it."
While Romar maintains the difficulty of achieving professional status after college, an impressive number of his Washington players were selected in the NBA draft—13 to be exact, 10 of whom were first-round picks. Future NBA All-Star Isaiah Thomas also played for Romar at Washington and was one of 16 Huskies that went on to play in the league during his tenure. This success is partly due to Romar's keen sense of identifying a player's potential, a quality he calls having "a feel" for the game.
"They just know how to play," he muses. "When they see there's danger, they pull the ball back out.
They see the next pass before anyone else sees it, before they even have the ball or sometimes as soon as they catch it. We try to assess what someone's potential is and make sure they understand that we're not going to rest until we get that potential out of them at whatever stage they are in their life. We get them to take ownership of the potential we see in them."
---
In 2006 Romar was awarded the John Wooden "Keys to Life" award, an honor bestowed upon a former player or coach who demonstrates exceptional character, a strong commitment to faith, and superior leadership skills. As he assumes what he says is his last professional endeavor before retirement, he admits even he is not immune to the challenges that come with starting over with a new team.
"There are always challenges as a leader, even more so in the landscape of college basketball now. It's a challenge to just keep your team together for three or four years," he says, referring to the high transfer rate among college athletes and the possibility of signing with a professional team before graduating. "But, right now, our goal is to get our guys to believe. We have eight new players coming in, and we have to get them to mesh with the eight that are already here, get on the same page, become a team, pull for one another, and develop a winning mentality. That's the immediate challenge. That's the immediate goal."