Beyond the Application
A sense of desperation is in the air–from both prospective students and their parents–about having the best possible chance at getting into the best possible college.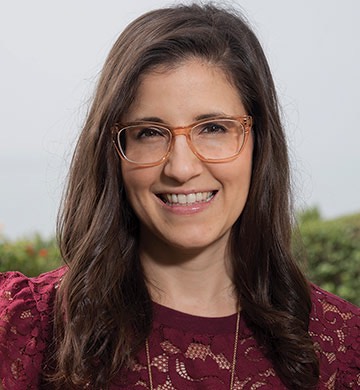 Kristy Paredes Collins ('04, MA '07)
Dean of Enrollment Management, Seaver College
Associate Provost, University Financial Assistance
For many, May 1 is a day that symbolizes the beginning of a new journey. May 1, National College Decision Day, represents the culmination of years of studying, test taking, essay writing, and anxiety for prospective undergraduate students. May 1 is also a significant day for those of us privileged to be on the other side of the admission process.
Although recent scandal has thrust college admission into the national spotlight, the controversy, skepticism, and mistrust is familiar to those of us in this field. Books that describe how populations of students have been systematically excluded from elite colleges for more than a century, like The Chosen: The Hidden History of Admission and Exclusion at Harvard, Yale, and Princeton and The Price of Admission, were some of the first I read when I started my career in admission nearly 15 years ago.
I am well aware of the ways privilege can contribute to higher standardized test scores, increased access to guidance about the college application process, and the cultural capital and time to curate a robust extracurricular resume. I am also keenly aware of the angst associated with the college search process—it is palpable in the media, in high school hallways, and even in the Office of Admission lobby as families wait for their campus tour.
A sense of desperation is in the air—from both prospective students and their parents—about having the best possible chance at getting into the best possible college. Some pursue internships or clubs for the benefit of the college application instead of focusing on opportunities for growth and learning. Some take every Advanced Placement class available no matter how much they dislike the subject.
I propose a shift in disposition. I want students to volunteer because they are passionate about a particular organization. To shadow an entrepreneur because they plan to start their own business one day. To deeply and intellectually engage in their academic experience. High school is so much more than a pathway to college.
I also want students to care about something other than their own success. A few years ago, I joined more than 140 colleagues to endorse the Turning the Tide College Admissions campaign at the Harvard Graduate School of Education. This campaign is a demonstration of our commitment to place greater value on students' ethical and intellectual engagement in the college admission process.
Although the campaign is new, we have been doing this at Seaver College for years. A student's academic profile is certainly important, but it is only one of many factors that influence the admission decision. We consider a student's faith journey and ability to engage in deep thought and conversation around topics that matter. We care about real- world engagement outside the classroom.
A mutual selection process occurs when admitted students choose Pepperdine. We constantly strive to identify students who will pursue more than grades and a degree. These students are simultaneously drawn to Pepperdine's commitment to cultivating purpose, service, and leadership within a Christian context.
In the end, we as admission professionals are mindful of the role we play in both communicating the uniqueness of Pepperdine to prospective students and selecting the student body. While Pepperdine is indeed a place with incredible opportunity for growth and learning, I want to discourage students from expending all of their energy on a single dream school. Their ability to make the world a better place shouldn't depend on the college they attend. They can be change makers anywhere. I hope that as an admission professional my decisions help further the growth of all students, but particularly those who come for and embrace the value of the Pepperdine experience.